Dan McLaughlin studied BA Journalism (Multimedia) at Salford and spent a year working as Content Intern for Quays News, a news platform run by University of Salford students that produces online content and broadcasts a weekly show. Dan told us about Quays News, and how students from all courses can take part:
Tell us about Quays News
Quays News is a place where students can develop their skills. It's a training platform and a place where students can try new things. For instance we have Quays TV which has a series of programmes on Tuesdays, we have Quays News, our regional news programme in which we try to follow the likes of Granada Reports and BBC North West Tonight, we also have Friday First, which is exclusively for first years. It's an entertainment and chat show that focuses on student issues and university news. Everyone from the presenters to the journalists to the camera operators and directors, the sound technicians and producers are all first years or first timers to the TV gallery.
So it gives students practical experience in a simulated working environment?
Absolutely. I feel like going to Quays News is not like going to university but going to work. You still have the same deadlines you would at a TV station, you still have a professional output at the end. We broadcast live on the big screen on the ground floor at MediaCityUK so you never know what industry guests are here to watch your work. Sometimes they come up to the studio like ITN editor Richard Frediani, he was a guest in our studio a couple of months ago. Broadcasting live is stressful, but good stress!
Can the Quays content can be taken by students, put into a showreel and shown to an employer?
Yes. When you're studying it's important to get the best grades you can, but what also makes you stand out is your showreel or portfolio. Employers will ask what experience have you gained. It's a great way to show yourself off in a job interview, to say, "Well for Quays News I interviewed Leader of the Opposition Jeremy Corbyn about the budget." It's even better to show them footage.
What facilities do students get to use with Quays?
Quays broadcasts live from the studios at our MediaCityUK campus, one of which is the dedicated Quays News studio. It's a great set, designed by one of our Interior Design students a couple of years ago. It's a professional working TV environment, what you use in there, you might use at the BBC and ITV. Gordon Burns from North West Tonight fame has even used the facilities to train professionals.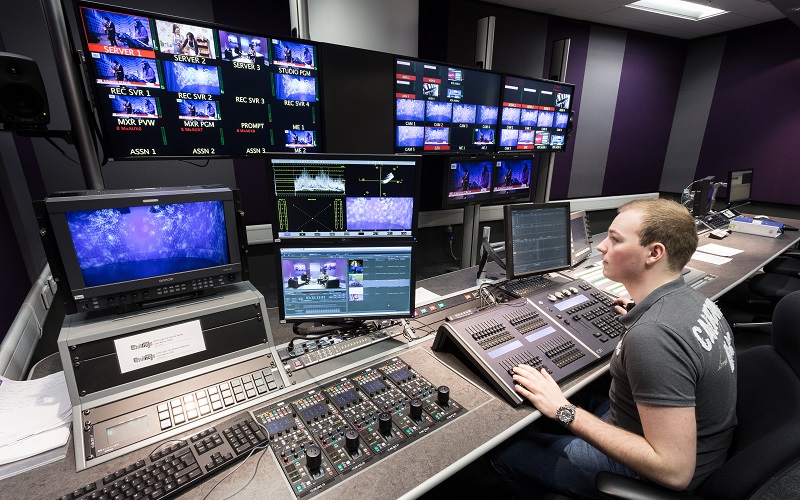 Tell us about the facilities used in the newsroom.
The newsroom is sponsored by AVID, which is industry standard software. Also in our newsroom is iNews, our scripting software which got an update in the summer. We've got the Adobe Creative Cloud so there's the likes of Premier Pro for video, Audition for audio editing, Photoshop for picture editing and InDesign for page design. You're well equipped, you don't need to go out and get the software yourself because it's right here at MediaCityUK for you to use.
Is Quays a place where you can develop your skills?
Absolutely. You'll get feedback from our academics, we have Andrew Lindsay who helps with the journalism side and Neil Salmon our Creative Technical Demonstrator. We also have the Content Intern Emily Murray, and Mike Halligan the Tech Intern. So you're receiving feedback all the time.
Whatever course you're on, come in and we'll find a place for you. We're not a society, we're a training platform for everyone. We don't expect you to have a vast amount of industry knowledge – that's what we give to you. We expect people to come here with zero knowledge.
We provide many training workshops, so there's support content wise. We teach you how to make a package, how to make a programme. There's also additional skills workshops available, how to use a camera, how to edit, how to use iNews.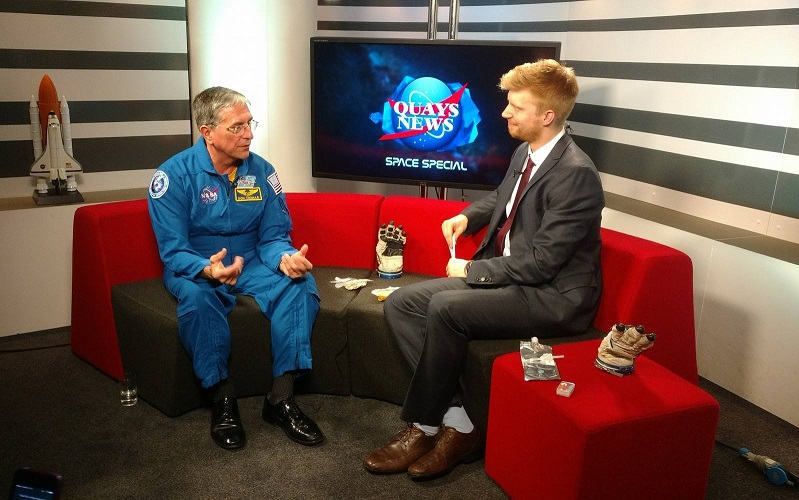 Tell us more about the website side of Quays.
Quaysnews.net has been running for five years now, and it's going from strength to strength. We're attracting on average about 30,000 page views a month, it's a great place to show off your work. Whether it's done for an assignment or extra-curricular, we're going to give you an audience.
What about your special programmes?
We've got Quays Sessions where we get musicians into our studios, they record a set, then we interview them. We had the Hoosiers in last year, of "Goodbye Mr A" fame, which was fantastic. But we also get local up-and-coming bands.
We also had a Space Special where we interviewed Dr Don Thomas, a former NASA astronaut. Every role of that was done by students.
Our Dementia Special ran as part of Dementia Awareness Week. At the end of it I turned around to the students and said "You've got to be very proud of that programme." Not only were we raising awareness about dementia, it was really fascinating.
Do you want to know more about Quays News? You can follow them on Twitter, Facebook and Instagram. Have a look at their YouTube channel where you can watch their shows.
Header image by Thomas Foster, follow him @tstarmedia or visit his site.