In December, Prof Mark Reed, Professor of Socio-Technical Innovation at Newcastle University and the man behind Fast Track Impact, tweeted some thoughts on how to write a 4* paper for the REF and wrote a blog about it. This post is published here with the author's permission.
How do you write a 4* paper for the Research Excellence Framework (REF)? It is a question I've asked myself with some urgency since the Stern Review shredded my REF submission by not allowing me to bring my papers with me this year to my new position at Newcastle University.
Obviously the answer is going to differ depending on your discipline, but I think there are a few simple things that everyone can do to maximize their chances of getting a top graded research output.
I'm going to start with the assumption that you've actually done original, significant and rigorous work – if you haven't then there is no point in reading any further. However, as I am increasingly asked to pre-review papers for colleagues across a range of disciplines, I am seeing examples of people who write up work as a 2* or 3* paper that has the potential to get a better score. I should point out that I believe that there is an important role for 1* and 2* papers, and that I regularly write these on purpose to address a problem of national significance and frame it for the specific, narrow audience that is likely to be able to benefit most from my work. However, whether I like it or not, as a Professor in a research-intensive University, there is an expectation that I will be submitted as a 4* researcher, which means I need a few 4* papers as well.
You can see some more detailed thoughts on what I think makes 4* for different types of paper in this Tweet:
https://twitter.com/profmarkreed/status/801348612345253888/photo/1
As you'll see from the discussion under that tweet though, my more detailed thoughts probably only apply to Units of Assessment across panels A-C, and probably isn't relevant to the arts and humanities.
Having said this, I think there are a number of things we can all do to maximize the chances of our work being viewed favourably by REF panelists.
Write to the criteria:when I was learning to drive, my instructor told me that in the test I should make sure I moved my head when I was looking in the rear view mirror, to make sure the examiner noticed I was using my mirrors. We're all used to writing to the criteria of funding calls, and in fact we are all perfectly used to writing papers to the criteria of our target journals. In the last REF, research outputs were judged against three criteria: originality, significance and rigour. Whatever the interpretation of these criteria in your discipline, have you made it explicit to REF panelists reading your work exactly what is original, and why it is so original? Have you explained and effectively justified the significance of your work? And have you included evidence that your methods, analysis and interpretation is rigorous, even if you have to use supplementary material to include extra detail about your methods and data to get around journal word limits?
Get REF feedback before you submit your work for publication:find out who is going to be reviewing research outputs for REF internally within your Unit of Assessment at your institution and ask them to review your work before you submit it. They may be able to make recommendations about how you might improve the paper in light of the REF criteria. Sometimes a little bit of extra work on the framing of your research in relation to wider contexts and issues can help articulate the significance of your work, and with additional reading and thinking, you may be able to position your work more effectively in relation to previous work to demonstrate its originality more clearly. Adding a few extra details to your methods and results may re-assure readers and reviewers that your approach is indeed rigorous. This is not just about doing world-leading research; it is about demonstrating to the world that your work is indeed world-leading. For me, these criteria are nothing new and are worth paying attention to, whether or not we are interested in REF. Meeting these three criteria will increase the chances that you get through peer-review and will increase the likelihood that your work gets cited.
Analyse and discuss good practice in your own area: the only way to really "get your eye in" for REF is to actually look at examples of good and poor practice in your own area. Below, I've described how you can design an exercise to do this with your colleagues. You can do it yourself and learn a lot, but from my own experience, you learn a lot more by doing this as a discussion exercise with colleagues who work in your area. If you can, take notes from your discussion and try and distill some of the key lessons, so you can learn collectively as a group and more effectively review and support each other's work.
How to organize a discussion to work out what makes a 4* paper in your area:
Identify top scoring institutions for your Unit of Assessment (UOA): download the REF2014 results, filter for your UOA (columns E or F), then filter so it only shows you the outputs (column J), and then filter for 4* (column L), showing only the institutions from your UOA that had the highest percentage of 4* outputs. Now for those institutions, look across the table (columns L-P) to see which has the highest proportion of outputs at either 3* or 4*. For example, an institution may have 80% of its outputs graded at 4* and 15% graded at 3*, meaning that 95% of its outputs were graded at 3-4*
Download a selection of papers from the top scoring institutions: go to your UOA on the REF website, find and click on the institutions you've identified in step 1, under "view submission data", click on "research outputs", copy and paste output titles into Google Scholar (or your search engine of choice) and download the articles. You may want to select outputs randomly, or you may want to go through more selectively, identifying outputs that are close to the areas your group specialize in
Repeat for low scoring institutions so you can compare and contrast high and low scoring outputs
Discuss examples: print copies of the high and low scoring outputs, labeled clearly, and in your next UOA meeting, let everyone choose a high and a low-scoring example. Given them 10-15 minutes to quickly read the outputs (focusing on title, abstract, introduction, figures and conclusions so you're not there all day) and then ask the group (or small groups if there are many of you) to discuss the key factors that they think distinguish between high and low scoring outputs. Get your group(s) to distill the key principles that they think are most useful and disseminate these more widely to the group, so that anyone who wasn't present can benefit.
It would be great if I could tell you that these are my "three easy ways to get a 4* paper" but doing work that is genuinely original, significant and rigorous is far from easy. If you have done work that is of the highest quality though, I hope that the ideas I've suggested here will help you get the credit you deserve for the great research you've done.
Leave a comment
---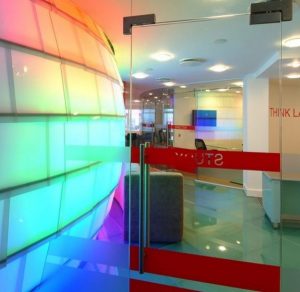 THE University of Salford will lead the way in helping to create more energy efficient cities, after receiving a €425,000 grant from the EU.
Buildings waste huge amounts of energy but annually just 1-2% of the building stock of cities is upgraded for efficiency – a process known as retrofitting.
It is estimated that the majority of European building stock will need to retrofit at a rate of 2.9% a year to achieve the target, versus the current 1.2% rate, in order that EU achieve its emission reduction targets by 2050.
However, current retrofitting processes are expensive, and face many uncertainties and complexities. Experts in the School of the Built Environment are partners in a €8.7 million project, and will lead the development of a knowledge-based tool which will select the integrated solutions with highest impact.
The other nineteen industry and academic partners involved in the project are from the UK, Spain, Belgium, Bulgaria, Germany, Italy, Greece, Bulgaria and Estonia. The wider project will explore innovative components, processes and decision making methodologies to guide all value-chain actors in the building renovation process; including a specific knowledge based tool for Real Estate Industry.
Professor Fernando, Director of the School of the Built Environment's THINKlab and an expert in digital visualisations and simulation, said: "This project offers us further funding to continue our work on designing energy efficient buildings and neighborhoods that we have been doing over the last three years as a part of the Design4Energy project.
"We plan to apply our knowledge in advanced visualisation and collaboration in creating an interactive platform for the stakeholders involved in the retrofit market to create innovative solutions that can not only enhance the energy efficiency of the building but also the value of the property."
This new technology platform will be built on the THINKlab's ongoing work on advance data visualisation and building simulation.
Leave a comment
---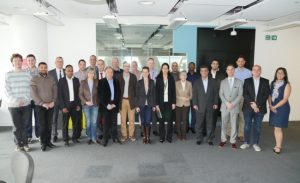 Earlier in April Professor Haifa Takruri MBE, Director of the JMEE (Joint MsC Electrical Engineering) programme, organised a special industry event which presented the project's progress to date. The workshop entitled 'JMEE: Enhancing the Participation of Industry in Research Projects in Telecommunications and Energy Sectors' covered the processes involved in developing the JMEE programme, as well as knowledge sharing, academia-industry collaboration and EU and Palestine cultural exchange.
A fantastic example of industry collaboration in action, the event was attended by a number of high-profile engineering partners. Mr Nigel Platt, System Engineering Manager at Siemens Energy, presented about AC and HVDC interconnections for offshore wind farms, from the platform installation to the energy transfer to land. Nigel answered audience questions about wind farm designs, voltage transfer and average output yield on the farms.
Professor Andy Sutton, Principal Network Architecture at BT and a visiting Professor in CSE, presented state-of-the-art research and standards development in 5G telecommunications technology, demonstrating how future IMT technology development is shaping the strategies for 2020 and beyond.
Dr Sam Grogan, Pro-Vice Chancellor Students Experience, brought the discussion back to student experience by speaking about the work the University is doing both locally and internationally in developing the entrepreneurial skills of students.
The talks were followed by an intense and technical discussion showing the vast experience and understanding of the sector by the speakers and participants. After lunch the JMEE team visited Siemens Ardwick railway maintenance facilities. Delegates got to see the new electric train and diesel train maintenance methodology. The group gained an understanding into the capacity and operation required to ensure commuter services are sustained in the Manchester region.
Haifa, who recently received an outstanding achievement award for her work in engineering, said: "It was a great pleasure to host the JMEE workshop at our Media City campus. I am grateful to the speakers for sharing their industrial knowledge and experience with the consortium and for EU TEMPUS for funding the JMEE project."
Leave a comment
---
Professor Haifa Takruri-Rizk from the School of Computer Science and Engineering has been recognised once again for her work to attract more females into engineering. Prof Takruri-Rizk was awarded an Outstanding Achievement Award at the recent North West Engineering Excellence Awards held in Manchester.
The joint award is from the Institute of Engineering & Technology (North West), the Institute of Mechanical Engineering and the Institute of Chemical Engineering (Manchester branches).
Earlier this year, she was the key speaker at an event organised by Barclay's Academy to inspire hundreds more schoolgirls to follow careers in electronic engineering and computer science – the latest in a raft of 'mentoring' work she undertakes including the annual summer school for young women.
Through her expertise in electronics and mobile networking, and initiatives to address the participation of women and ethnic minorities, Haifa has worked with the BBC, Opportunity Now, the Royal Academy of Engineering, Skillset, Equal Opportunities Commission, Women's Engineering Society, UK Resource Centre for Women in SET, Science, Engineering, Manufacturing and Technologies Alliance (SEMTA) and many others. Furthermore in 2009 she was awarded the MBE for services to women, black and minority ethnic people in science, engineering and technology education.
Leave a comment
---
Professor of Telecommunications Nigel Linge and Visiting Professor Andy Sutton, both from the School of Computing, Science and Engineering, last week launched their second book 'The British Phonebox' at Avoncroft Museum in Bromsgrove.
The Avoncroft Museum of Historic Buildings hosts the National Telephone Kiosk Collection and as Nigel said, "when you have written a book about phone boxes, where else would you choose to launch it but at the museum that is the home of the kiosk". Despite the fact that phone boxes have declined in number and are used less and less each year, the older red ones have become icons of Britain, recognised the world over. Nigel and Andy's book not only traces the origins of the British phone box from its birth in 1884 but also includes details and photographs of all major versions that have appeared on our streets and proves that the phone box still has a future by showcasing new designs that are being introduced this year.
The British Phonebox is published by Amberley Publishing. Their first book, '30 years of Mobile Phones in the UK' was also published by Amberley in 2015.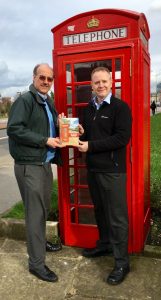 Leave a comment
---
Award-winning researcher, Dr Mike Wood, is back in Chernobyl.  This time he's accompanied by fellow Salford academic, Dr Neil Entwistle, as they undertake fieldwork in Chernobyl's 'Red Forest' for their latest NERC grant.
The Red Forest is the most anthropogenically contaminated radioactive ecosystem on earth.  Located just a few kilometres from the Chernobyl Nuclear Power Plant where the 1986 accident occurred, this 4 – 6 square kilometres area of coniferous forest was killed by high radiation levels.  Before the trees died, their needles turned a red/orange colour and the area was named the Red Forest.  In the 30 years since the accident, the area has transitioned into a deciduous woodland (deciduous trees are more resistant to radiation than conifers).
A severe fire in the Red Forest during July 2016 was reported to have burnt approximately 80 percent of the forest. This presented a unique opportunity to study the effect of fire on i) radionuclide mobility/bioavailability and ii) the impact of radiation on the recovery of the forest ecosystems exposed to another stressor (ie. fire).
The new NERC grant, RED FIRE (Radioactive Environment Damaged by Fire: a Forest in Recovery), is funding an international research team to study the aftermath of the fire.  Dr Wood and Dr Entwistle, both from the School of Environment & Life Sciences at the University of Salford, are working in collaboration with the Centre for Ecology & Hydrology, University of Nottingham, Chornobyl Center, the Ukrainian Institute of Agricultural Radiology and the Norwegian University of Life Sciences.
The team are using a combination of techniques, from soil analysis to drones, to study the fire damaged area.  The project builds on Dr Wood's previous radioecology research collaborations, including those developed through the NERC TREE project (www.ceh.ac.uk/TREE).  Dr Entwistle, an expert in drone-based research, is a new and valuable addition to the research team due to his specialist expertise.
RED FIRE is led by Prof Nick Beresford at the Centre for Ecology & Hydrology.  Initial findings from the project will be reported at the 4th International Conference on Radioecology and Environmental Radioactivity (ICRER) in Berlin in September 2017.
Leave a comment
---
Building upon the successful collaboration from last year, University of Salford will partner with the Economic and Social Research Council, the University of Manchester and Manchester Metropolitan University to deliver the ESRC Manchester Festival of Social Science.
The aim of the Festival is to showcase Manchester social science research to a broad non-academic audience. Last year we hosted an eclectic blend of activities designed to celebrate the social sciences, including discussions and debates, exhibitions, schools visits, workshops, and lots more.
The call for applications is now open. The Festival runs from 4-11 November and will involve academics working alongside community and cultural partners to create engaging and inspiring research-led events, aimed at a broadly non-academic audience. The goal is to provide an insight into the many ways social science contributes to social, economic and political life across our cities, regions and beyond.
Any researcher or team can apply to hold an event under the ESRC Festival banner. Applicants can also request up to £1,000 sponsorship from the University of Salford to hold an event as part of the Festival. This will also be an excellent opportunity to tag these events to the University's 50th anniversary celebrations. Events must include social science and seek to engage groups outside of academia including young people, third sector organisations, business, local government, policy makers and the general public.
We particularly welcome applications that:
Seek to bring together two or more festival partners
Seek to deliver interdisciplinary events
Consider the role and future of social science as a discipline
Involve early career researchers
Address issues pertinent to the Manchester city-region
For inspiration and ideas for the kind of event you might run, you can find out about the 2016 events at www.esrcmanchesterfest.ac.uk
Please note, applications SHOULD NOT be made directly to the ESRC, but rather via the University of Salford. The application deadline is 4pm on Friday 5th of May. The application form and guidance can be requested through research-impact@salford.ac.uk.
Further details can be found on the ESRC website, including eligibility criteria: www.esrc.ac.uk/public-engagement/festival-of-social-science/apply-to-organise-an-event/
Leave a comment
---
On Monday, 6 March 2017, three Salford academics delivered papers at a one-day conference held at Pembroke College, Oxford. The conference on 'Military Doctrine: Past, Present and Future' saw historians and armed forces practitioners meet to discuss the way in which military doctrine has been formulated and disseminated in the past, with a discussion on how past and current experience can inform future practice. The conference was hosted by the Oxford Changing Character of War (CCW) Programme. Three Salford military historians – Dr Brian Hall, Professor Alaric Searle and Dr James Corum – delivered papers, together with other academics and several practitioners.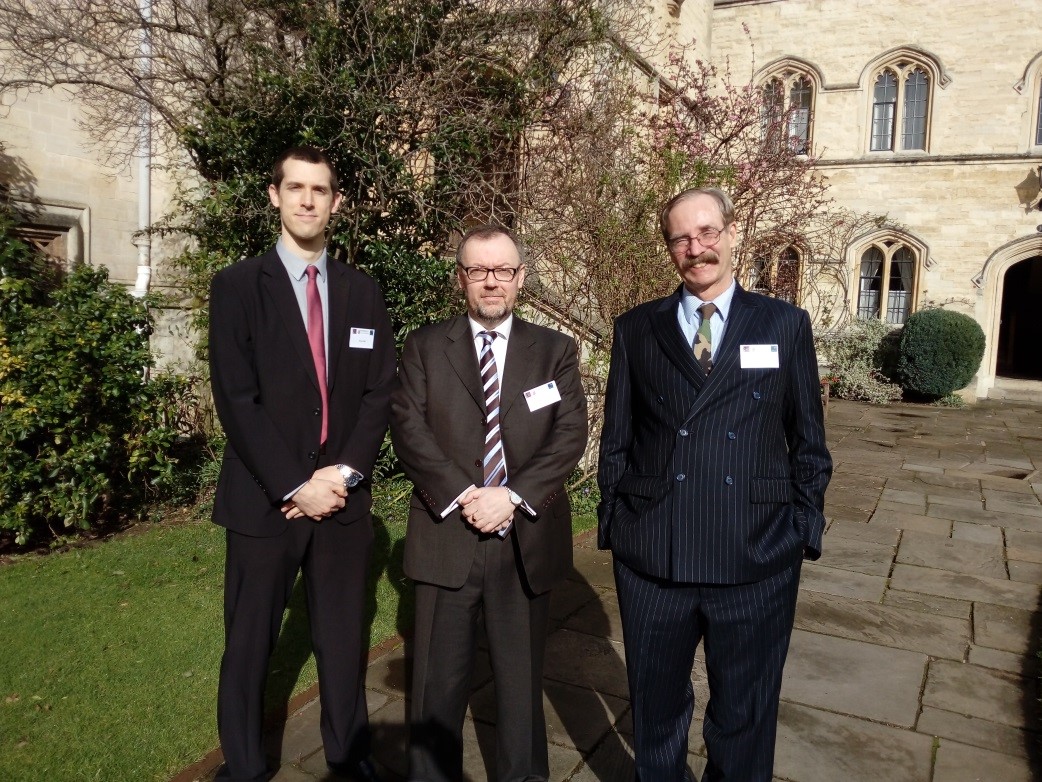 Dr Brian Hall, Prof Alaric Searle and Dr James Corum at Pembroke College
'The idea for the conference emerged after a discussion I had with Dr Robert Johnson, Director of the CCW Programme, while I was a Visiting Fellow at Pembroke last semester', explained Alaric Searle, Professor of Modern European History in the School of Arts and Media. 'The basic idea was that if we considered how military organisations had developed their doctrines from a historical perspective there might be lessons which contemporary military organisations could draw to inform future practice. If we invited those who had written recent doctrine, then that would create a discussion between practitioners and historians.'
Military doctrine is, in essence, what armies put in their manuals; the process itself can be very contentious, often leading to major internal controversies inside armed forces. The aim of the conference was to provide an international, historical perspective, and combine these papers with presentations by those who had been involved in the process in the past. Professor Searle began the conference with an overview of historical experience and the lessons which suggested themselves. Dr Brian Hall, Lecturer in Contemporary Military History, offered a case study of British communications doctrine in the First World War. Dr James Corum, Lecturer in Terrorism and Security Studies, one of the co-authors of the US Army FM 3-24: Counterinsurgency manual of 2006, written under the direction of General David Petraeus, reported on the experience of doctrine-writing for what has turned out to be the most down-loaded field manual in history.
The conference provided an opportunity for Salford to showcase its expertise in both military history and high-level practitioner experience. Professor Searle noted: 'It is always very pleasurable as a historian to be able to engage in debate with military professionals and test one's ideas and interpretations with those who have been involved in real-world policy making, even if it is at times slightly intimidating to be debating with high-ranking officers. However, my experience has been that quality research can very often throw interesting new perspectives on practical problems.' He added: 'While the general public often regard history as something which is not particularly practical, it often is extremely useful for policy-makers. Events such these demonstrate the relevance and importance of historians and political scientists for the University of Salford's ICZ agenda.'
Leave a comment
---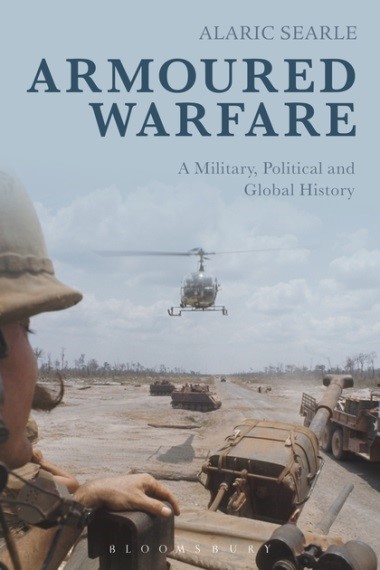 Alaric Searle, Professor of Modern European History in the School of Arts and Media, was able to launch his new book, entitled Armoured Warfare: A Military, Political and Global History, at a conference at Pembroke College, Oxford, last week. Following a one-day conference on 'Military Doctrine: Past, Present and Future', he was interviewed by the Director of the Oxford Changing Character of War Programme Director and Senior Fellow at Pembroke College, Dr Robert Johnson, on his motivation for writing the book and which trends he anticipated in armoured warfare over the next two decades.
'Holding the book launch at the end of the one-day conference on military doctrine seemed to be a particularly good way of publicising it', said Alaric. 'For one, the role of military doctrine has been absolutely central to the development of armoured warfare since the first appearance of the tank in the First World War. Moreover, what better way to showcase the book than in front of an audience of military historians and professional soldiers.' He added: 'It might seem a little intimidating to be answering questions about a military subject as technical as armoured warfare when several retired generals are sitting in the audience. However, the book has been the product of many years of research, so I feel fairly confident about the views I have expressed in the book.'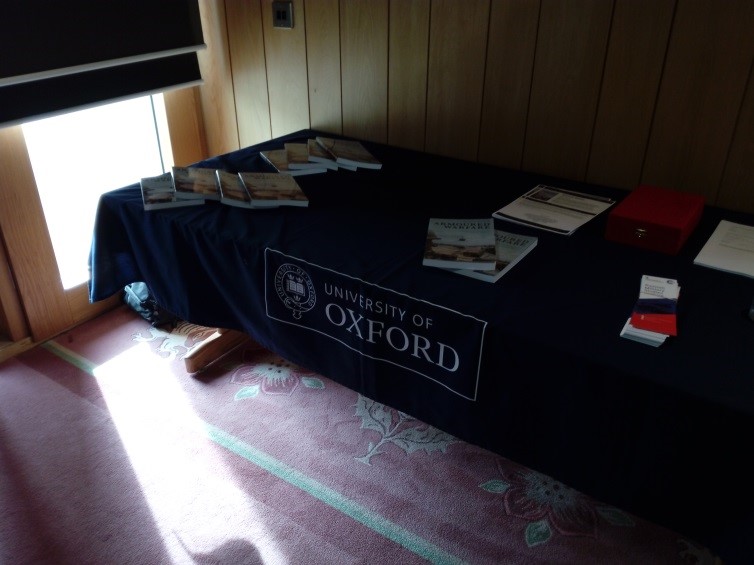 The book, which was published by Bloomsbury Academic last month, was conceived as a textbook for university undergraduate and postgraduate students. What is unusual about it is that it is the first work to consider both the global aspects of the subject, but also include the history of the politics of armoured vehicles and the political symbolism with which they have been invested. As Alaric noted: 'There have been many, many books written on specific armoured vehicles, but there has been until now no one single volume which provides a reliable guide to the subject suitable for students. I was also able to persuade the publisher to include an extensive bibliography, so that students can follow up individual subjects which interest them.'
The presentation of the book was followed by a wine reception at which conference participants could purchase a copy of the book and network.
Leave a comment
---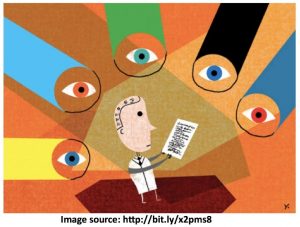 As a researcher, sharing your work is essential to furthering the discussion, development and potentially even funding of your findings. The sheer quantity of guides available on "how to write" and "how to target X journal" perhaps signifying the impact of targeting the right place and the best audience for your research.
Before reaching the stage of submitting in the hope of publication, many publishers expect researchers to have already made some key considerations:
Is your research original, engaging, innovative?
Who do you expect to be the audience for your research?
Which journal(s) do you think might be interested in accepting your article for publication and does your article fit with their aims, scope and style?
What are your open access needs?
Is your manuscript suitably and well written (free from grammatical error, solid narrative, clear abstract and conclusions) in accordance with the journal's style guide?
Your researching peers and foremost, your supervisor, are the best place to start for advice on where to publish and whether your manuscript is ready. Then, once you think you have found the right journal for your article, you should read their Author's Guide and make sure you can freely submit to them as some journals are invitation-only.
Leave a comment
---