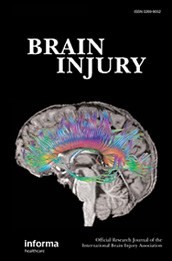 Last year I published a manuscript: "Prevalence and assessment of traumatic brain injury in prison inmates: A systematic PRISMA review" in the journal Brain Injury as part of my VC Scholarship award. This month, I was absolutely delighted when the journal Brain Injury awarded my paper the 2016 first place winner of the Henry Stonnington Award for review articles (http://www.tandfonline.com/doi/pdf/10.1080/02699050500322695).
My review of the prevalence and assessment of brain injury in offender populations highlighted a number of key issues within the area. Some of the studies identified in this review touch on the issue of traumatic brain injury (TBI) being largely unrecognised and that, within the criminal justice system, it is a 'hidden disability'. The studies identified in my review clearly supported the need for screening for TBI within the criminal justice system (at any stage such as: during parole, court diversion or while the individual is in a correctional programme). Currently, TBI receives no medical attention in a large number of cases and, therefore, access to medical records to determine history of TBI is, largely, of no 'diagnostic' use. In order to address this issue in the assessment of TBI, the Ohio State University developed The Ohio State University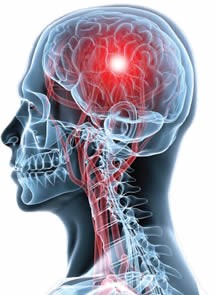 (OSU) Traumatic Brain Injury (TBI) Identification Method (OSU-TBI-ID) (See: http://ohiovalley.org/tbi-id-method/). One study highlights the clinical utility of the OSU-TBI-ID in identifying TBI in inmates and advocates that it can be easily incorporated and combined with existing screening instruments.
In terms of the implication for further research and practice, the studies identified in my review clearly emphasise the need to account for TBI in managing care in offender populations, which may contribute to reduction in offending behaviours. Despite studies highlighting the significant prevalence of TBI in inmates, there has been little consideration of this in the development of policies and procedures. A review, conducted in the UK and published in 2009, exploring the mental health needs of prisoners made no reference to TBI. In prison populations TBI remains inadequately addressed. Further understanding and recognition of the prevalence of TBI in inmates and its psychiatric associations is necessary in order to inform TBI-specific prison rehabilitation programmes.
For link to the review article in Brain Injury see: http://www.tandfonline.com/doi/abs/10.1080/02699052.2016.1191674?journalCode=ibij20
Leave a comment
---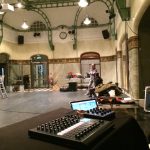 Salford doctoral candidate Manoli Moriaty is a composer and performer researching collaborative interdisciplinary arts. Last year he was supported by Arts Council Englad in working with Swedish dancer and choreographer Teresia Björk on Vi-We-Nous, a stage work based on the life of Swedish artists and activist Siri Derkert, which was performed in Beijing and Stockholm. He writes about his experience of working abroad.
_Teresia invited me to create and perform the score and sound design for her work Vi-We-Nous, the second piece of the trilogy Teresia had written based on the life of seminal Swedish artist and activist Siri Derkert. The performance schedule involved programming at the second edition of the Beijing New Dance Festival at the end of August, and further four at Stockholm's Dansmuseet (Dance Museum) in mid-October.
The 45' piece was developed at a series of rehearsals during August in Stockholm ahead of the trip to China. The collaborative process involved Teresia providing a conceptual narrative on which I was to respond through the sonic material composed on my laptop. The material were then compiled into an arrangement over which the choreography was written. One of the score's most fascinating and yet challenging aspects was that while the arrangement allowed for improvisation during performance, it was arranged on a rigid timeline which required accuracy in initiating and manipulating specific sounds. Further to this, the final mix of the score needed to remain flexible as to accommodate the vastly different spaces and respective sound systems that it would be performed at.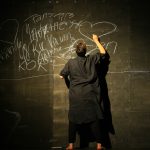 Vi-We-Nous was premiered at the 9 Theatre of the Chaoyang Cultural Centre in Beijing, with the festival including works by international dance companies such as Dansema Dance Theatre and Compagnie Marie Chouinard. The programme was adventurous and experimental, which was one of the aims of the festival as means of introducing local audiences to artistic creations that had little previous exposure in China. Our two performances were presented at the TNT Stage, with audiences of up to 300 people providing a warm reception and positive feedback after each showing. This sentiment was also reflected in the dance workshop we conducted ahead of the first performance, with participants responding enthusiastically to both Teresia's guidance and the sounds I had prepared for the session.
The second round of performances were programmed by the Dansmuseet in Stockholm, with four showings scheduled for the second week of October. The stage was set at the museum lobby, a narrow space with high ceiling, which proved to be a substantial challenge in setting up the sound system in a way as to accurately reproduce the score. All four performances were well attended, with the space able to accommodate up to 40 people, with the second evening also including a discussion between the audience and the performers. The feedback was again particularly favourable for the work, even more due to the local audience's familiarity with Siri Derkert and Teresia's previous work in Sweden and abroad. This was reinforced by favourable reviews in two of Stockholm's daily newspapers, Dagens Nyheter and Svenska Dagbladet.
Developing Vi-We-Nous was one of my most significant works to date, and I kindly thank Teresia Björk for providing me this opportunity. My participation was made possible through support from the Artists International Development Fund by Arts Council England. The AIDF scheme is aimed at supporting emerging artists in collaborating with international practitioners and organisations, and I am particularly grateful to the Arts Council's team in providing me with excellent support and guidance in completing and managing the fund. I also extend warm gratitude for their support to Mathias Lafolie, cultural director of the Swedish Embassy in Beijing, Xi Zhao, founder of the Beijing New Dance Festival, and Erik Näslund, director of the Dansmuseet.
More details and video of Vi-We-Nous can be found at manolimoriaty.wordpress.com/vi-we-nous/
Leave a comment
---

A new accreditation scheme launched by the University of Salford has been developed by the Design Against Crime Solution Centre with the Head of Security at Salford that will make it easier for prospective students and their parents to identify safe universities in the UK.
All higher education institutions across the UK are now being encouraged to join ProtectED – an accreditation scheme assessing the work done by universities to ensure their students' safety, security and wellbeing.
They can then work towards accreditation by providing details about the services and structures they provide to enable students to avoid problems and achieve their full potential.

ProtectED is the first accreditation scheme in the UK's higher education sector to comprehensively consider practices across the areas of student safety, security and wellbeing.
It is founded on the belief that HEIs have a critical role to play in student safety, security and wellbeing — one that does not end at campus boundaries but encompasses the wider student experience.
Professor Helen Marshall, Vice-Chancellor of the University of Salford, said: "An issue which the higher education sector has grappled with for years is that institutions have varied and different ways of considering the safety and wellbeing of their students, without a higher education specific code of practice and benchmark for policies and best practice.
"These are huge issues to students and parents, but up until now there has been no standard way of benchmarking and assessing how effectively universities manage the issue. I really welcome this work developed by our dedicated and internationally-recognised security and community relations team at Salford."
Through the accreditation process, ProtectED will gain insight into issues and collect evidence on what works. This will be anonymised, aggregated and analysed, and findings shared with members, enabling them to focus resources on effective strategies that provide demonstrable benefits.
ProtectED accreditation focuses on five areas: Core Institutional Safety and Security – covering campus security measures; Wellbeing and Mental Health; International Students; Harassment and Sexual Assault; and the Student Night Out.
There are 2.3 million university students in the UK's 162 HEIs — more that the population of Qatar. Office of National Statistics figures show full-time students are more at risk than the general population of being victims of crime, while an NUS survey of more than 1,000 students found 78 per cent had experienced mental health issues during the previous year.
ProtectED brings together university staff and students in tackling these issues, and requires HEIs to implement practical measures. For example, ProtectED universities will deliver training and awareness-raising initiatives to highlight the support available to students, and to facilitate conversation around sensitive subjects such as mental ill-health and sexual assault.
Research suggests that international students are particularly concerned about safety in their choice of where to study overseas.
Helen Clews, External Relations Adviser for the British Council and member of the ProtectED Advisory Board, said: "Personal safety in the UK for students, their dependents, visitors and workers coming to the UK is a duty of care the British Council takes very seriously and we work with partners such as ProtectED to help international students take care of themselves and settle happily into their community."
Student retention is another significant issue. According to the Higher Education Statistics Agency, 26,000 UK students failed to complete their first year in 2010/11. ProtectED is based around the need for effective prevention, early intervention and timely support, raising levels of student satisfaction and enabling more students to complete their studies.
Mark Sutton, chairman of the Association of University Chief Security Officers (AUCSO), said: "The ProtectED code of practice gives a clear opportunity to benchmark processes and procedures that will allow universities to focus on sector best practice, continuous improvement and the student experience. It will raise standards throughout HE and therefore I fully support this excellent initiative."
Ben Lewis, chairman of the Association of Managers of Student Services in Higher Education (AMOSSHE), said: "ProtectED gives real potential for institutions to think more strategically about how they structure their security and support services, how they work with one another and how they can improve all aspects of the student experience. AMOSSHE is fully supportive of the work being led by ProtectED and the team at Salford University."
Dave Humphries, Director of Partnerships & Interventions at the Security Industry Authority, said: "As the UK Government's regulator of private security, we support the ProtectED initiative as it is an innovative way to ensure a higher university security standards. We have been pleased to work alongside colleagues at the University of Salford."
Institutions wanting to join must sign up to the five key ProtectED Principles, committing to adopting within their policies, structures, processes and culture.
To gain accreditation, applicant institutions must self-assess their own policies, processes and practice against the ProtectED Code of Practice. This is followed by peer review and a verification visit by a ProtectED approved assessor and student assessors.
Membership is open from Monday 6 February 2017, with the first group of ProtectED Accredited Institution award holders expected to be certified in early 2018.
For more information, visit www.Protect-ED.org, follow @ProtectED_HEI or email info@protect-ed.org
ENDS
Notes to Editors:
ProtectED has benefitted from the support and guidance of organisations including the Association of University Chief Security Officers (AUCSO), the British Council, the Security Industry Authority (SIA), the Association of Managers of Student Services in Higher Education (AMOSSHE), the University Mental Health Advisers Network (UMHAN), Greater Manchester Police, student insurers Endsleigh, International Professional Security Association (IPSA), National Landlords Association, College & Universities Business Officers (CUBO).
The launch of the ProtectED Code of Practice is especially timely given the publication in October 2016 of the Universities UK 'Changing the Culture' task force report, which examines violence against women, harassment and hate crime affecting university students. For example, the National Union of Students (NUS) 'Hidden Marks' report (2010) found that 68% of female students experienced one or more incidents of sexual harassment at university — a problem that has been increasingly reported upon in recent months. Further, the NUS 'No Place for Hate' survey (2012) found that 18% of students from ethnic minority backgrounds described experiencing at least one racial hate incident whilst at university. The Universities UK Task Force report clearly signals that HEIs can no longer continue to ignore these issues. The ProtectED Code of Practice incorporates all of the report's recommendations and goes further in addressing staff-to-student sexual harassment, hate crime and cyber bullying.
The wide-ranging measures contained in the ProtectED Code of Practice (the indicators universities must meet to achieve accreditation) were developed using an evidence-based approach. To better understand the issues facing contemporary HEIs and their students, the ProtectED team conducted a literature review of the mental health and wellbeing of students and young adults. They also ran focus groups with University Security Managers, Police Higher Education Liaison Officers and Students Union Sabbatical Officers, and surveyed 800 university NUS students.
Eric Baskind, senior lecturer in law and consultant in violence reduction at Liverpool John Moores University, and a member of the ProtectED Advisory Board, said: "ProtectED provides institutions with an excellent tool for implementing best practice procedures and improving campus safety and thereby enhancing the student experience. It is an excellent initiative and has my full support."
It is proposed that the ProtectED accreditation scheme will eventually be expanded to cover UK further education (FE) colleges, as well as universities in other parts of Europe.
For press enquiries please contact: Conrad Astley, Senior Press and PR Officer, University of Salford at c.l.astley@salford.ac.uk  / +44 (0) 161 2956363
Tags:
Ben Lewis
,
Dave Humphries
,
Design Against Crime Solution Centre
,
Harassment and Sexual Assault
,
HEI
,
Helen Clews
,
Helen Marshall
,
International Students
,
Mark Sutton
,
ProtectED
,
Safety and Security
,
Student Night Out
,
university of salford
,
Wellbeing and Mental Health
Posted in
AMC
Leave a comment
---
Young Salford scientists have been selected to present their research at the House of Commons.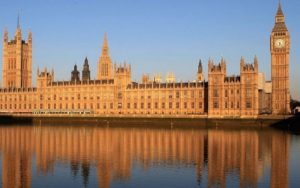 Sun Mingxu, 32, and Alix Chadwell, 28, will unveil projects to help stroke patients and amputees respectively at the Science Technology, Engineering and Mathematics STEM for Britain event on March 13, 2017.
The event is organized by the Parliamentary and Scientific Committee, together with the Royal Academy of Engineering, the Royal Society of Chemistry, the Institute of Physics and the Society of Biology.
Dr Mingxu, a BSc Computer Science graduate, originally from Shandong in China, is a postdoctoral researcher with the cross-school Rehabilitation technologies and Biomedical Engineering group where he's currently engaged in a National Institute of Health Research funded project to develop an advanced  functional  electrical  stimulation  system  for  stroke rehabilitation. The project is led by professors Laurence Kenney (School of Health Sciences) and David Howard (School of Computing, Science and Engineering).
Medical engineer
Alix Chadwell, a medical engineering graduate from the University of Bath, is conducting her PhD at Salford University into improvements in myoelectric upper-limb prosthesis.
There are 130,000 new stroke cases each year in the UK and, of those who survive, the majority find themselves having to adjust to life with reduced function in their upper limbs. Intensively movement early after stroke can lead to long term improvements but this is impeded by limited NHS therapy time.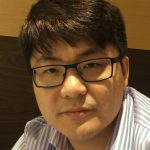 Working with Odstock Medical, Sun Mingxu (pictured left) has developed a novel system which allows a patient to practise movements with much-reduced support from their therapist, and provides the clinician with data on their performance both during and after practice. The new system has recently received  MHRA  approval  for  a  clinical  investigation, which is now running at three clinical sites. Providing the results are positive, the manufacturers hope to commercialise the system later this year.
Alix Chadwell's research aims to establish why it is that some users of myoelectric prostheses can find their devices difficult to control. She has developed a portable system allowing her to assess users outside of the laboratory and has begun measuring how well users can control the required muscle  signals,  how  well  the  electrodes  can collect these signals, overall functionality and  patterns of prosthesis use in everyday life.
Supportive culture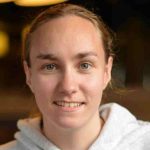 Alix (pictured left) said: "My interest in the design of prostheses brought me to Salford in 2014 and I am very glad I made that decision. Having previously trained as an Engineer, my highlight has been working alongside colleagues from both technical and clinical backgrounds, which  I  believe  is  key  to  developing solutions which are clinically applicable. I have found my supervisory team and the wider research group to be extremely supportive and my knowledge and interest in the field has expanded significantly. I look forward to seeing where it will take me next."
School of Health Sciences Dean, Kay Hack said: "Many congratulations to Mingxu and Alix on their involvement in STEM for Britain.
"Their selection for this prestigious event is well-deserved and a testament to the quality of their research and the excellent support we offer to early career researchers at the University of Salford. The work they are doing not only extends knowledge in these areas but will make a real impact  on  people's  lives.
"To present at the House of Commons is a wonderful opportunity to meet some important figures in STEM and importantly also to make their mark as rising stars in their field. I hope they enjoy it."
Leave a comment
---
Prof Alaric Searle, who was appointed Distinguished Visiting Professor in the Faculty of History, Nankai University, Tianjin, PRC, in June of last year, has already started to cooperate with staff from Nankai. Within the framework of his recent Visiting Fellowship to Pembroke College, Oxford, and the Changing Character of War (CCW) Programme in particular, undertaken during his sabbatical in Semester 1 of AY 2016/17, Alaric was able to arrange a guest lecture in Oxford by Dr Wang Wei of Nankai.
Dr Wang, Lecturer in International History in the Faculty of History at Nankai, delivered a talk on 23 January as part of the CCW lecture series entitled, 'British Planning for the Postwar World Order: The Role of the Foreign Research and Press Service, 1939-43' at Pembroke College. Alaric commented: 'It was one of the great blessings of the Visiting Fellowship on the CCW Programme in Oxford that I was able to make the suggestion that Dr Wang deliver a lecture at Pembroke. I am most grateful to the Director of CCW, Dr Rob Johnson, for agreeing so readily to the suggestion. It is one example of the type of cooperation which I am hoping to pursue with the Faculty of History at Nankai in the future.'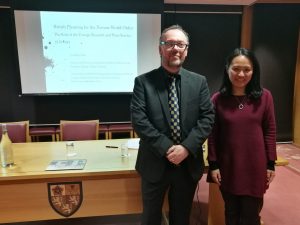 During the course of the visit to Oxford, Prof Searle and Dr Wang also had the opportunity to meet with Rana Mitter, Professor of the History and Politics of Modern China, at the University of Oxford China Centre. Prof Mitter, who is well-known for his research on twentieth century Chinese history, most recently through his book China's War with Japan, 1937-1945: The Struggle for Survival (2013), discussed a variety of topics and projects relating to Chinese history with Alaric and Wei.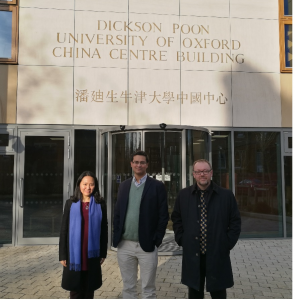 Dr Wang is currently spending a year in the Department of International History, London School of Economics, as a Visiting Scholar. Wei commented: 'I am immensely grateful to Professor Alaric Searle for making it possible for me to give talks in Oxford and soon in Salford. I look forward to visiting Salford; and, I hope more staff and students from Salford can come and visit Nankai in the future.'
Dr Wang will be visiting Salford University in April/May of this year and will be delivering a guest lecture. She also intends to take the opportunity to conduct archival research in the People's History Museum and the Working-Class Movement Library. Alaric noted: 'I am delighted that Wei is able to come to Salford. Much of her research intersects well with the interests of staff in Politics and Contemporary History. It will be a great way to cement the relationship with Nankai and for students and colleagues in English, Politics and Contemporary History to get to know her as well. We look forward immensely to hosting her for two weeks in Salford.'
Leave a comment
---
Researchers from UPRISE are collaborating with colleagues from the School of Environment and Life Sciences, Research and Innovation and SHUSU (Sustainable Housing & Urban Studies Unit) on a HEIF-funded project to explore local and regional approaches to ecology and flooding.  This project will involve engaging with organisations, agencies and communities in the Salford and wider Manchester region to understand how ecological principles can be applied to the issues surrounding floods, and the wider functioning of a city.  This diverse partnership draws from a pool of expertise, and demonstrates precisely the interdisciplinary approach required to look at 21st century urban issues – keeping in spirit with the ICZ strategy of the University of Salford.
Led by the Dean of School, Prof. Hisham Elkadi, the project will run until the end of July.  By strengthening partnerships with UPRISE across the university and beyond, this important area of study will provide a basis for a larger and longer term body of work which will evolve our thinking on cities and how they function, Dean of School, Prof. Hisham Elkadi says "Climate change results in more severe and more frequent adversial weather conditions.  Flood-control infrastructures in our contemporary cities are not reliable mitigation defenses in the face of climate change uncertainties. The aim of the project is to build-in ecological resilience measures to mitigate against flooding"
A series of workshops and interviews are being organised by UPRISE as part of the project.  UPRISE Research Fellow, Dr. Nick Davies, described the co-creation approach of the project: 'The workshops will provide a platform for organisations involved in various sectors concerned with flood resilience to interact, and be involved in designing and sharpening the key research focus of this project.'
Leave a comment
---
Dr Catherine Thompson has been awarded a Small Research Gran
t from the Experimental Psychology Society to investigate "The effects of emotion and demand on the Attentional Blink".
Effective allocation of attentional resources is vital to the successful completion of any task and the research will explore how visual attention may be limited under demanding and emotional situations (conditions common to a range of tasks). The study is part of a larger body of work that aims to demonstrate how cognitive performance can be influenced by factors such as work related stress and anxiety. Catherine will be working on the project with her Research Assistant, Danila Ranieri, who previously studied Psychology to post-graduate level at La Sapienza University in Rome.
---
See Dr Thompson's online profile
Leave a comment
---
The School of Built Environment's Professor Jason Underwood was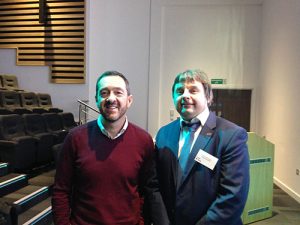 s an invited keynote alongside Chris Boardman, MBE and former British and Olympic cyclist, at an event organised by the global technology organisation Trimble Solutions/Tekla on 1st December.
The event was focused  on the people aspect of collaboration and digital construction entitled "People Count – the culture of digital construction". Jason gave a keynote on the psychology of collaboration in the construction industry in relation to changing the perceived norms, which followed on from Chris' presentation that considered the psychology of winning. Further information on the event can be found  at www.tekla.com/uk/about/events/people-count-culture-digital-construction.
Leave a comment
---
La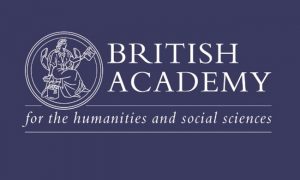 st week, the University Alliance joined up with the British Academy and Salford University to host an event exploring international research.
Professor Gerry Kelleher Pro Vice-Chancellor for Research and Enterprise and Alun Evans Chief Executive of the British Academy launched proceedings at the University of Salford's Media City campus. Over 100 researchers and senior academics from the across the region where invited to attend the day-long event which included presentations from Salford academics Professor Ralph Darlington and Dr Samantha Newbery.
The event highlighted British Academy funding opportunities, explored policy and structural issues around international research and shared best practice and was accompanied by a supporting exhibition of delegate research.
Matt Robinson, Policy and Programmes Manager at the University Alliance said: "We found it incredibly useful to hear first-hand about the barriers and solutions encountered while undertaking international projects. This is a really interesting time for international research. The formation of the Global Challenge Research fund and UK Research and Innovation means that the way these international projects are funded and run will change over the coming year so having heard experiences of researchers presenting today greatly enhances our understanding and helps to inform discussions we will be having."
The British Academy is the UK's national body for the humanities and social sciences – the study of peoples, cultures and societies, past, present and future.
Leave a comment
---
Factory-built homes could help solve the UK's housing crisis, construction expert Professor Mohammed Arif has told the BBC.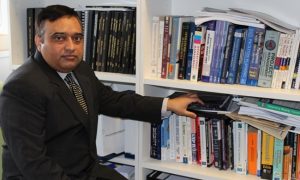 Factory-built homes, also known as modular houses, have the capability to deliver homes fast, cheaper and have a final product which is more energy efficient, Arif, Professor of Sustainability and Process Management, said.
The Professor in the School of the Built Environment told the BBC's North West Tonight programme as part of a feature on a Liverpool housing association's move into flat-pack construction. Flat-pack houses can be built in half the time of a conventional house.
He said: "Given what we are facing in terms of the rising costs of housing which has kicked an entire segment of the population out of the domain of home ownership, modular houses have the capability to deliver homes fast, cheaper and have a final product which is more energy efficient."
Factory-built homes currently make up 1% of the supply, with the Government's stated aim to build 100,000 by 2020.
See the BBC North West Tonight video here:
Leave a comment
---