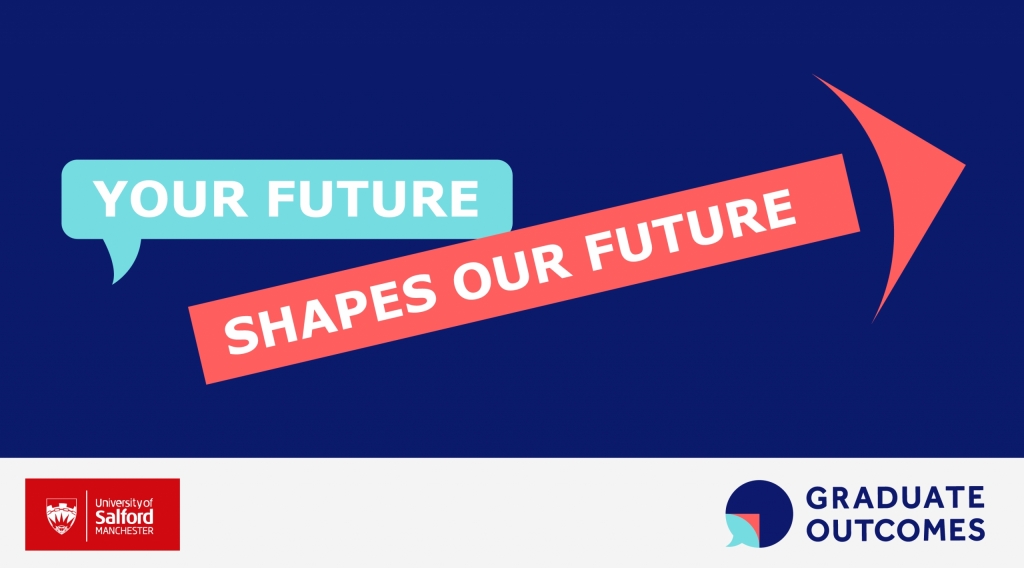 One of the most important decisions you will make in your life is which university to attend. As a recent graduate from the University of Salford, we hope you feel that you made the right choice.
You have spent years with us studying, making friends and memorable experiences that will last a lifetime – and we want you to share your feedback in the new Graduate Outcomes survey, so that the next generation of students can make an informed choice and we can continue to improve the student experience at the University of Salford.
So how can you take part in the Graduate Outcomes Survey?
The Graduate Outcomes* survey will ask all of our future graduates about their activities and views approximately 15 months after completing their studies. To ensure you don't miss the email to inform you how you can take part, make sure your contact details are up to date to continue to access support from the Careers Service, connect with our alumni network and find out when you will be required to complete #GraduateOutcomes.
What questions will be asked in the Graduate Outcomes survey?
The questions are designed to provide a rich picture of the diversity of graduate outcomes. These new 'graduate voice' measures capture three areas:
How meaningful or important you feel your activity to be.
Whether you are using the skills gained at university in your current activity.
How you are progressing towards your future goals.
Your Voice Matters
It is important to us that you continue to have your say, as it's our graduates that shape the future of the University of Salford. Your feedback will enable us to evaluate our programmes and tailor our services to provide the best possible student and graduate experience.
Make sure your contact details are up to date by clicking here.
* Graduate Outcomes replaces the Destinations of Leavers of Higher Education (DLHE) Survey. DLHE was a national survey, which all universities were obliged to conduct on behalf of the Higher Education Statistics Agency (HESA). The data is used in league tables and on Unistats.ac.uk to help future students make an informed choice about their programme of study.