If you've joined fromsalford.com then you now have access to alumni living all over the world who are offering their support, advice and help. Great! But maybe you're thinking OK, what now? How on earth do you make a start with choosing which alumni can help you? Or how do you start the conversation? We've spoken to Salford alumni and gathered some top tips and advice that will help you to network like a pro in no time.
When you're thinking about approaching someone on the platform, here are some helpful hints and tips on how to find the right alumnus and how you can start a conversation.
IDENTIFY YOUR GOALS
Before you dive into searching and messaging alumni, take the time to write down what you want to achieve from your networking; are you looking for a long term mentor? Advice on a specific problem? And would you like the opportunity to meet face to face?
Working out what you want to accomplish will help you narrow down which alumni will support you in the best way and the message you want to send them. It may even be that different alumni will fit different needs – perhaps a local alumnus can offer the opportunity to get some practical experience whilst a contact abroad can provide you with advice and guidance on what comes next. There's no limit on thenumber of alumni you can contact so as your career progresses, you're bound to find different alumni who can help you develop.
NARROW DOWN YOUR SEARCH
Once you've got your goals written down, make sure you use the Directory search options to help you narrow down your search to find the right alumni. For example, if you're looking for a local alumnus for work experience, remember to narrow down your search by location. Or, if you're using the platform to find out the kinds of careers you could consider with your degree, you could narrow down by course name to see what your predecessors have gone on to do. Try a few different search options too, it might be that the perfect mentor doesn't appear on your first try!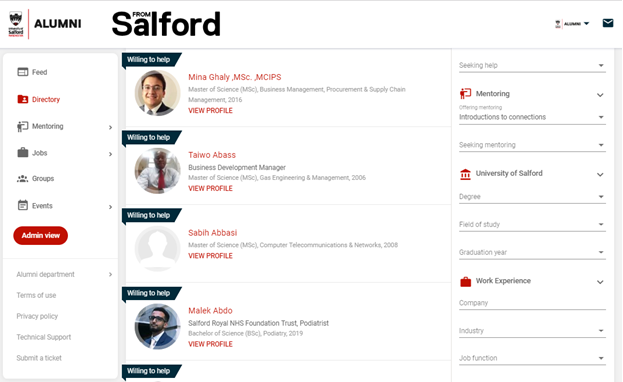 KEEP YOUR MIND OPEN
If you can't find any alumni that match exactly what you're looking for, then don't give up, use it as an exciting opportunity to think outside the box. After all, a lot of careers aren't linear! For example, someone in a creative sector might be brilliant at helping you perfect your application writing style or edit your CV to perfection, even if you're working in the finance sector.  
MAKING CONTACT
Ok, now for the intimidating bit; sending your chosen alumnus a message. Keep your first message friendly and clear, if you and the alumnus in question get on well, you'll have plenty of time to ask them everything you need to so start by introducing yourself and explain why you've got in touch with them specifically – what was it that made you want to reach out to them? It's always flattering to hear you've been specially selected!
Thinking of contacting a few alumni? Resist writing a blanket message and copying and pasting across, it's usually obvious and imagine how you'd feel if you received one – would it make you want to reply?
WHAT'S THE WORST THAT CAN HAPPEN?
Approaching strangers on From Salford can be daunting, just ask yourself; what's the worst that can happen? Every new conversation will help you grow but if you never try you'll never know. If you've not had a response, it could just be that an alumnus hasn't spotted the message or simply hasn't got time to help at this time. There are thousands of alumni out there and if you keep your options open, you're bound to find connections that suit your needs!
If you need any more help, remember you have access to the Careers Team at the University who will be able to offer you further advice and guidance when it comes to networking.
If its technical difficulties you're facing, remember you can submit a ticket at any time using the left hand bar on fromsalford.com.