Salford alumna Dr Melissa Sterry, is a leading design scientist, systems theorist, and futurist. She is a serial founder and is currently director of Biofuturism consultancy Bioratorium™.
An expert on creating adaptable businesses and examining future trends and challenges, here she offers her guide to keeping you and your business operational and effective during the current pandemic.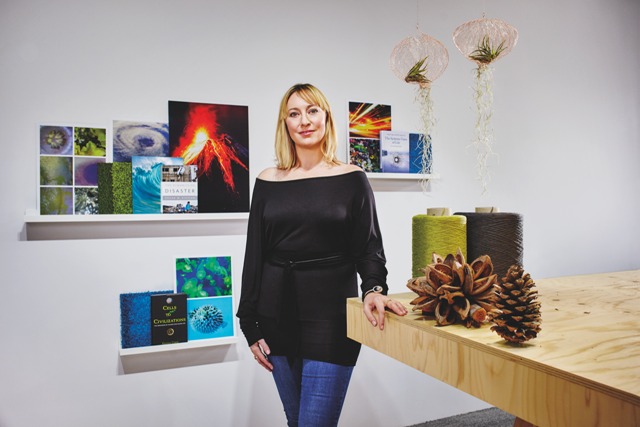 For those of us who have spent months or years developing a business, pouring in our heart and soul, or making the brave decision to go freelance, the current global crisis may feel like we're heading towards a black hole. But we are all in this together. Here are my tips on how to stay afloat in this ocean of uncertainty
1. REPOSITION YOUR OFFER
With most people confined to their homes your online presence has never been more important. How you style your online comms is a matter of personal choice. But, whatever that choice, it should resonate with your intended market. If you are repositioning your offer in light of market changes, that means adapting your visual and written narrative as required. Remember also that curating your online presence doesn't just mean adding content, it also means removing it as and when necessary.
Be savvy to new platforms and technology; and ensure to focus on quality not quantity of messaging. We want to capture our audience's attentions, so think about that one piece of clever content that will make you stand out rather than lots of run-of-the-mill items.
2. BE UP FRONT
Working from home, social distancing and home schooling has left many of us struggling to fulfil client briefs. If this is the case, it is important to be up-front and communicate with your clients. They are also adapting to new ways of working and therefore you can navigate the situation together. The worst thing you can do if you're struggling is go AWOL. The sooner you pick up the phone or email to communicate a problem, the sooner you can negotiate a solution.
3. LIGHTEN THE LOAD
Most freelancers and small businesses run tight ships. Hence, their capacity to cut costs is limited. Nonetheless, now is the time to review expenditures and prune any non-essential costs, such as subscriptions, and research potentially more cost-effective suppliers.
You can make use of social media to keep up-to-date on the latest news and advice from organisations such as HMRC and other bodies, as well as financial journalists and experts, such as Martin Lewis, who can help you take advantage of initiatives designed to help you.
4. DON'T TAKE IT PERSONALLY
If not blood, then certainly sweat and tears go into building any small business. This is why, for many of us, business tends to feel very personal. It is all too easy for us to take some of the commercial impacts of market down turns as personal failings. In your business life, as in your personal life, it's important to be able to move on from situations that no longer serve you well. Moving your business forward doesn't discredit your past achievements. It is important to acknowledge what has changed, why it has changed and what you can do to adapt.
5. READ THE MOMENT
The most successful entrepreneurs across all sectors keep their fingers firmly on the pulse of change. By maintaining an interest in the world-at-large and absorbing all media, you can break out of your sphere of vision and experience. The broader your understanding of the factors that shape unfolding events, the better your ability to gage how, why, and where you – or rather your business – need to be.
Content that will help you to read the moment includes the official social media accounts, newsletters, and other updates of:
Pre-eminent industry and trade bodies [i.e. institutes, societies and unions] both in your sector, and those that relate to your clients and suppliers.
HMRC, Companies House, and other government organisations concerned with business taxation, administration, and governance.
The leading research, trade, and other journals that service both your sector, and they of your current and possible future clients.
Current and possible future clients, and in the case of multinational groups, their press offices and other news outlets.
Bookmarking, and content curation apps, such as Flipboard are also great tools.
6. WIDEN YOUR NETWORK
In the day to day running of a business, it is very easy to focus on the short-term gains at the expense of long-term viability. This is why it pays to have a network of critical friends and mentors to support you. While a problem shared isn't always a problem halved, it is a problem which you may better understand with the benefit of a second or third opinion.
In the first instance, the help of mentors, coaches, peers and other experts will help you to address your most immediate needs. However, with time, these relationships will typically help you see opportunities you might have otherwise missed and to understand how you can harness those opportunities.
Some of the places you can look to expand your network include:
From Salford alumni mentoring and networking platform
Trade and industry institutes and societies, such as the RSA
From Salford also offers you the opportunity to create or join groups based on location or industry area. This will enable to you to connect with fellow graduates with similar interests with whom you can share advice and support. The groups can be found here. If there is not a group that suits your needs you can start your own.
7. ADD TO YOUR VALUE
As the pandemic inevitably shrinks some markets, others will undoubtedly flourish. As a small business owner or freelancer, you have little to lose and everything to gain by adding value to your commercial offer.
Your first step is to review where your knowledge and skills have gaps, and to what extent. The next step is evaluating the opportunities at your disposal to plug those gaps. Often we concern ourselves with the cost and time commitment but there are many institutions that offer competitively priced, and often entirely free online courses across wide-ranging subject fields. Most are flexibly structured so your studies can work around other commitments.
Some examples of where you can find free online courses include:
You can also access free online libraries, archives, and citizen science programmes such as:
Online talks can be a great way to broaden your knowledge and understanding. You can find a wide range of talks here:
FACING THE UNKNOWN
So, you've read the moment, identified new business opportunities in the process, your online business profile is looking hot to trot, your I's and T's are dotted and crossed, your outgoings streamlined, and you've done everything in your power to adapt to extraordinary circumstances.
Even for the most agile and experienced of innovators, inventors and entrepreneurs, the journey ahead will be a challenging one. All of us are at a new trading frontier, which like all uncharted territories, presents risks both known and unknown. Tread with care and optimism. Good luck.
Find out more about Melissa Sterry here.
Connect with Melissa on the University's networking and mentoring platform exclusively for Salford graduates: From Salford