To celebrate Volunteers' Week 2021, we're sharing the profiles of some of our amazing University of Salford volunteers.
From mentoring students to coming on campus for talks, our volunteers are the backbone of our amazing Salford Alumni community!
Karimah Es Sabar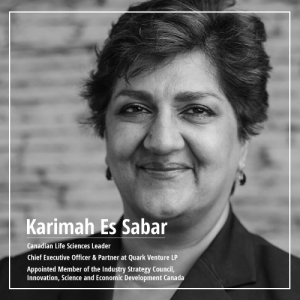 Karimah Es Sabar is a BSc in Biochemistry/Chemistry graduate from University of Salford and a MSc in Neurochemistry post-graduate form Institute of Psychiatry, University of London.
Based in Canada and with an international reputation as a leader in life sciences, Karimah's successful career has spanned global pharmaceutical and biotechnology industries, start-ups, not-for-profit organisations and venture investment firms.
She is an expert in innovation ecosystems and in executing innovation and translation strategies in the life science sector having raised over $1.2B for various private and public global biosciences enterprises. Karimah previously led Canada's national drug development and commercialisation centre, The Centre for Drug Research and Development, and she is now CEO & Partner at Quark Venture, leading and building their health sciences enterprise through global investments in disruptive biotechnology and health technology companies. Amongst her many awards, she has been recognised as one of the 100 most powerful women in Canada and was presented with an Alumni Achievement Award from Salford in 2014.
Her work in the innovation policy arena has lead to her appointment as Chair of the Health Biosciences Economic Strategy Table for Government of Canada, and member of the Industry Strategy Council for post-Covid recovery and building a digital, sustainable and innovative economy.
Karimah is an outstanding volunteer and advocate for the University and has delivered talks to students and staff in the School of Health & Society and the School of Science, Engineering and Environments, as well as providing counsel to some of our PhD candidates. She was the keynote speaker at a University event designed to help build industry partnerships with biomedical organisations; she has taken part as a panellist at an event to mark International Women in Engineering Day, exploring the challenges for women working in STEM through the pandemic; and she is currently mentoring a female engineering student as part of the University's Morson Maker Space 'Go Beyond' scheme.
Clare Woodcraft-Scott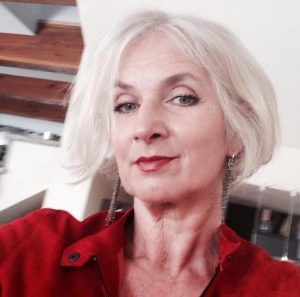 Clare Woodcraft-Scott is an internationally recognised leader in socio-economic development, currently leading the Centre for Strategic Philanthropy at the Cambridge Judge Busines School as Executive Director. She worked as the CEO of Emirates Foundation, the national foundation of the UAE, during which time she was also elected as the Chair of the Arab Foundations Forum, a regional network of foundations where she helped to promote the model of strategic philanthropy. Prior to this, Clare held roles as, Deputy Directory of Shell Foundation, supporting social enterprises to address global development challenges; Regional Director of Communications for Royal Dutch Shell, overseeing the company's social investment; and head of Visa International's public affairs arm. Previously she worked as the Finance Editor of Middle East Economic Survey, a specialised energy journal reporting on socio-economic development related to oil economies. A fluent Arabic and French speaker, she has a BA in Modern Languages from Salford and a MSc in Development from LSE.
Clare is an outstanding advocate for the University. She has provided profiles and testimonials for use in promotional activity and speaks enthusiastically about Salford's applied approach to learning amongst her enviable network. She was also a member of the University's UAE Advisory Board as we sought to expand our activity in the Middle East. During this time Clare provided invaluable advice to the institution's leadership team, as well as providing a significant platform for our academics at a large regional conference and brokering various meetings and relationships with other contacts in the region. Clare is currently volunteering as the graduate representative on the committee undertaking the important task of selecting the University's next Chancellor.
"I had an amazing and truly formative time while stuyding at Salford University. My BA in Modern Languages and notably Arabic literally changed my life sending off on a career in development in the Middle East that was inspired by the amazingly diverse and international student community that I was part of at the University. Equally I was hugely impressed by the way that the University worked with industry and trained up a world class group of talented international engineers (notably from the Arab world) that then went home to help their own countries build a more prosperous future all the while work with global industrial giants in the private sector that were linked to the work of the University. This combination of academic rigour and applied excellence makes me very proud to be a Salford graduate and very keen to support the university in anyway I can. I thank the University for the powerful opportunities that it offered me."
David Hippolite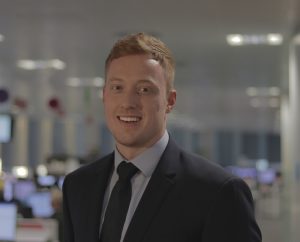 David graduated from Salford Business School with a BSc in Business and Management in 2016 and regularly returns to the University to talk about his time at Salford and subsequent career path with both prospective students and current students.
Following graduation David joined Peninsula UK as a Graduate HR Consultant and is still there today working as HR Business Partner (Corporate).
"The University of Salford changed my entire approach to achieving my career goals through the right mindset and attitude. I appreciate any opportunity to work with the university to help current students to do the same"
Sameena Ali Khan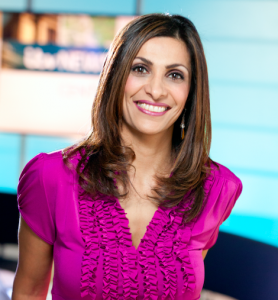 Sameena Ali Khan studied Physiology and Chemistry at the University of Salford before commencing a media career that saw her return to complete a Masters in TV Features and Documentary Production. She is a television presenter, journalist, newsreader and a published author, who has worked extensively for both the BBC and ITV.
She is best known for her current role as one of the main presenters for the ITV News Central and also presents the national ITV news at weekends. She presented the Healthy Kitchen Cooking show on Sky and has reported on many stories over the years. Sameena has won numerous awards during her career, including three RTS Midlands Best Screen Personality Awards and in 2015 she was awarded an Alumni Achievement Award by the University. She was also the face of ITV's special programme that won the coveted best regional news programme category at the National Royal Television Society Awards for 2019
Sameena has been an enthusiastic volunteer for Salford, providing profiles and testimonials as part of recruitment and profile-raising activity, she also hosted a special event at the House of Commons to launch the University's new Industry Collaboration Strategy and our partnership with Santander Universities. Most recently, Sameena has given her time to sit on the selection committee for the 2021 Alumni Achievement Awards, as a former winner and representative of our graduate community. She is very proud to fly the flag for Salford University.
"I'm delighted to give back to the University of Salford through volunteering and to help in any way I can. I host the volunteer awards in Birmingham, so I appreciate the efforts of all volunteers – it's so important to acknowledge their fabulous work."
Martin Hewitt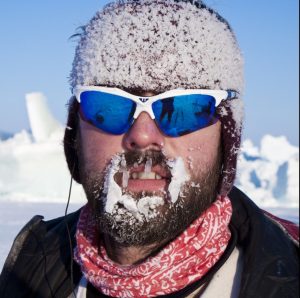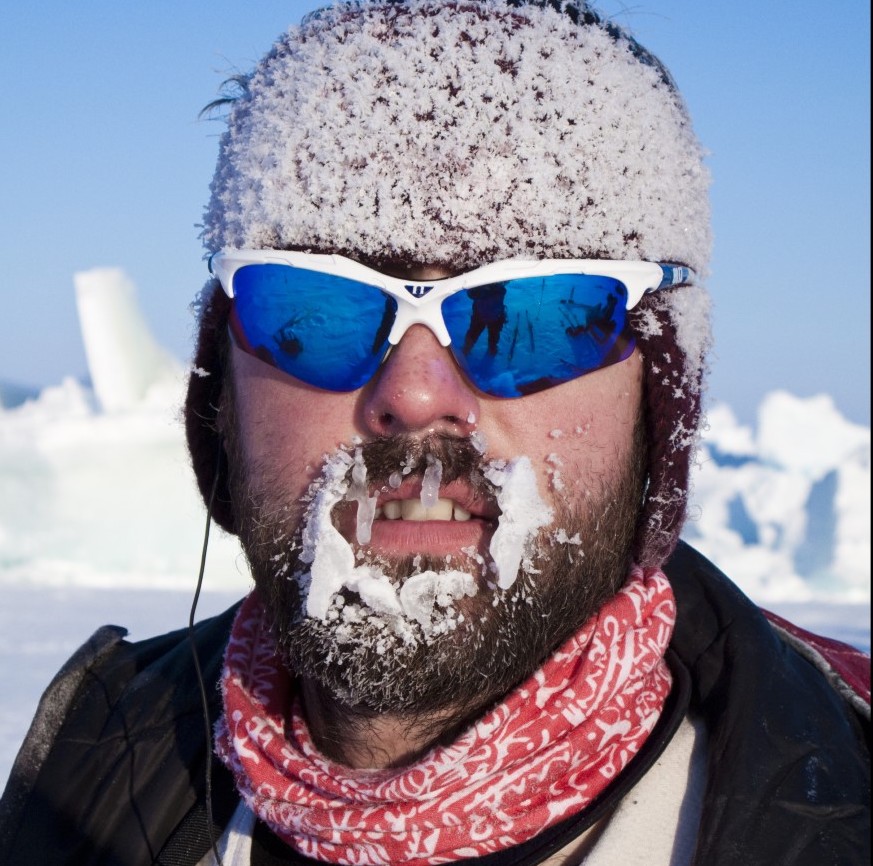 Martin graduated from Salford Business School with a BSc in Business Studies with Marketing Management in 2003. Martin is a former British Army Officer, expedition leader, mountaineer, speaker, and charity co-founder. Martin is the Founder of Adaptive Grandslam.
The Adaptive Grand Slam (AGS) challenge aims to select, train and enable disabled adventurers to take on some of the most extreme expeditions and testing challenges on the planet and inspire others with life-long injuries and disabilities to achieve their goals. The AGS project organises challenge events including taking on the explorers grad slam, an extreme endeavour to climb the highest peak in each continent in addition to walking to the North and South Poles unsupported.
In April 2011, Martin and AGM team member Jaco became the first disabled athletes in history to walk unsupported to the Geographic North Pole, with and in aid of Walking With The Wounded. The expedition was supported by HRH Prince Harry and televised on BBC 1 in the documentary 'Harry's Arctic Heroes' .
Martin has been volunteering at the university for several years delivering guest lectures to both students within our Business School and School of Health & Society as well as acting as a mentor for our Industry Advice Scheme.
" I've been fortunate to have had excellent mentors in the military, professional sport and business. I gained valuable lessons from their experience which enabled me to achieve various life goals. I was humbled to be asked to volunteer in several roles at the University and it's been a privilege to be in a position to do so."
Steve Lowy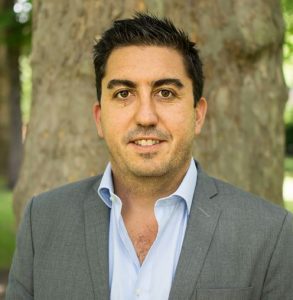 Steve graduated from Salford Business School with a BA in Hospitality & Tourism In 2003. Steve is the Founder and Director of Umi Digital and Chief executive Officer of Anglo Education Services as well as being the Chariman of the British Educational Travel Association (BETA).
Steve is one of our most prolific volunteers. Since graduating, Steve has sat on advisory boards, contributed to curriculum developed, hosted student industry visits and delivered guest lectures to many of our students. Steve was presented with an award for his volunteering by the Business School.
"Volunteering at Salford is rewarding in many ways. Whether it has been delivering online lectures to undergrad or MBA students over the last year, or being accessible to students who need mentoring or advice, I find that not only can I pass on a bit of my own knowledge but get fresh perspectives on what students are thinking. I would highly recommend alumni giving back in the form of volunteering at Salford"
If you're interested in volunteering at the University of Salford, sign up to fromsalford.com or email alumni@salford.ac.uk today!