César Melo is a senior executive who has led some of the world's best-known organisations.
After graduating from Salford with a Master's in International Business, Melo became an incredibly successful business man with over 19 years experience in a variety of well-known companies such as Cadburys and many more.
He now operates as a board-advisor and investor at several businesses, including the global creative marketing platform, VidMob, where he is also President.
On Thursday the 17th of June 2021, César joined Launch at the University of Salford for the Festival of Entrepreneurship and Innovation. During his keynote speech at the festival he shared his story from Salford student to Senior Executive.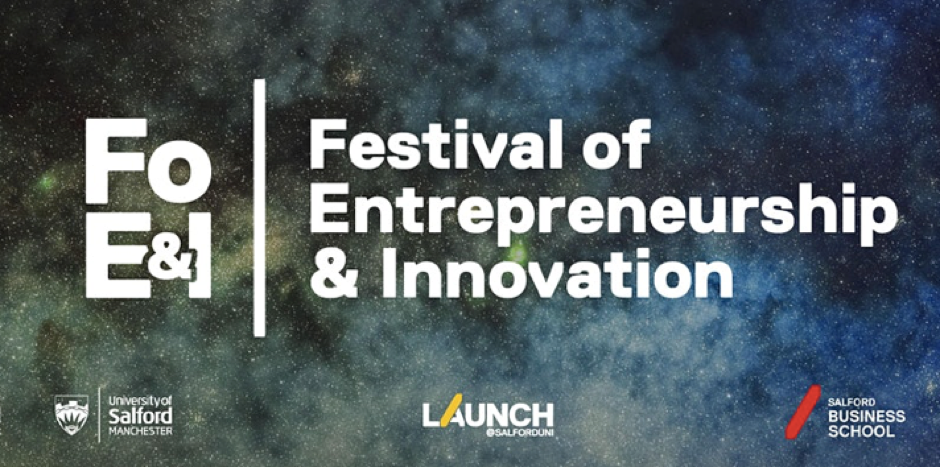 "I still have fresh and very fond memories of my time at this wonderful university.
"I travelled there from New York via London. I had been working at Colgate Palmolive for a few months and it was my first time in England.
"I quickly struggled with the language. While trying to connect to my flight to Manchester I asked the police man where my elevator was and after trying that three times he asked me 'where do you want to go son?' and I said 'I want to go up to the second level 'and he went 'oh you mean the lift'.
"It was my first true lesson in the English language. I would find many similar challenges in my first year there like learning how to say a fiver, down the hatch and a kick-in-the-teeth, and many other expressions.
"One of my professors helped me with my writing by explaining early 'you actually don't speak English, you speak American, but we will fix you, your writing will become less personal, less infinitive, less informal. I still thank her immensely for her teaching."
Melo reflected on his childhood and his journey to Salford University during his keynote speech.
"I was actually born in the oldest city in America, Santo Domingo. It's the capital of the Dominican Republic where Columbus first settled in the name of the Spanish Crown. My own Spanish grandparents had settled there when Franco was about to win the war in Spain in the 40s.
"With part of the family settled in New York and Florida, those who settled in the island we called them in the family 'the smart ones'.
"Mine was a very happy upbringing.
"My brother had gone to Notre Dame, a great school in Indiana which is a phenomenal school but I wanted to carve my own path.
"I also developed a fascination with the country based on what I saw on TV and what I read and I have to admit I had a mild crush on Lady Di. Probably any boy in my generation had the same problem.
"So I arrived at Salford and what I found there was kind of unexpected.
"I found a community of educated and hardworking scholars, I found students from all over the world who, like me, saw in Salford a springboard for a fulfilling career."
Melo spoke about how influences from the university helped shape him as a person.
"I was like a sponge absorbing an incredibly diverse set of stimuli, from different foods different languages, different cultures, different career aspirations.
"The classes were tough and the marks were very challenging. But it was all worth it."
As well as throwing himself into university life, Melo also travelled through England on many occasions with his friends.
"From Salford we travelled the country, we explored the country as well as the rest of Europe, always traveling on a low budget and often relying on the charity of distant friends and acquaintances that we met on previous trips. But always learning.
"I firmly believe that those experiences actually played a key role in making me a more curious, open minded culturally and innovative person. 
"Some of the friends I made during that time remain some of my closest friends."
After graduating from Salford, Melo returned to his career at Colgate Palmolive, where he progressed to become Vice-President & General Manager of the Global Toothbrush Division (2006-2009), and Vice-President of Marketing for Europe (2010-2013).
From 2013-2015, Melo was the CEO of FGX International, 'the world's leading designer and marketer of non-prescription glasses, optical frames and sunglasses', with house brands including Foster Grant and licensed brands such as Disney, Reebok and French Connection.
Melo was also a Member of the Board of Directors for Combe Incorporated from 2013-2017, a personal-care company which owns brands such as Just for Men and Vagisil.
In 2015, he became the President – Global Chocolate for Mondelēz International, owners of well-known brands, including Cadbury, Oreo, Milka and many more. He left in 2017 to join PepsiCo as their Senior Vice-President of Categories and Franchise for Europe, and President of the company's Sub Saharan Africa operations.
César Melo became a full-time investor and board-advisor in 2019 and has an ethos of offering his expertise to the organisations he invests in, together with his financial backing. In line with this, he became President, International at VidMob in 2020.
Melo believes that his time at the University of Salford influenced his approach to work.
"All those jobs included a good dose of innovation and I go back to that resilience and resourcefulness and originality of the school environment that Salford offers and all of them had a good dose of it."
You can watch César Melo's full keynote speech here.
If you want to read more stories about our inspiring Salford University graduates click here.