University is a chance to meet people who can change your life forever!
This Valentine's Day we want to feel the love by sharing some Salford Uni love stories that were submitted to us. Love comes in many forms, from romance to friendship the connections you make at Salford can last a lifetime.
We are interested in adding a range of couples, both romantic and platonic on to this blog and use this space as an area to show off all the love found here at Salford – if you feel inspired to share your story find out how you can get involved at the bottom of the article.
Catherine Rushton and Jon Rushton – Met in the Newton Building in 1984 – Married for 32 years
"Jon Rushton and I (Catherine Rushton nee Mather) met on the back row of one of the basement lecture theaters in the Newton Building in 1984. If memory serves it was a thermodynamics lecture and I was late, so squeezed into an open seat next to Jon, who I hadn't met before. Whereupon I paid little attention to the prof and spent most of the class doodling on Jon's notes. I was in the second year of the Mech Eng 4-year sandwich course and Jon had joined the second year of the traditional 3-year course, having previously completed an HND.
"We moved in the same social circles for a couple of years and finally started dating in 1986, just as I began my final year. Our first 'date' was at the Conti Club – with any luck the place has been demolished now and the site thoroughly decontaminated – it was a vile establishment, frequented by students and nurses in search of cheap drinks, loud music and one-night stands.
"In the autumn of 1987 we got engaged and then got married in June of 1989.
"We still have many fond memories of Salford and of living at Castle Irwell – nights dancing at The Pav, trips into Manchester to the Cyprus Tavern and Curry Mile. Riding in Kersall Taxis, attending Man United matches at Old Trafford, afternoons at the Wallness Tavern, concerts at The Maxwell Building and the Student Union….generally misbehaving and making lifelong friends.
"We've now been married for 32 years, Jon retired three years ago and I am about to retire in February.
"Here are a few pictures. One of us looking insanely young at a university party in 1986, a wedding picture and a recent picture."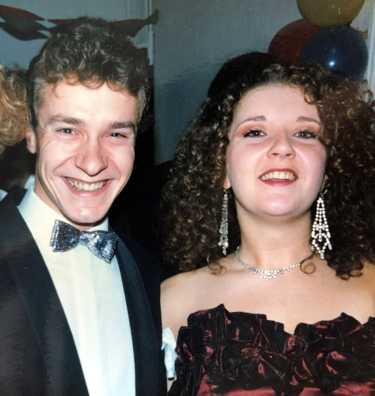 Charles and Lionelle – Met in 1974
"Having been accepted at Salford to study Civil Engineering back in 1972, I never dreamed that it would lead me to meeting and marrying Lionelle. Lionelle was at the time a French au pair who later barmaided at The Cloisters for those who may remember. I was more a Conties man but as fate would have it our flats were one above the other and one thing lead to another. Or more precisely to nearly fifty years (we met in 1974) of colorful souvenirs and two beautiful girls and grandchildren and living and retirement in France and so much more. My engineering degree lead me into psychology (that's another story!) so thank you Salford for the opportunities you made possible, and good luck to all our undergraduates. Remember, you never quite know what you are signing up for! 😏"
Andrew and Angela Abel – Married since 1989
"I, Andrew, started at Salford in October 1983 doing Electronic Computer Systems.
"At the start of my second year I volunteered to help with the "Student Welcome". Through that effort, I met many new incoming students, one of whom introduced me to Angela Lee, who was doing Electrical & Electronic Engineering.
"We soon became friends and attended the Christian Union and Chinese Christian Fellowship together. The following year we started going out. I took a year out so we graduated together in 1987. Two years later we got married.
"Now we live in Silicon Valley, California and have two daughters, both are married and each have two young children, so we're grandparents already.
"Our Salford years really were a very happy time for us both filled with lots of good memories of great people!
"Andrew & Angela Abel"
Photo #1: Graduation 1987. Andrew Abel, Angela Lee & Dr Roy Sharples
Photo #2: Andrew & Angela Abel, Nov 2021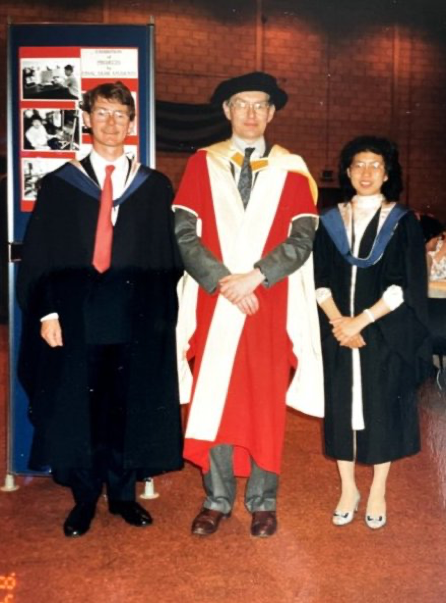 David and Norma – Celebrating 40th wedding anniversary this year
"We met 50 years ago at a Salford disco in 1972 in the Student Union bar (Old Peel Building we think) and danced the night away.
"We will celebrate our 40th wedding anniversary this year in September.
"David was studying Electronics and Norma was studying Geography and Economics.
"Our careers saw us working all over the UK and then Australia where we made our home in 1989.
"We have fond memories of the old Salford Uni and have watched with keen interest as it has become one of the UK's most innovative, diverse universities."
David Williams graduated 1973
Norma Shankie graduated 1974
We are really interested in sharing stories of Salford friendships, love and business partners.
If you have a story that you would like to share please send around 100 words of your story and pictures of you and your friend/ partner to alumni@salford.ac.uk and we will add them to this blog.