Andrew Snowden is the Police & Crime Commissioner for Lancashire. He has a degree in Contemporary Military and International History (2008) from the University of Salford, where he was President of the Students' Union in 2006-2007 and 2007-2008. He returned to the University in 2013 to take up the post of Head of the Vice-Chancellor's Office, and in 2018 became the Associate Director of External Relations.
We caught up with Andrew to ask him about 21st-century policing and learn some more about his role at Lancashire Constabulary.
Q: What was the transition like going from The University of Salford to becoming Police & Crime Commissioner for Lancashire?
A: The transition from the university to being PCC was quite an abrupt one. I was elected on the Friday and by the following Thursday I was Lancashire's PCC. I then signed the official secrets act and became an owner of public office. The University saw the importance of people transitioning from academia to public service and were incredibly supportive in the handover of my work as an associate director within external relations.
Q: What is a typical day at work like for Andrew Snowden?
A: There is never a typical day. One day I can be out walking the beat with officers, meeting the public at town meetings and the next I can have back-to-back committee meetings scrutinising our budget to make sure we use the £360 million effectively. Simply, the massive breadth of responsibilities within the role means that no two days are ever the same.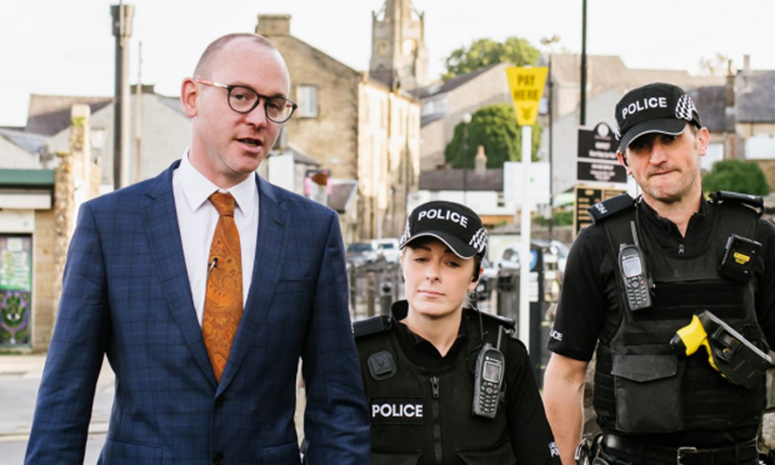 Q: What advice would you give to those at Salford who are on the policing degree? What prepares them for life on the beat?
A: It's totally about balance. The degree will give you all the theory you could need and a wider understanding." "It fills you with knowledge not just about being a police officer but ways we can stop people committing crime rather than just fighting it. What it doesn't give you and can't give you is that moment when you're confronted for the first time by a criminal, or you're in a chase, or you police a large town or city centre on a Friday or Saturday night. My advice simply put is to soak up as much knowledge as you can, but never forget you'll hit a point where it goes into practice and this is when you need your confidence, communication & people skills to get the job done.
Q: Is a degree totally necessary?
A: It's a difficult but good question. Not all neighbourhood and response constables do really need to study for a degree. We need to make it more attainable through a diploma-type entry-level qualification, with degrees and further qualifications available once within the force. Universities can still offer this and have skills topped up down the line. If we remove some of the barriers to joining the police, we will have a more effective police force which better serves our needs and represents the population in a much more realistic way.
Q: Andrew, what challenges did you face building back from COVID and the different roles police had to take on?
A: Police officers went out day in, day out dealing with criminals and individuals spitting at them and placing them and their families at great risk to keep our streets safe, without regard for their own personal safety. To reduce crime it turns out locking everyone into their homes massively reduces burglary and inquisitive crime. But crime changed in lockdown: there were no bar fights, but travelling criminals couriering drugs stuck out like saw thumbs and were able to be stopped. From my perspective, one of the greatest things to come from COVID was the ability for multiple agencies to work so closely together overnight, which is something that we must maintain.
Q: Why are drugs so prevalent and how do you think they can be tackled?
A: The problem we face is that general acceptability has changed surrounding drug use, particularly cocaine in white middle-class individuals. When we talk about drugs it's easy to conjure up the typical generic drug users and addicts within your mind, and that is a part of it. however, the vast majority of drug use falls within the middle class for social and recreational use. We can keep on chasing round low-level dealers and users, which we do to maintain peace and order, but what I'm really keen to do in Lancashire is target this from the very top. Without distribution networks and OCGs (Organised Crime Gangs), drugs cannot exist. That's where we need to fight. We've arrested 50% more OCG members and charged 70% more OCG members in the last year.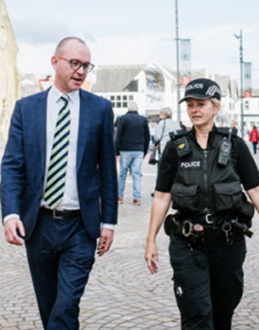 Q: Is 21st-century prison still a deterrent?
A: Absolutely it's still a deterrent. And I'm intending to put far more people through that deterrent. I was at Wymott Prison last week and while the tabloids love the Sky & Xbox headlines and sensationalism. However, let me be clear it doesn't mean they have an Xbox or Sky in their cells it may mean that for an hour a day it's available to them. At Wymott Prison the vast majority of prisons work in commercial scale operations such as the laundry & printing press to earn currency to use in the prison canteen. This kind of demonstration of work and reward in our prisons is something to be celebrated if we want to reintegrate rehabilitated offenders within the community. Yes going to prison is not nice, and it's not somewhere you would want to go – they are not pleasant places to be.
Q: Why are drugs, alcohol and contraband such as mobile phones still so rife in our prisons? How will you tackle this as PCC?
A: I spoke with the prison governor at Wymott Prison about how we can prevent OCN (Organised Crime Networks) from getting these items into prison. We review how to disrupt these practices every quarter. We can't discuss what tactics we use currently but what I can say is there are only so many ways you can possibly get a phone, drugs or alcohol into prison, and the police are aware of these methods, and we will clamp down on them. We can't let people operate organised crime gangs from within the walls of our prison and this is tackled through monitoring.
Q: What about The University of Salford makes it so special?
A: I feel that it's the unity of all departments whether you are a student in your first year, you're on the student union, as I was privileged enough to be, or a staff member. There's a genuine feeling of community around the University of Salford. It's a welcoming and warm place which helped me a tremendous amount whilst I was both a student and during my time within External Relations. I'll always have time for the University of Salford and the people who make it the special place it is.