My name is George, a second-year Journalism student at the University of Salford. Whilst I work towards my degree I am also working part-time in the University's Alumni & Development team. Summer 2022 was my first time working alongside the team at the graduation ceremonies. Graduation is the special day that all students are aiming towards during their time at university and the pinnacle of all their hard work. What our graduates don't see, is the enormous amount of organisation and planning that goes into Graduation. I went behind the scenes to find out what it takes to pull off 17 ceremonies in one week, with 7,000 graduates and their families arriving to celebrate their special day and enjoying their moment in the spotlight on the Lowry stage.
When our graduates first arrive at MediaCity to register for graduation they saw the reception foyer has been transformed with some beautiful decorations to celebrate the week that students have dreamed of for years. From large-scale window signage to balloon arches to remind students, some of whom have studied during the most trying circumstances or waited another year to graduate, that this really is a special occasion and testament to their work ethic and determination.
After registering in Orange Tower it's a short walk past the Blue Peter Garden to The Lowry theatre.
The Lowry is where the core operation begins. Hundreds of staff members from the University and our army of Student Ambassadors are waiting to make sure the graduate has everything they need before they head into the theatre for the ceremony.
Graduates don their robes and cap before heading upstairs to the ticket office to collect guest tickets. The staff on the ticket desk are made up of staff from all over the University, working together to ensure parents and families are seated smoothly. In the week before Graduation, staff work long hours to ensure guest tickets are prepared and in envelopes and ready for when our graduates pick them up. It is a job that takes many hours and requires all hands on deck.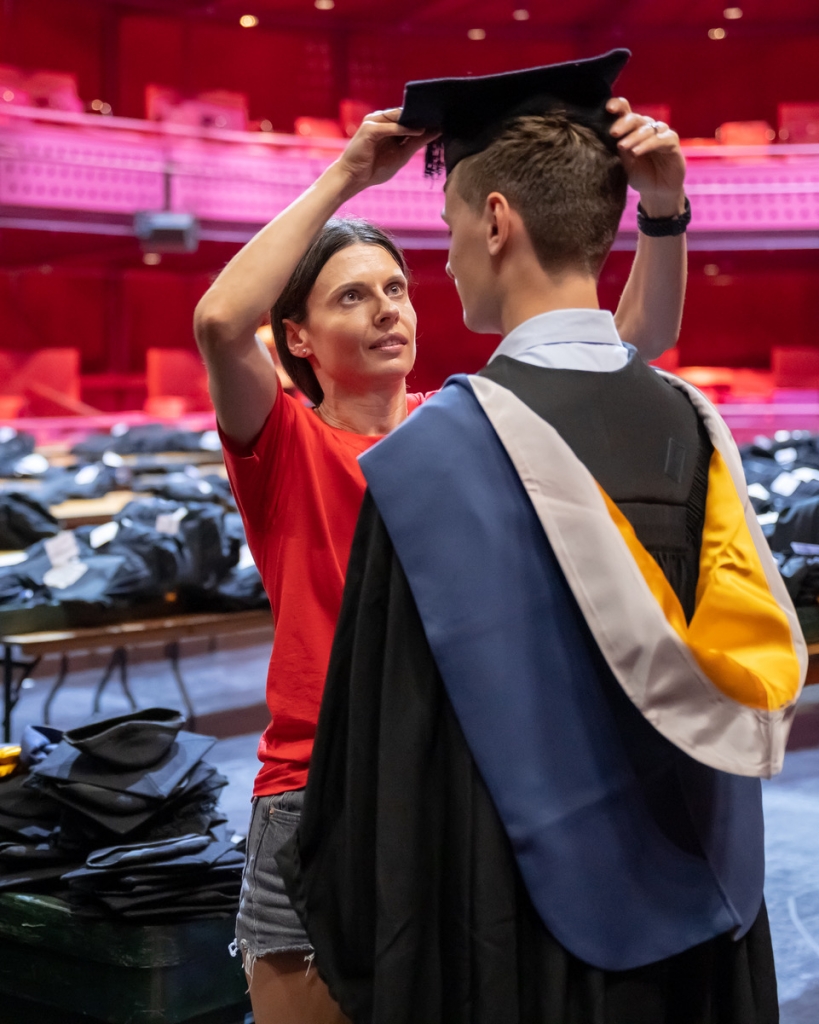 Families outside the front of The Lowry finally get to see their loved one in their cap and gown for the first time. Cue lots of selfies and family photos by the water. Conveniently, for family and friends, this is very close to not only the bar but our information desk. The team working there did a sterling job of answering anything and everything from 'how much are photographs' to 'I am wearing my robe correctly', even during temperatures in excess of 40C! The desk is staffed by colleagues from a variety of departments, who are spending the week away from their desk jobs to do something completely different and support the event – they are often learning the ropes as they go
After that, it's over to the ushers at The Lowry, many of whom are volunteers there, who check tickets and show family and friends to their seats. A special thanks must go to them for their work to get everyone seated on time, allowing the ceremonies to begin right on time. The pre-ceremony entertainment was provided by our exceptional singers and graduation band from the School of Arts, Media and Creative technology, who sounded absolutely incredible, even in the extreme temperatures we met during that week!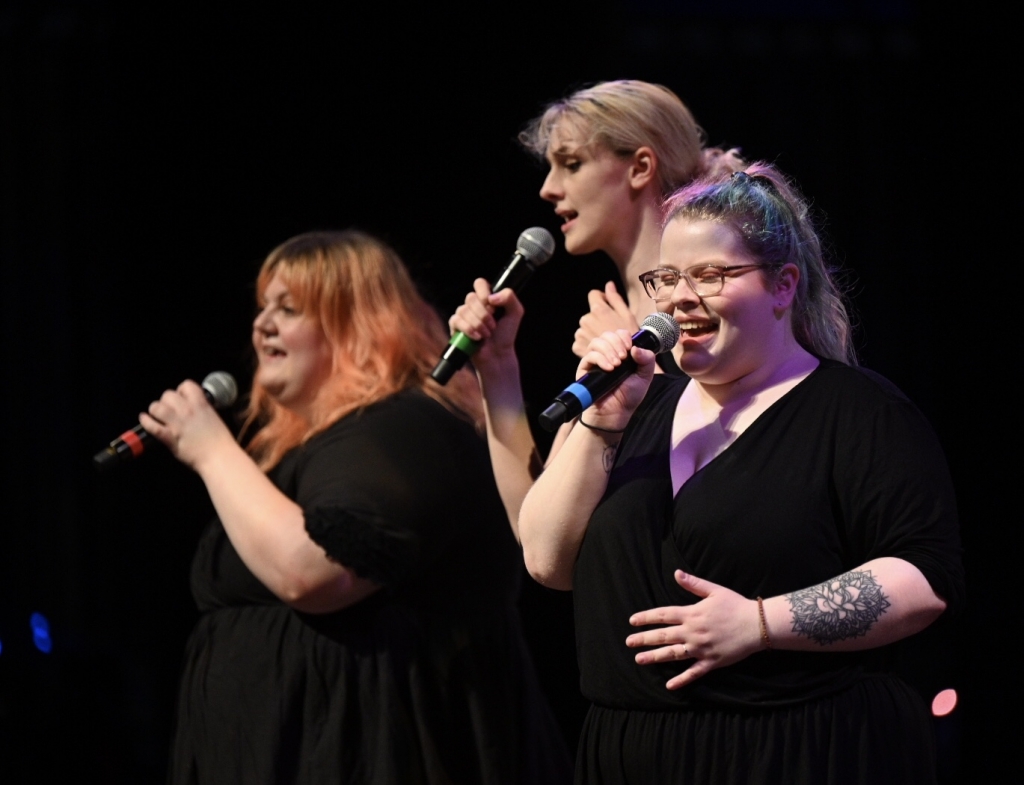 It was also a special week as the University of Salford's newly installed chancellor, Lucy Meacock of ITV's Granada Reports, officiated at her first graduation ceremony. She took to the job splendidly and was an immediate hit with the graduates and their guests.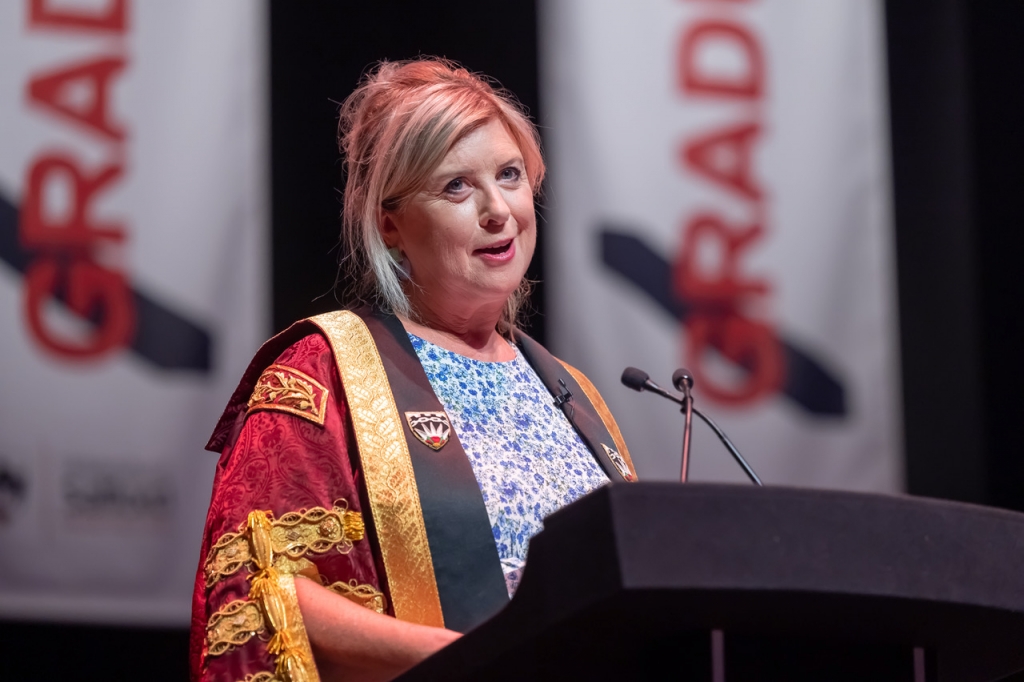 Then it's time for the ceremonies to begin with the academic procession, featuring all of our professors and lecturers. It's a strikingly colourful parade, with academics wearing their own gowns from universities worldwide.
It is finally time for the big moment. As our graduates' names are called and they cross the stage to accept their award from the Chancellor, cheers of support from the audience fill the theatre. So much hard work and sacrifice has led to this moment, and it is time to celebrate.
After the ceremony, graduates head outside for a group photo and reunite with friends, family and partners with a glass of fizz. Everyone takes a deep sigh of relief and spirits are high as they enjoy the beauty of Salford Quays & MediaCity.
Our staff have a quick brew break and then it all starts again, as graduates for the next ceremony of the day begin to arrive.
It was a lovely week getting to see so many familiar and smiling faces enjoying the day that their entire University experience has been aiming for. I think for me it was an opportunity to be inspired by what is still to come, and what is waiting at the end of my degree, throughout my time at The University of Salford.