We caught up with former Salford Uni student and comedian Luisa Omielan, who is gearing up to host her Valentine's Party in Manchester for the first time this year – and it's safe to say an excellent show is on the cards…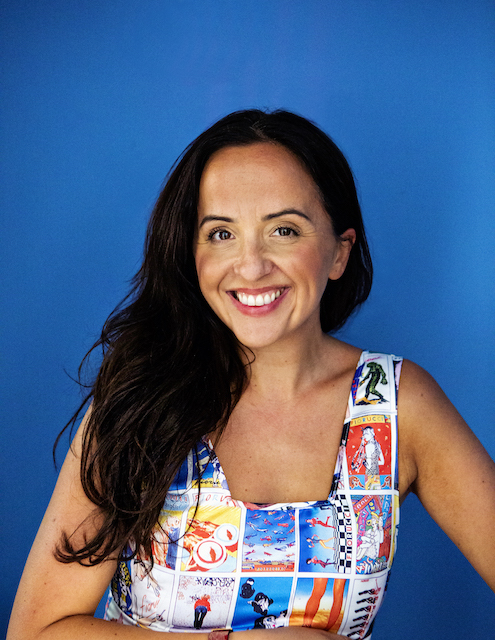 What does a typical day look like at work for you?
"So I work evenings. I say night shift and it's not really a 'night shift' but normally over the last 10 years I've spent my evenings in a comedy club somewhere. So in a basement somewhere and in different cities or different places up and down the country. My work tends to revolve around the evenings, so I'm prone to a lie in… I won't lie."
What is your ultimate goal in comedy?
I think to be consistently working and be in demand is as good a goal to have as any and to be able to continually feel creative and supported.
How did you continue to work throughout COVID when your entire industry essentially shutdown overnight?
I was really lucky that I have a good relationship with my audiences. So I went on Facebook live stream at 11:00 AM every day. Live streaming in the first lockdown helped me build a little community on there and then started a Patreon page. I really loved having that discipline and having somewhere to go to work every day at a certain time and connecting with people and talking to people, as we all kind of just navigated our way through it.
Why did you choose the University of Salford
I had always wanted to do comedy, specifically stand up and so the University had a stand-up module back in the day, so I signed up for it. I want to do that and classical acting, I wanted to do Shakespeare and Salford did both.
Are you still in touch with friends & lecturers?
Yes, there were just amazing teachers there like Malcolm Rayburn and Denise, who sadly passed away, and Mark Bishop, and just phenomenal people that have worked there over the years, that it's nice to still stay up to speed with. I mainly keep in touch with my friend Zoe, although I did speak to [Luther actor] Warren Brown a couple of weeks ago and he's doing really well. It's really nice to see people from the University.
What is next for you?
I'm doing a Valentine's party which I do every year, and I normally do it in London. I do my solo show followed by an after-party, at least for the girls, the gaze and everyone in between. It's just a really fun night out. You could be single or in a relationship, it's just a fun party night out. It's like, don't be a sad sack and stay at home all day, come out and have a good time and that's that show. People always said, but why do you always do it in London? So I've taken a gamble and I'm doing it for the first time in Manchester. I'm hiring a venue. It's costing me a fortune to put on and hopefully, it will pay off.