The University of Salford's Alumni and Development team employ a current student to help produce blogs and articles about our alumni, and share information on our social media. Gaining valuable work experience alongside their studies means our assistants can truly hit the ground running when they graduate and enter the job market. We recently caught up with two of our former Alumni Engagement Assistants to find out what they've been up to since Graduation.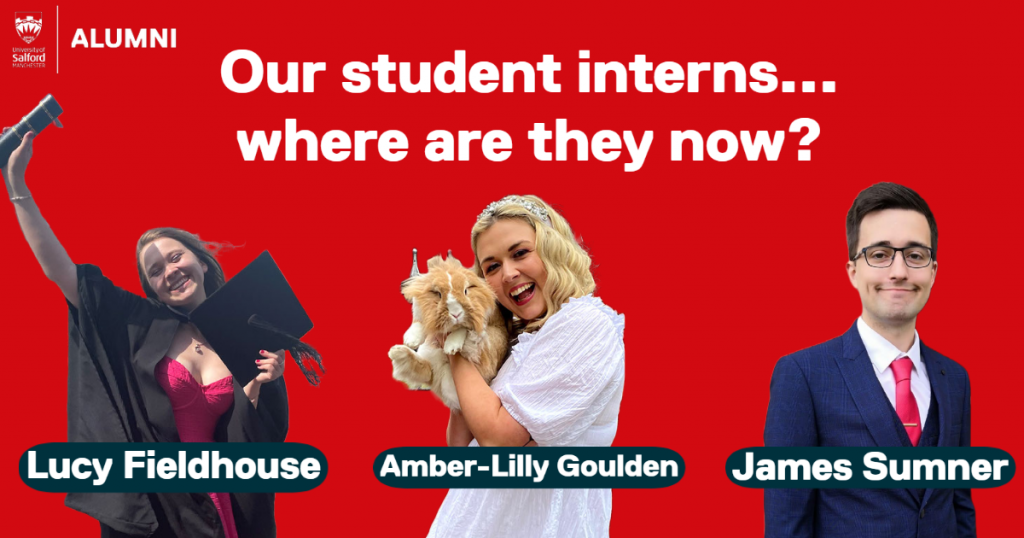 Since completing her studies, Amber-Lilly Goulden has gone on to work in the music and production industry. Meanwhile, Lucy Fieldhouse is a Marketing Content Coordinator for JW Lees Brewery.
What job or role are you currently in?
ALG: "I currently head up the Customer Success team at a start-up called GigPig. GigPig is a platform to connect music artists with gigs in their area, and support venues to get the best DJs, bands and artists performing in their venues. I support the venues and artists with using the system, bringing out new features and ensuring they have the most successful experience with using GigPig!"
LF: "I am the Marketing Content Coordinator at JW Lees. This role is exciting and fun and can range from me getting content at a new pub opening, to getting photos for new menus, updating our managed pubs and inns' sites and creating content planners for all of our managed sites across the North West and North Wales."
JS: "I've worked at the UK Cabinet Office for just over two years, and I'm having a brilliant time. My current role is communications officer, which means I get involved with all sorts of exciting projects and pieces of work across all mediums. There's so much variety in my day-to-day, and that's just how I like it."
What did you study at Salford and how did you find it?
ALG: "I studied Broadcast Journalism (2015-18), I loved the course. I focused on the radio side of journalism which definitely gave me the confidence I have today when speaking with artists and music venues."
LF: "I studied Journalism Multimedia and was so pleased to achieve a first-class honours degree (as you can see from the picture of me beaming at my graduation in July). I loved being based in Media City, it was just such an inspiring place to study. The thing I found most interesting about my degree was meeting loads of fascinating people I especially loved writing articles about the arts in Salford and writing human interest stories."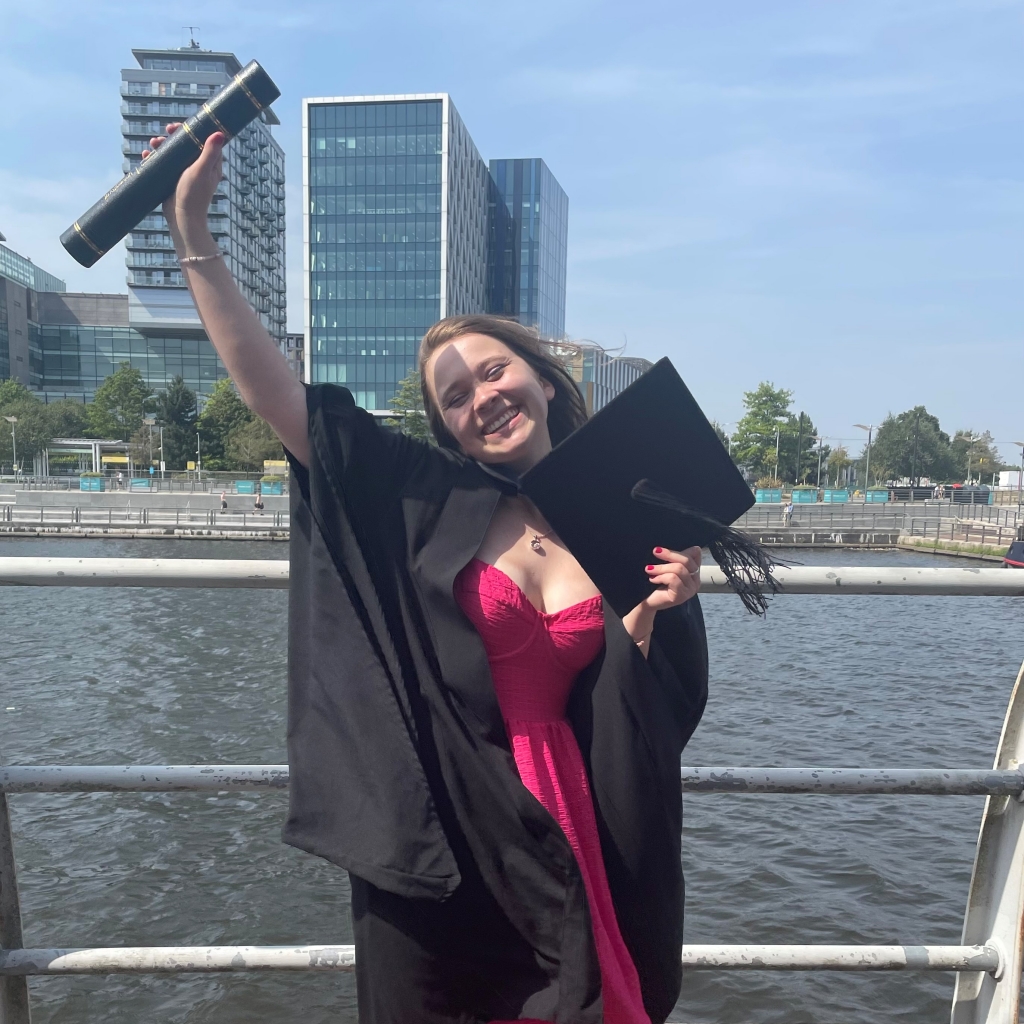 JS: "I started at the University of Salford back in 2016 with a BA in Multimedia Journalism, and absolutely loved it. The course was the perfect blend of academic and practical, letting us get stuck into the work that suited our skills best. I worked hard, balancing three part-time jobs as I studied, and eventually graduated at the top of my class. However, that wasn't the end of my Salford journey. In my third year, I took a Public Relations module and enjoyed it so much that I decided to come back for more! After graduating, I started my MA in Public Relations and Digital Communications. All the lecturers carried over from my journalism course, so I found it to be a smooth transition onto the degree."
What makes The University of Salford Different?
ALG: "Salford is different because you can gain life-changing work experience with our neighbours at MCUK and beyond. Most of us on my course had at least a month working over at BBC and ITV!"
LF: "From my experience at the University of Salford I believe that it's unique because of the number of opportunities that are available to you. The fascinating guest lectures, supportive careers team and (in the case of journalism) there are lecturers who are still working in the chosen field that give excellent insight into the industry. I think that having a university building at Media City is unique as well. Having us based at the hub of media for the North West really gave us a plethora of opportunities and experiences. We would run into people from BBC and ITV when we were out and about, and it was so great seeing broadcast journalists create content on our doorstep."
JS: "As someone looking to learn about the media and communications industry, I couldn't picture anywhere better than Salford. The fact the Journalism and PR course is based in MediaCityUK, even sharing a building with ITV, gives the students unparalleled access to great last-minute opportunities to get involved in the industry. Most staff were still working for huge organisations like the BBC or had been long-standing veterans before they switched to teaching. Along with their own wisdom, their connections provided an array of excellent guest speakers that were amazing to hear from."
How did the University of Salford prepare you for the world of work?
ALG: "I was fortunate enough to work at the university alongside my course throughout the whole 3 years of studying at Salford, and for the first year of being a graduate. Through all the roles I had, I met the best people who were always super supportive of my studies; whether that be working for the charity side of the university with the Salford Advantage Fund, to being an Alumni Engagement Assistant, where I was able to enhance my interviewing skills by finding stories in our amazing alumni community. My final role was becoming the Press and PR Assistant in our Communications Office, which was a great was to transition the world of full-time work in the field I was passionate about"
LF: "When I was looking around universities, I wanted one that would teach Journalism in a practical way and I wanted a course that would allow me to have transferable skills and that's just what I got at Salford."
"By creating a course that mixed practical skills and written skills the University of Salford helped to prepare me for the world of work. I was able to interview people, go out and source stories and develop skills that are relevant to my current role during Journalism news days and placement opportunities."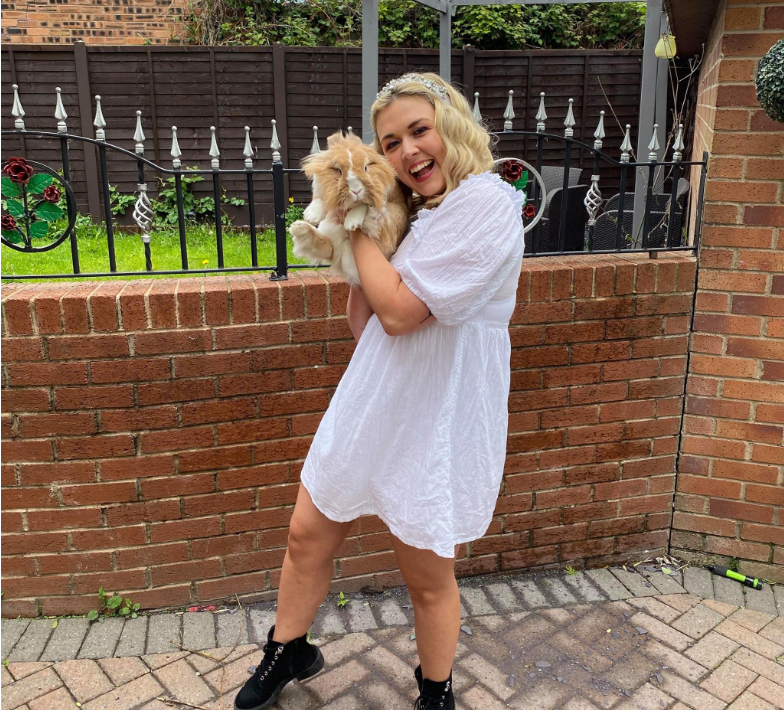 JS: "I owe so much to Salford regarding the world of work. I use everything I learned daily, whether it's proofreading, drafting an important press release, or creating bespoke video packages for the Director General. The course gave me both the skills and the confidence I needed to move into the professional world. Through a series of brilliant placements at companies like the BBC and SKV Communications, I learned how to take theoretical strategy development skills and implement them in an important setting."
How did working in The Alumni Team help you moving forward?
ALG: "I'll forever be grateful for the alumni team! I made friends for life, who really helped me grow from the 18-year-old who had just moved out of her small hometown, to where I am now – working my dream job. Thank you!"
LF: "Working in the alumni team was brilliant and I had so much support and opportunities to develop my skills in content creation, copywriting, marketing and communications."
"The team are so much fun, and I was able to make the role my own which was wonderful. I was able to help with the From Salford Alumni Magazine and develop my photography skills for social media posts – it was really a great job that helped me transition from student life to adult life and this meant that when I started my first full-time job, I wasn't too shocked."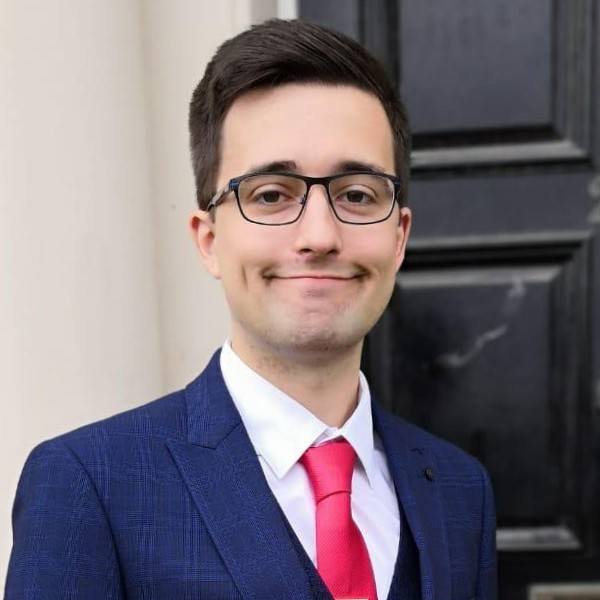 JS: "Working in the Salford Alumni team was an amazing experience. The team taught me everything I'd need to know about working in an office, from important admin to co-worker friendships. The engagement assistant is perfect for anyone creative! You get to flex your content creation muscles across the university platforms, get involved in large and small-scale events, and meet all sorts of exciting alumni. Working in alumni communications always provides new challenges. One day you might be doing a business event with a CEO, and another day you might be working with Christopher Eccleston for Dementia Action Week."