Ben Hodge studied Media and Production at the University of Salford. Since graduating in 2021, Ben has been working as a freelance comedian, presenter, actor, facilitator and filmmaker. With a passion for LGBTQIA+ representation, Ben's work aims to highlight the unique experiences faced by queer people and provide much needed visibility and support for those that need it.
We caught up with Ben to find out more about his exciting ventures.
Ben, what have you been up to since you graduated?
Since graduating, I left my degree with an Associate Artist role at the University within the performance directorate. This gave me the opportunity to further explore the areas I began to work on in my studies and work out how I wanted to enter the creative industries as a working professional.
During the associate artist-ship, I explored theatre and comedy to tell my story growing up transgender. I got the opportunity to meet new people, work with a variety of industry professionals and access the space I needed to develop my ideas. This has led me to my current show that I am previewing in preparation for Glasgow Comedy Festival, Brighton Fringe and Edinburgh Fringe.
I have also directed two documentaries. One was commissioned by St Helens Council, called Our Generation, which explored intergenerational experiences of LGBTQ+ people who live/have lived in St Helens. The other was commissioned by the University of Salford and co-produced with transgender students at the university to explore the safety of transgender students whilst on campus. This was recently screened at an Equity, Diversity and Inclusion event at the University of Salford.
Other than that, I've had the opportunity to work with organisations such as The Lowry, Big Comedy Shop and Gorse Hill Studios to increase my facilitation experience teaching different creative outlets to young people. I also recently got engaged!
At a time when trans representation matters more than ever, what does representation mean to you?
Representation means so much. It means that communities who have been under-represented or negatively represented in the past can finally have the opportunity to show their lived experience in an authentic way.
This then leads to greater understanding from both audiences and the industry and creates a more representational view of our society. Representation shows so many people that they are not alone, and that there are so many people out there who want to welcome them with open arms.
Seeing trans people in the media living positively as their authentic selves gave me so much hope in my own future and career, showing me that there is no 'right' way to live my life. It's so important that we champion representation and visibility for future generations, so that their experiences and opportunities continue to get better.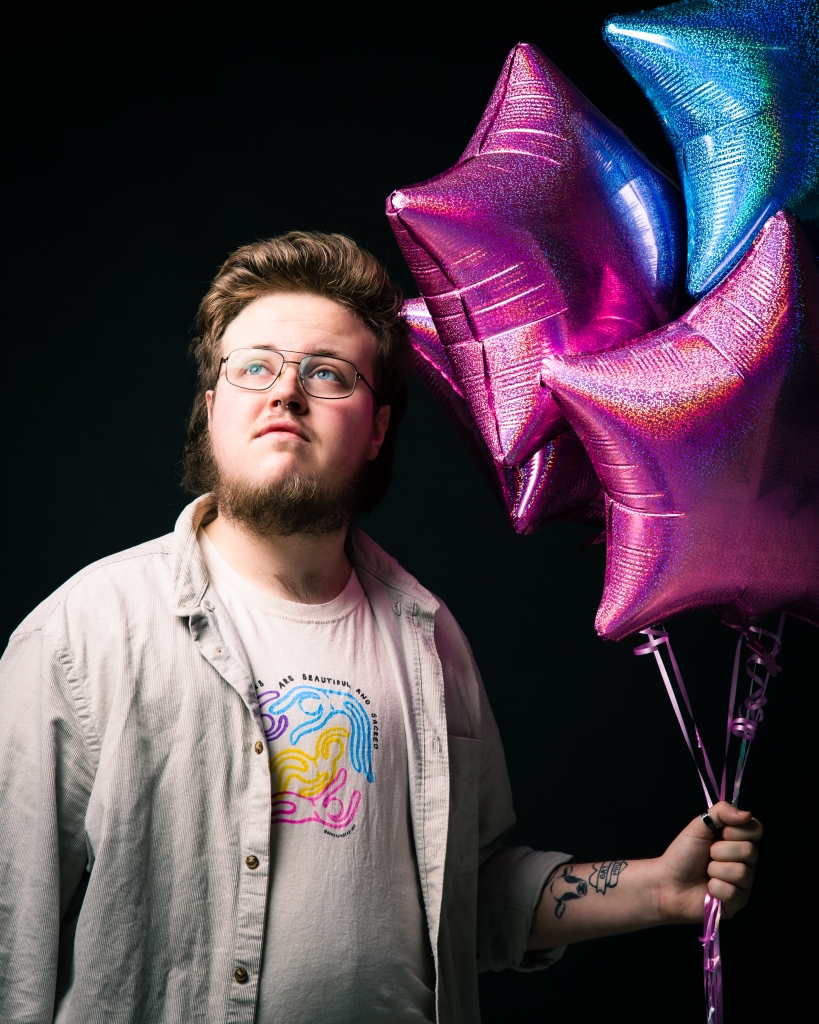 What made you choose the University of Salford?
Originally, when I was looking at universities, I was just looking at media courses as I had found my passion for filmmaking at college. However, I knew I would miss performing and learning more about the performance industries and accessing training. My friend at the time was looking at Salford and I thought I'd have a little look as well. That's when I found Media and Performance. The course had everything in it that I dreamed of studying. It gave so many industry opportunities and the wide variety of areas I could study and specialise in made me really want to go. When I visited the campus, I knew it was the place I needed to be and so I worked unbelievably hard to get a place, and when I did I was over the moon!
What was your most memorable learning experience at the University of Salford?
It's so hard to pick as I had a lot of great experiences. A highlight was the opportunity to work with a variety of lecturers. Being able to absorb knowledge from industry professionals, who have a wealth of experience, really supported my own creative development. Working with people such as Erin Shanagher, Jim Cartwright and many more of the lecturers at the University taught me so much about navigating the creative industries. They presented so many opportunities to develop my creative practice and access TV, film and performance opportunities whilst studying. Working with industry professionals has really helped me get to where I am today