Ria Meera Munshi, the Artistic Director of Ri Ri's Dance Academy was named one of The University of Salford's Alumni Achievement Award winners back in 2019. The awards recognise former students who have gone on to achieve excellence in their industry, giving back to the community or university and have become trailblazers for current students. We caught up with Ria to see how she's getting on 4 years after her win.
The Dancing Elephant is storytelling enhanced with sand art animation to represent mother earth, the Elephant Festival of Jaipur and back projection for The Elephant Festival of Jaipur, Holi and Ganesh Chaturthi, and is the latest of Ria's productions to go on tour. Ria founded her own dance & theatre company, Ri Ri's Dance Academy.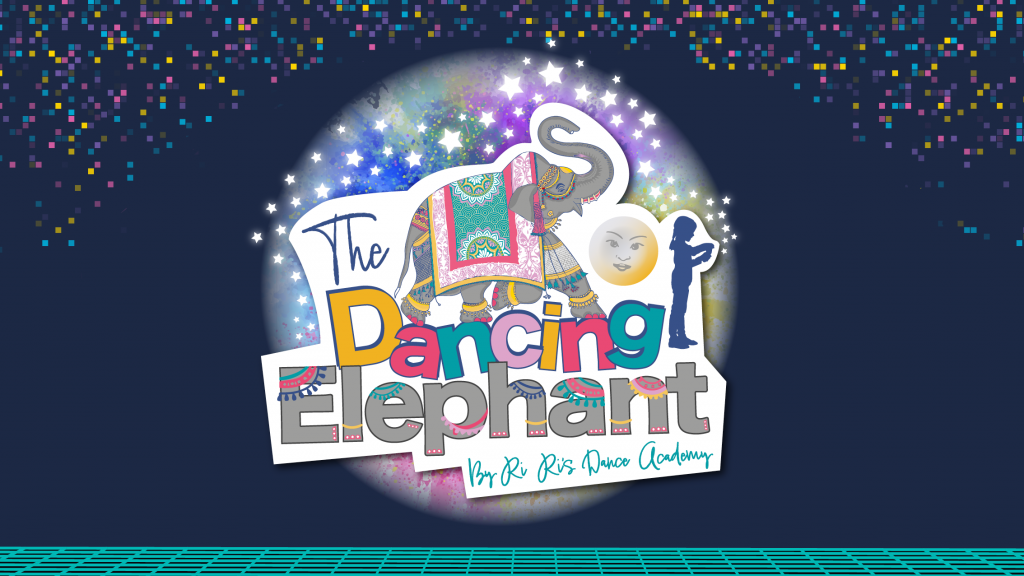 Ria, tell us about the inspiration and work behind your current production, The Dancing Elephant?
"For me, it's a stunning blend of both real and virtual environments, as we join Mahi who's transported into a video game by the magical Moon, Chand. Mahi lands at the Elephant Festival of Jaipur and meets her companion & guide, The Dancing Elephant."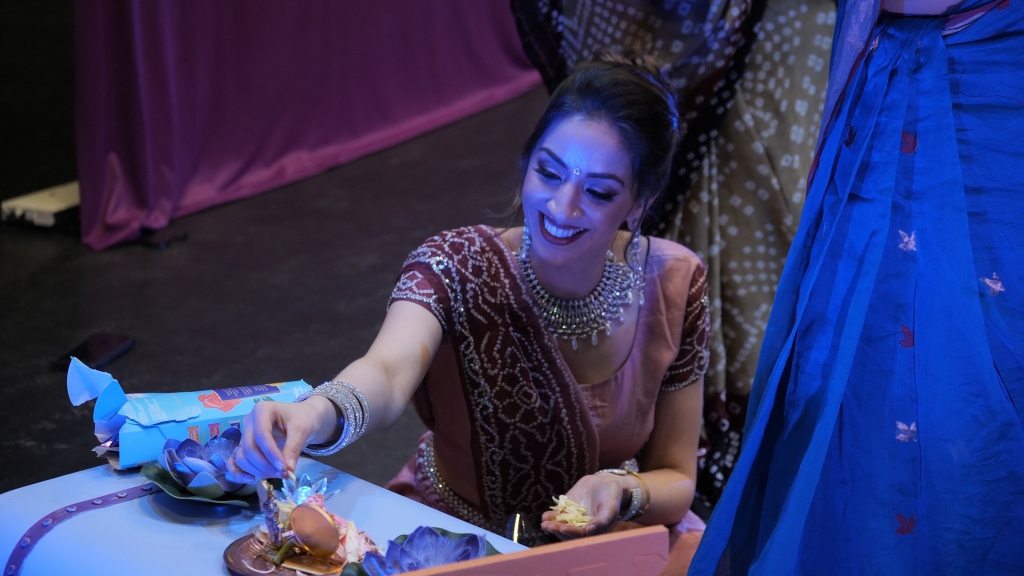 "Together they must unlock three levels of Chand's mystical video game for Mahi to return home. Will they achieve this or will Mahi be locked in the game forever?"
Ria, you work with Salford alumni and students on your productions – why do you choose to nurture Salford talent?
"I adore working with Salford students and alumni, our social media manager is also a Salford Alumni. It's a beautiful blessing to have all these Salford people work with me. I do sometimes deliberately hunt for Salford talent, and I have such a stunning relationship with the university and particularly the alumni team, so I want to give back.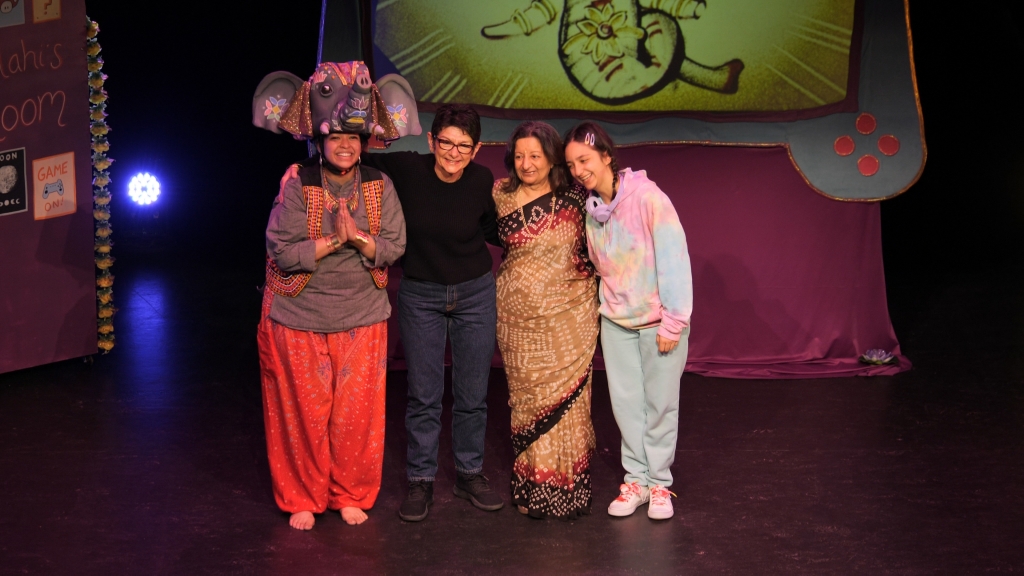 "As a South Asian female of colour residing within the arts and cultural sector, I've never had someone give me opportunities or provide a professional platform. Since the inception of the academy 12 years ago, I've been on a mission to give a platform to as many artists as possible, it's even better if they're Salford alumni or students, even better if they're female, and even better if they're South Asian as we're massively under-represented."
What are the key learnings from your degree that have helped you in your career?
I did a BA Performing Arts degree and graduated in 2010. It was a fusion of so many different types of the arts including TV and Radio presenting, we had dance and movement as well as singing and writing too."
"When I was writing at University, I wasn't that passionate about writing." "I never thought I would be a playwright, and it's slowly coming back to me now that all the things I did then, are now what I'm using day to day."
"When you're at university, you try modules and think 'this is what I want to go into', but then opportunities come along and you give things a go, and sometimes you may find you're accidentally really good at it." "There are a lot of elements I've taken from the university which is still with me today: things like being a leader and staying true to yourself regardless of what others think."
You recently featured in Coronation Street – What was it like working on the cobbles?
"I made my debut in Coronation Street last April, and then I was invited back, and Dr. Chatterjee came back to the cobbles. "
"I'm a Mancunian born and bred, so to be in Coronation Street was a dream come true. As well as Salford Uni has a special place in my heart, but Corrie does too."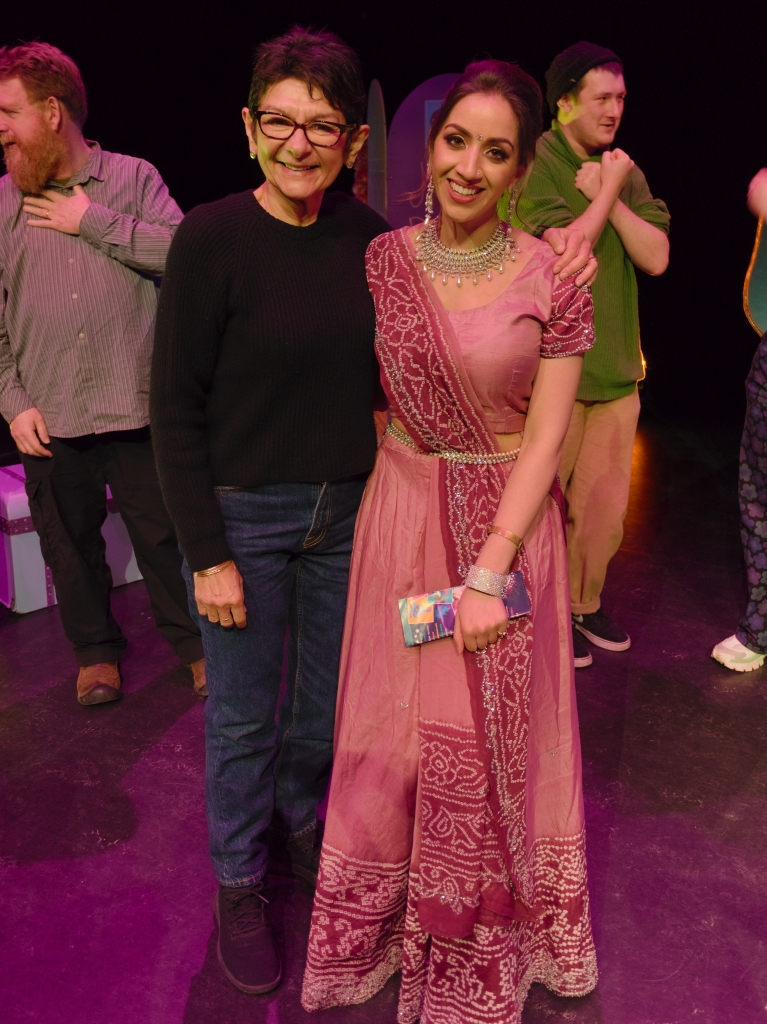 "Shelley King from Coronation Street plays the role of Chand in The Dancing Elephant. It's so lovely to not only be in Coronation Street but to also have a fellow cast member working with me in the production."
How did it feel to work alongside David Clare, a lecturer here at Salford Uni?
"I've got to say, David is one of my favourite people in life, he's amazing, to say the least. We feel so blessed to have David's gorgeous energy, ideas, creativity, and personality. He's an absolute asset to Ri Ri's Dance Academy as our lighting designer and touring technician on The Dancing Elephant, and The University of Salford."
What's your favourite thing about working in theatre & drama?
"The correlation it holds with my dad's career, he used to be a Bollywood film director, writer and so much more in Bombay. My dad is a theatre boy through and through, and it's so lovely to be working alongside him in the theatre world." "My mum is also in this production and it's her debut in the voice-acting world."
"Aside from the family connection, I love creating a concept that comes to life and watching the audience engage and smile… It's so lovely to work from a small concept in the mind, to a blank sheet of paper and then watch it all tour to various venues and stages across the UK – Most definitely beautifully surreal!"