We recently caught up with graduate Zoe King, a production coordinator with an impressive number of TV credits, on shows like I'm A Celebrity and The Voice, since graduating from Theatre and Performance in 2020.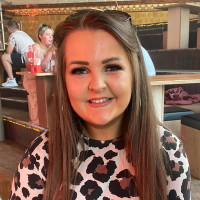 Tell us about your journey from Salford student to Production Coordinator
During my time at Salford, I was always focused on finding new ways to gain as much industry experience as possible. At the end of my first year, media lecturer Naqqash Khalid posted a work experience opportunity on Salford Uni's Blackboard, and I signed myself up straight away! The shoot was a short film for SKY and I instantly wanted to learn more about production management. I started to look for more work experience opportunities, which then allowed me to build up my CV and then gain regular daily runner work in my second and third year. When I graduated from Salford in the Summer of 2020 I already had a lot of experience and a full CV which allowed me to work on large-scale shoots straight away such as The Voice, The Circle and I'm A Celebrity…Get Me Out Of Here! During the Summer of 2021, I began to develop more production management skills and then stepped up to Production Secretary where I worked on shows such as Freeze The Fear: With Wim Hof and Race Across The World (Series 3). By the Summer of 2022, I had a large pool of industry connections who recognised I was ready to be promoted again to Production Coordinator, where I then went to work on Celebrity Race Across The World, Squid Game: The Challenge and now HM The King's Coronation.
What are you working on at the moment?
At the moment I'm coming to the end of my contract at BBC Studios where the team are planning several events for HM The King's Coronation weekend, including a documentary about HM The King, The Coronation Ceremony itself and The Coronation Concert. I'll then be moving on to SAS: Who Dares Wins, and then finishing off the year with Big Brother.
What are your favourite things about your current role?
My current role allows me to work for the BBC, which is something I never imagined this working-class girl from North Wales would ever do. Stepping into the doors of the famous Television Centre every day also doesn't get old either. Working on such a high-profile live event as The Coronation has definitely been a challenge, as I'm used to more factual entertainment or light entertainment shows. There are more protocols, larger teams and a very fixed time scale – we're live, so we have to be ready! This role sees me go from meetings at Buckingham Palace to recces on the grounds of Windsor Castle, and you do realise every day how lucky you are to be a small part of this moment in British history. As a whole, stepping up to Production Coordinator has been a challenge but I'm learning so many skills, but my favourite thing about this role is being able to travel with the job, I've seen parts of the world I didn't even know existed.
How did Salford prepare you for your current role?
My time at Salford was crucial to how my career has progressed. Gaining my first work experience opportunity came from Salford Uni's Blackboard site, and without that weekend on a professional set, I would never have known about the production management route. As a whole Salford actively encourages its students to get involved and do more outside of lessons which really helps you to stand out when you graduate. I always thought the masterclasses Salford organised were valuable, as they brought back alumni to speak about their journeys, and this inspired current students about how to find their own path. I also think Salford is different to other universities, as the lecturers are working industry professionals, and their advice and contacts are current and relevant.
What advice do you have for students and graduates wanting to work in TV?
I 100% advise all students to take part in every opportunity that is given to them because you never know where it may lead to. Additionally, network: reach out to production companies, Talent Managers and attend any master classes, everyone knows everyone in this industry. The best place for students and graduates to look for work is the Facebook group 'People In TV: Runners'. This group posts runners jobs nearly every single day, and once your CV starts to build, you begin to develop a reputation that means you no longer need to apply for jobs, because people start coming to you instead!
What is the best thing (and the biggest challenge) about working on the coverage of the King's Coronation
The best thing about working on HM The King's Coronation is knowing that you're creating a moment in history – this content will be shown again and again for years to come. The biggest challenge has to be working with such a sheer amount of people, for most shoots I work on there's around 100-200 crew, over the weekend's events there's going to be a few thousand of us! All of these people need schedules, travel, accommodation, accreditation etc. and that's just to get people working- we have to then start planning the audience's experience too.