On Sunday 15th May, the Bharatiya Vrund Gaan (BVG) Indian Choir of England performed at The Watersmeet Theatre, London. The performance, titled Rang Dvhani – 'The Sounds of Colour' – was delivered in collaboration with Subrang arts and explored "the colours of emotions (Rasas) that can be found in the sweet sound of Indian Music – from the vibrant folk sounds of the Holi, the heavenly sounds of the monsoon, the devotional sound of bhakti to the soul-stirring romantic songs Radhna and Krishna"
The artistic director of the BVG and soon to be University of Salford alumnus Rakesh Joshi took part in an interview to share more about the amazing BVG, his part in the show and his experiences studying at Salford. 
1. What is your journey from a University of Salford student to where you are now?
I started my DMA (Doctor of Musical Arts) PhD in September 2018 and submitted my papers in April 2023. It was a great learning and studying experience at the University of Salford. I especially enjoyed working in the various music studios, playing piano and meeting with the different professors and students. In February 2020, I composed and recorded four Indian choir songs with string players from Greater Manchester. From 2018 to 2020, I performed iconic concerts at reputed venues such as the Bridgewater Hall, Southbank Centre, The Lowry and in India.
2. What role do you play in the production of Rangdhvani, The Sounds of Colour? What does the show mean to you?
I am an artistic director of Bharatiya Vrund Gaan (BVG-the Indian Choir of England). I composed 14 songs and lead the first Indian choir collaboration with Indian dancers of Subrang Arts. It was a very challenging and joyful experience working with choir singers, dancers and four musicians.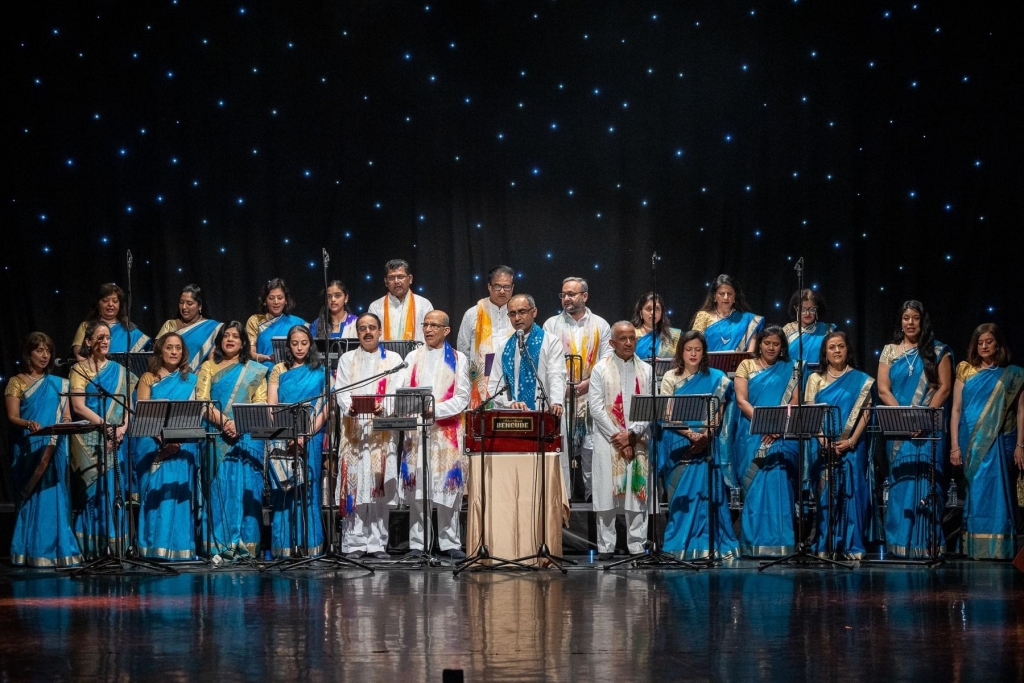 3. How did your studies at the University help you in your career?
DMA study provided me with an opportunity to write about my four grand music projects. The study helped me to write academically by using correct references, citations and links. It provided me with an educational and high-level platform where my musical and academic work was recognised by the Universities, Indian and Western music world.
4. What advice would you give students and graduates who want to pursue a career in Music?
Nothing is impossible if you have pure dedication, passion, and faith in your aim and focus. With hard work and confidence, you will achieve your goal. Sometimes, it takes time but never lose courage, if you know you are on the right path, you will achieve your goal. Give a few minutes of time to yourself daily, close your eyes and meditate, and see where you are and where you want to go, you will find the light and direction.
Living life with perfection in the work that you want to do will give you happiness, peace and inner joy, which may also inspire many.
All the best!
I would like to wish Rakesh a huge thank you for sharing his experiences with us! If you are a graduate who wants to share their story or advice, please do not hesitate to contact me or the alumni team.
Amos Brooks – Alumni Engagement Officer:
LinkedIn: Amos Brooks | LinkedIn
Alumni Team:
E: alumni@salford.ac.uk