Eva Bamber was a student at The University of Salford and studied 'Human Geography' and now works as a Team Co-ordinator at Oxfam in their impact division. We caught up with Eva and asked her what life looks like since leaving Salford.
What made you choose the University of Salford?
The atmosphere and campus absolutely made it for me. During the open day, I felt so welcomed by everyone's warmth – that really set Salford apart from other universities. Also, the open campus and proximity to green space made me feel right at home. Lastly, the small size of my course really appealed to me as I knew I would receive personal support from tutors and lecturers.
Tell us about your journey from Salford student, to where you are now.
It's a fairly straightforward one. I finished my undergraduate degree in Human Geography at Salford in 2021 and then went to the University of Manchester to study for a Masters in International Development. I graduated from my postgraduate in 2022 and then spent some time travelling and volunteering while searching for a job. I landed the job at Oxfam in March (2023) and that's where I am now!
What does a typical day look like for you?
My days usually start with a team meeting where we share updates from across the organisation as well as current humanitarian situations. Following that, I spend most of my day coordinating meetings for Oxfam's Chief Impact Officer, preparing events and meeting for the Leadership team and well as assisting them with project management and any administration and organisation.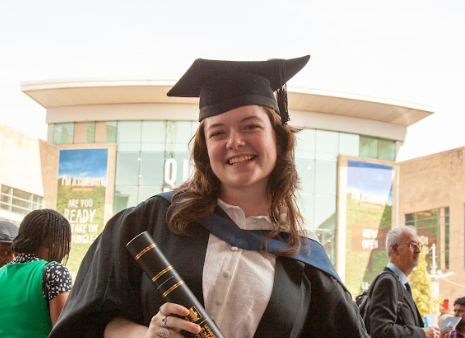 What's your favourite thing about working for an organisation like Oxfam?
Probably the feeling that my work is making an impact on Oxfam's mission and working with like-minded people towards a collective goal. Oxfam employees are incredibly hard-working and passionate about what they do, which rubs off on you. People share similar values and it strengthens the sense of community within the organisation.
If you had one message to current students, what would it be?
Make use of all the opportunities and facilities available to you! Now is the time to try as much as you can. Salford has some great learning and recreational facilities that can be so valuable to your learning journey. Whether that is using the sports centre, sitting in Peel Park, browsing the library or paying the Maker Space a visit – it's all worth it. Also, the academic staff are there to help so don't be afraid to get in touch to ask questions or to just make yourself known! You never know when that might come in handy. (Also join a society – it's the best!)
What was your most memorable learning experience at the University of Salford?
Although the Geography field trips were always extremely memorable (for various reasons), my most memorable learning experience actually came from getting a worse mark than anticipated for the first time. It felt like a failure and was quite a disappointing blow at first as I didn't know what had gone wrong. When reading my feedback however I realised that I had not understood the question properly and therefore my assignment was not really following the brief. The situation taught me two things: a) to never be afraid to ask questions and clarify things if you are unsure – it's better to ask more questions than realise afterwards that you misunderstood and b) that failure is an entirely normal part of university and life and, rather than be something to be ashamed of, should be embraced as a learning opportunity.