Over the last six years I've helped almost 2000 PhD candidates prepare for their viva. It feels great to be directly helping people with what feels like a big problem: how do you prepare for the viva well? Despite three years or more of research, candidates can often approach their viva wondering, "Is it going to be OK?" They worry that examiners might be awful, or that nerves might get the better of them.
So what can you do to approach the viva with confidence?
The Stats Are On Your Side: A few years ago I did some research into viva experiences, and the vast majority of people have positive experiences. Their viva isn't incredibly long, most people get minor corrections (or none at all) and generally the viva is quite enjoyable. Knowing that most people have a good time can give you some confidence that you will too.
Practise Confidence: As a directive it sounds almost as useful as "don't worry!" But research suggests that we can practise being confident. Check out this TED Talk by Amy Cuddy to see examples of power posing and learn about how it could help you be confident.
Practise Answering Questions: One of the best things that you can do to feel confident for the viva is practise answering questions. Think about having a mock viva, make opportunities to give seminars where you can take questions – even having coffee with friends who can ask you about your work – all are great ways to gain practice and confidence.
The Significant, Original Contribution: PGRs are told throughout their PhD that they have to produce a significant, original contribution to knowledge. Heading towards submission and the viva, candidates can worry about whether or not they've done it. But they wouldn't have got to the end of their PhD if their supervisor and others didn't think their work was significant! You can take confidence from reaching this final hurdle.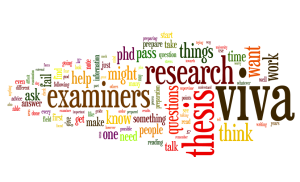 It's OK to feel nervous before the viva, but it's right to feel confident about your work. You wouldn't be at the viva if you weren't meant to be. Anyone can feel nervous, but there is a lot that you can do to be confident.
Thanks for reading! If you need some more help or resources check out the Viva Survivors Podcast, my project where I interview PhD graduates about their research, viva and life afterwards. I've written two ebooks on viva preparation, and the first one is now available in print too. Finally, I'm running a Viva Survivor workshop on June 29th in Manchester to help PhD candidates prepare well for their viva. Places are limited, check here for more details.
Dr Nathan Ryder is a freelance skills trainer who specialises in helping PhD candidates prepare for the viva. Find out more about his work at his website and the Viva Survivors Podcast.
Viva support at Salford
The Salford Postgraduate & Staff Research Training (SPoRT) programme runs 'Preparing for the viva' workshops on a regular basis and you can access the Good Viva video at any time during your studies (login required).
There is also support for you from within the School in preparing for your viva. Contact Louise Brown for more information on how to access this support.
Leave a comment
---