A major conference exploring disability and digital fabrication recently took place in the Digital Performance Lab at the University of Salford's MediaCityUK campus. Over 50 delegates representing service users, technical experts, policy makers and leading charities came together to discuss the potential of digital fabrication to support economic, physical and mental well-being.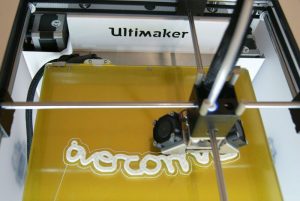 The free one-day conference was organised by the University of Salford, the University of Dundee and Disability Rights UK. It was supported by Ultimaker GB Ltd, a leading manufacturer of 3D printers, with demos and design clinics running all day. The conference was also supported by Shaw Trust, which provided an access fund to help support the needs of delegates. It was the final event of the AHRC-funded 'In the Making' project, and the conference heard findings from the project, which has been taking 3D scanners and 3D printers out to the neighbourhoods of Salford and involving the city's disabled people in the use of this new digital technology. http://www.inthemaking.org.uk/conference/
Principal investigator Dr Ursula Hurley said: "As technologies like 3D printers become more widely available, we are developing the ability to make almost anything we can think of. This is where the imagination becomes important. How do we find new ways of doing new things? What are the possibilities of this technology? How might it change lives for the better? It's really about ideas, innovation, experimentation, looking at things from different points of view. The 'In the Making' project is a wonderful opportunity to see just how creative we can be in developing our understanding of the technology. We're really looking forward to developing the findings presented at our conference." Read more…..
---