We're investing in people, technology and facilities to fuel growth and impact of Computer Science and related specialist provision at the University of Salford – a powerhouse of industry engaged digital innovation in Greater Manchester.
We're searching for the best teaching and research talent to develop the next generation of Computer Scientists, AI specialists, Software Engineers, Cyber Security experts and Data Scientists. Building on our rich heritage of industry engagement we're looking to accelerate impactful research and enterprise in this vibrant academic area.
Join us and be part of a diverse, collegiate, and future facing team that's deeply engaged with industry and constantly evolving to innovate and address emerging challenges.
Roles available
Applications for the role is now open; please follow the link on each role for more information and to apply.
Computer Science at Salford
The University of Salford has a rich history in Computer Science and Informatics. We offer undergraduate, postgraduate and research programmes that blend advanced knowledge with a strong industry focus. Our fast-growing specialisms in Cyber Security, Artificial Intelligence, Visualisation, and Software Engineering reflect our evolving portfolio for a digitally driven society.
Engagement with industry and professional bodies is at the core of our approach. In 2020, our full suite of courses gained accreditation by the BCS (the Chartered Institute for IT), recognising the initiatives we have established to connect our students to live projects solving real-world challenges. Computer Science at the University of Salford is in the Worldwide top 400 in the Times Higher Education World Rankings 2022.
Our research has influenced the development of commercial software products in a range of business sectors. We are a co-founding member of both the Greater Manchester Cyber Foundry and the Greater Manchester AI Foundry; we also support the region's ambitions to be a digital leader by helping SMEs put cyber security and digital innovation at the core of their business strategy.
In 2022, Computer Science teaching will move to a new £65 million building located on the main university campus with state-of-the-art facilities.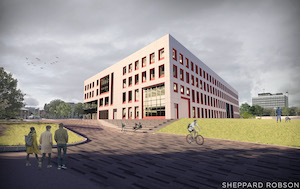 Facilities
Campus tours
Highlights
Latest news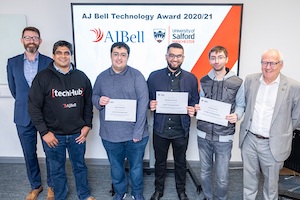 Our students