The Environment and Sustainability Team's textile recycling campaign, 'New Life for Old Pants', has been shortlisted in this year's prestigious Green Gown Awards, which "recognise the exceptional sustainability initiatives being undertaken by universities and colleges across the UK."
The Awards, which are now in their eighth year, have become established as the most prestigious recognition of best practice within the further and higher education sector.
Following the success of the University's
Energy House in the Research and Development category in 2011, this year we have been nominated for a Promoting Positive Behaviour award.
In 2008/09 the University generated nearly 3,000 tonnes of waste and only around 25 percent of this was recycled, meaning that most of it ended up in landfill. In response to this we committed to making efficient use of resources, reducing waste and increasing reuse and recycling.
The 'New Life for OldPants' campaign aimed to encourage employees and students to consider how they could reuse and reduce their waste to landfill both on campus and at home. To achieve this, the Environment and Sustainability team partnered with TRAID, a textile recycling charity, to promote reduction, reuse and recycling of textiles on campus.
Initiatives included: Sew Good workshops, an Upcycled Fashion Fair, Swishing Parties and an End of Year Clear Out. TRAID also gave a special lecture to our fashion students, explaining the lifecycle of clothing and highlighting issues such as crop degradation, unethical labour, Fairtrade, and the environmental damage that the textile trade creates when clothing is sent to landfill. A number of TRAID recycling banks have also been installed around campus to help facilitate textile recycling.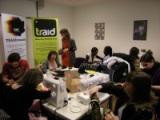 Sew Good Workshop
Rebecca Bennett, Environment and Sustainability Officer, said, "The campaign has been a huge success and we have saved almost two tonnes of textile waste from landfill and 25 tonnes of carbon."
The nomination will now enter stage two of the awards process and the winners will be announced in November.
For more information about 'New Life for Old Pants' please email eps-sustainability@salford.ac.uk
To find out more about the University's environment and sustainability initiatives please visit: http://www.estates.salford.ac.uk/environment or read about our Carbon Managament Plan at: http://staff.salford.ac.uk/cmp/