The Environmental Sustainability Team have been working with the Business School on the Business Ethics and Sustainability module, which reaches around 350 students every academic year. Bec Bennett and Romas Malevicius delivered a workshop about the successful collaboration at the recent EAUC conference and the team received a Vice-Chancellor's Teaching Award for the module. We have now also found out that the module has been nominated in the 'Next generation learning and skills' category at this year's Green Gown Awards!
The module provides a real-world student learning experience, i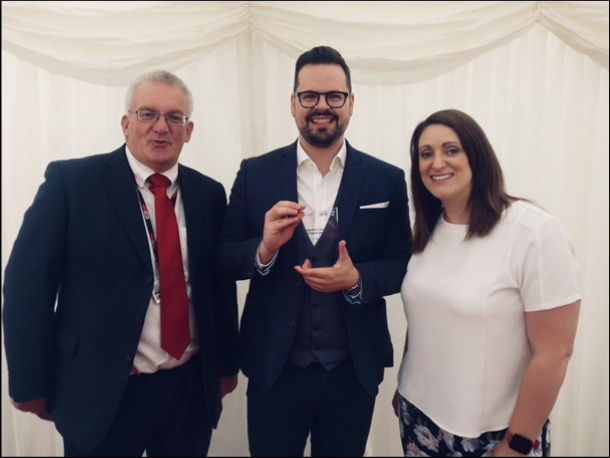 n line with the ICZ strategy, by partnering with the Social Enterprise Visits Initiative (SEVI) and the UoS Environmental Sustainability Team (EST). Bec Bennett, Environmental Sustainability Officer, delivers guest lectures that provide the foundation on how UoS is trying to be more sustainable and what the main challenges are. This provides an excellent opportunity for the EST to deliver information on environmental management at the University such as waste and recycling and provides a barometer of awareness to measure changes in knowledge and attitudes. Future plans for the module include involving the whole EST in delivery of lectures.
A fundamental feature of the module is the development of a group assessment that enables students to participate in The Best Sustainability Project Idea competition. Students have to critically assess how the University is addressing one of the 17 Sustainable Development Goals (SDGs) and identify the main strengths and weaknesses of how the UoS is tackling that SDG. Based on their analysis, students present recommendations and a project plan, which would assist the University in tackling the selected SDG in the future. The students' suggestions are valuable in identifying opportunities and supporting business cases for improvements. These opportunities are considered and prioritised within the University's Environmental and Energy Management System risk and opportunity process.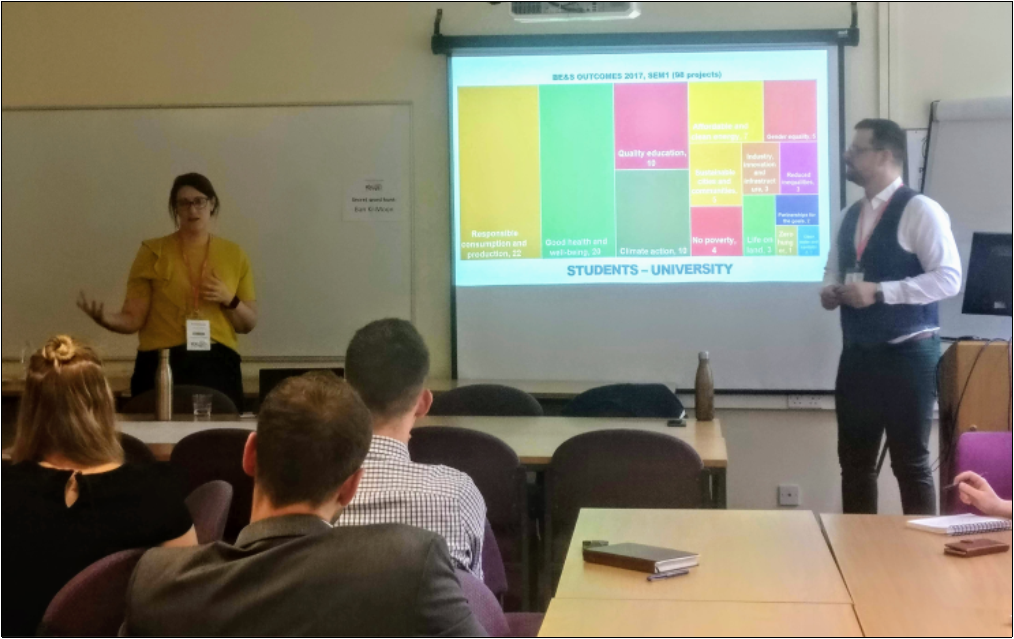 Students investigate and select one local charity that they would like to support and incorporate in their presentation. The best presentation has a chance to win a monetary price that will be donated to the selected charity. The winners of The Best Sustainability Project Idea are announced at the end of every semester where students meet with their charities and pass on their donation.
The delivery of teaching has a combination of pedagogical approaches including workshops, guest talks and field trips to social enterprises with a keen focus on the skills and knowledge that are vital for professional practice and employability.
Green Impact awards 2018
For the 2018 Green Impact Awards we joined forces with the Business School's Business Ethics and Sustainability Awards, holding a collaborative sustainability showcase 'Celebrate UoS2gether' on 4th December.
We relaunched Green Impact for 2018-19 and celebrated the achievements of teams who had taken part in the 2017-18 cycle of the programme.
We celebrated the twelve enthusiastic staff teams from across the University who actively participated in Green Impact, and who collectively completed over 600 sustainable actions, as well as some really interesting in-depth projects. Over 25 students also took part in the programme as Green Impact Auditors.
The winners are:
Bronze
MediaCityUk
School of Environment and Life Sciences Labs
Silver
HR & Finance
The University of Salford Students' Union
School of Health and Society
The Green Machine
SALFOOD Catering
The University of Salford Students' Union Catering
Gold
Platinum
Joule House
School of Environment and Life Sciences
We also had a number of special awards, the winners of which received an award made from wood from the old velodrome at the National Cycling Centre in Manchester following its refurbishment. The awards were made by a charity called Touch Wood, who are part of Emerge. We then worked with Aidan Dunbar from the Maker Space to engrave the awards using a laser cutter.
Innovation for Engagement
The Green Library
The team carried out a project to promote Plastic Free July, with the aim of encouraging students and staff to reduce their use of single use plastics, sharing pledges on social media to then further influence others. Staff were encouraged to make their pledges on the Library's Workplace, with The Library's Leadership Team being approached to request that they demonstrate their support for the project by making their own pledges, which they did.
Students were approached in the Library and encouraged to make a pledge on a mini whiteboard to reduce their use of plastic. These were photographed and shared on Twitter and Instagram via the Library's account. Students who took part were given a reusable water bottle as a way of thanks.
Pledges included using reusable drink bottles and coffee cups to switching to recyclable bamboo toothbrushes and the team plan to run the project again next year and will continue to promote the issue to students and staff. So a great project that engaged staff and students with a very topical sustainability issue and one that can be easily replicated by other teams -thank you and well done.
Community Action
The Green Machine
The Green Machine were nominated for this award by their student auditors, who felt that their clear use of posters as well as their engagement with the public through social media has shown that they want the public to follow their lead in becoming more sustainable. They sell towels and reusable bottles to reduce waste, which have really taken off with the members using the facilities. Overall they have a lot of contact with not just students but with members of the public, which means that they have a large influence and impact on wider audiences, and the auditors felt that the team used this opportunity to engage all members of the community that use the Sports Centre, with information and opportunities to reduce their environmental impact.
Environmental Improvement
School of Environment and Life Sciences
The nomination was specifically for their project to improve people's spaces and enhance wellbeing by the provision of office plants in bright ceramic pots, going beyond the toolkit action to have one natural pot plant per five desk-based employees. Plants were chosen to be easy to keep ad they also specifically chose plants like spider plants and peace lilies that clean air and help alleviate indoor air quality issues associated with offices and computers. They gave out over 30 plants and staff were really happy and lots of positive feedback was received. They also added art work to Cockcroft to brighten up areas that were less appropriate for plants.
The team have also made a range of other great environmental improvements through their other projects , including their plastic reduction project which involved purchasing ceramic mugs and metal spoons for the school to replace the use of plastic ones, encouraging staff to bring their own mugs to school congress, changing gifts at open days to reusable water bottles, using biodegradable balloons and paper string at graduation and change disposable bench covers in the labs to reusable washable silicon bench mats.
They also set up a print reduction working group, which amongst other things, has resulted in a trial for electronic submission for final year dissertation projects for a subset of their students, with the aim to roll this out to all students next year.
Student Leadership Award
Evie Adams
Evie was not only nominated by her colleagues at the Students' Union, but also by another team. In her role as Science and Technology Sabbatical Officer for USSU, Evie has spear headed a major campaign across campus for reusable coffee cups – linking into the current gumdrop recycling project that had been established by the estates department.
The project involved working with Gumdrop to produce branded reusable coffee cups partly made from recycled chewing gum, which is collected on campus in the pink gumdrop bins, therefore forming a closed loop recycling system. The campaign will reduce the use of disposable coffee cups on campus and beyond, with the library also purchasing cups to give to new students.
The SU sell the cups in Atmosphere for £4 with marginal profit to ensure the cups are affordable to students. This complements a 25p "tax" won single use cups. If customers don't have a reusable cup (of any type) they will be charged 25p.
From September – November 43% of their hot drink sales were served in reusable cups, a fantastic achievement. Evie has more sustainable ideas and we look forward to working with her on upcoming projects.
Sustainability Hero
Hazel Palmer, Joule House
Hazel has encouraged colleagues to contribute ideas and take their sustainability mind-set home with them and provided the department with an insight into the critical awareness of the environmental, technical, economic and social factors influencing the sustainable management of energy and environmental resources. Using negotiation, persuasion, encouragement and chocolatey based bribes more of her team are cycling to work, utilising communal recycling points, switching off radiators, monitors and PC's, reducing printing costs and switching to telephone/video conferencing.
Hazel has proven to colleagues that by making small differences in their working practices and behaviours the impact is significant in reducing the overall energy of the department. Sustainability is not about one person, it's about creating a culture that anyone can be part of, and Hazel has been instrumental in sharing her enthusiasm with colleagues so that they too are embracing the green agenda.
You can view photos from the event on our Facebook page.