Cycle September starts in just two weeks! It's a global challenge which runs throughout the entire month. It aims to promote active travel and the benefits of cycling. Last year there were over 56,000 participants.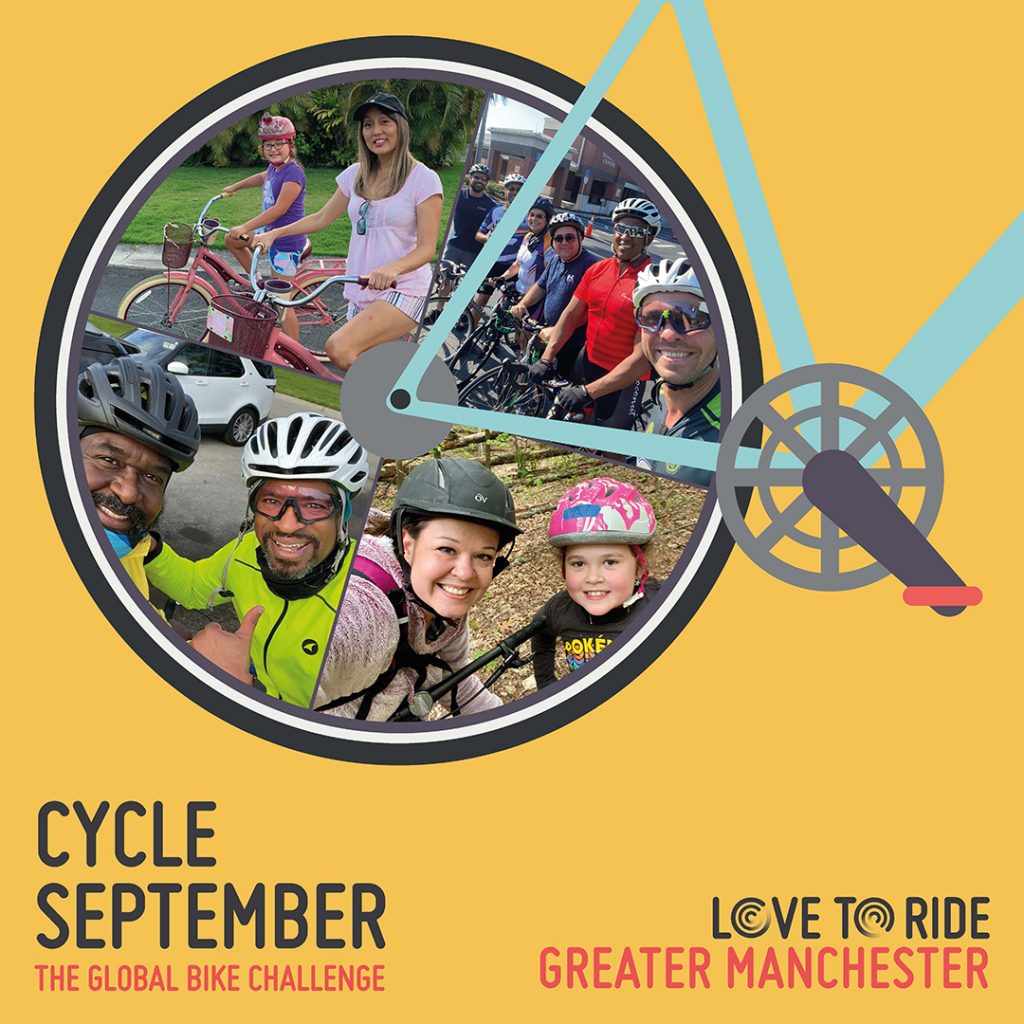 Cycling has a wide range of benefits. It's good for our health (both mental & physical), our planet and our wallets. It can also help us save time on commutes, spend more time outdoors, and it's a great activity to do with family. Cycle September is a great way to take advantage of these! It's open to everyone and it's all about having fun and spending time actively. It doesn't matter how often or how far your ride – whether you're commuting to work or cycling for fun, any ride over 10 mins counts.
How to take part?
Participation is free and all you need to do is register here as part of the University of Salford, and log your rides. To log a ride, enter it manually on the website or connect a cycling app, such as Strava or Map My Ride. Apart from logging your rides, you can also get points by encouraging others to join. The more points we earn as a team, the higher our chance of winning prizes: you can check them out here! The challenge finishes on September 30th and all of your rides need to be logged by 11:59pm on October 2nd.

Tip: register before 11:59 pm on 31 August to be entered into the early-bird registration prize draw for one of three £100 local bike shop gift cards!
Cycling to the University of Salford
Cycle September is a great opportunity to start cycling to university. Here you can find information on cycling parking on campus, as well as showers, security, routes and training.
We encourage all students and staff who are interested in cycling to join the Cycle User Group on Teams – click here join. The group is open to all and it's a great place to stay up to date with all cycling-related news from around the University.
We're currently working on improving the quality and accessibility of cycling facilities on campus. If you have any feedback or suggestions, please get in touch with our team!
Thinking about commuting to the University of Salford by cycling? If you're a member of staff, we have two great schemes you can take advantage of:
E-Bike Hire Scheme
We launched the scheme earlier this year in partnership with Manchester Bike Hire. It's an opportunity to try out an electric bike for free for up to 4 weeks. It's a great option especially for longer commutes. The package deal includes locks, lights, helmet (if requested) plus full support & maintenance. After the trial, the e-bike can be returned, rented or purchased.
Here you can find all the details and register your interest.
Cycle2Work scheme
The scheme opened in July last year as part of the University's commitment to encouraging sustainable methods of travel. In the scheme the University purchases cycles for employees to use for their commute to work. In exchange for the provision of the cycle, participating employees agree to a reduction in salary to cover the hire charge each month, repaying part of the initial cost to the University and benefiting from tax and National Insurance savings via the salary sacrifice arrangement. You can spend up to £2,000 and then pay for it over 12 months.
For more information and to apply, visit My Salford. The scheme is available to most staff (see FAQs for details) and it's an opportunity to save at least 32% on bikes and accessories from retailers such as Halford, Tredz, and a large network of independent bike shops.
---
Follow us on social media: