Please note: As of 06/05/2020 – this method no longer works for Emerald Insight. To access Emerald Insight. To access Emerald, please see the instructions here.
Recently we launched a brand new service for our alumni – entirely free access to a range of online resources, including journals and e-books to support you in your ongoing education. You can read all about the online resources available to you in our last blog post.
It is important to note that you can only access the online journals via FromSalford.com, our alumni benefits hub. Bookmarking the journals sites directly, typing the URLs manually or googling them will NOT authenticate access and you will not be able to take advantage of the free access we have arranged for you.
Here is a step by step guide on how you can make the most of your Salford alumni status and browse a wide variety of top-quality e-books and journals.
1. Log In/Sign Up to FromSalford.com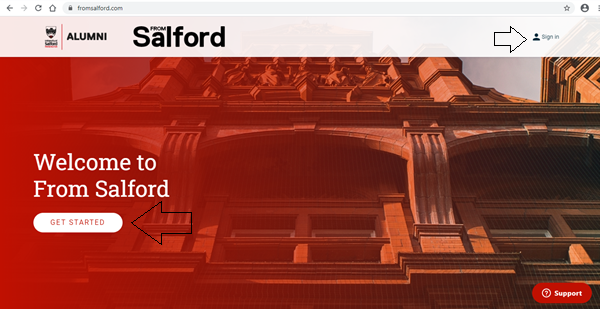 To create an account, click 'Get Started' or if you already have an account, click 'Sign In' in the top right corner.
You can sign in using an existing LinkedIn, Google, or Facebook account – or you can create an account from scratch with your e-mail address.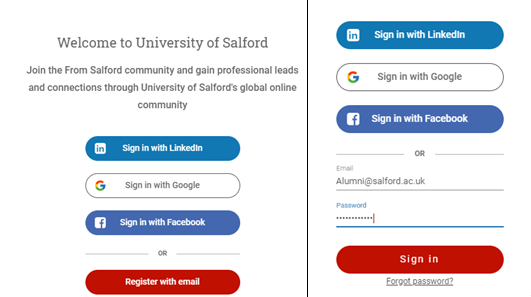 Once your account is made and verified (all new registrants should be verified within 2-3 working days) you are free to access the platform and all the wonderful features included.
2. Navigate to the 'E-books & E-Journals' Group
After signing in, you will be greeted with the feed page:

You can find the online resources in the 'Groups' tab on the left-hand side.


Use the Search bar or scroll down to find the group titled 'E-Books & E-Journals'.
From here, click to enter.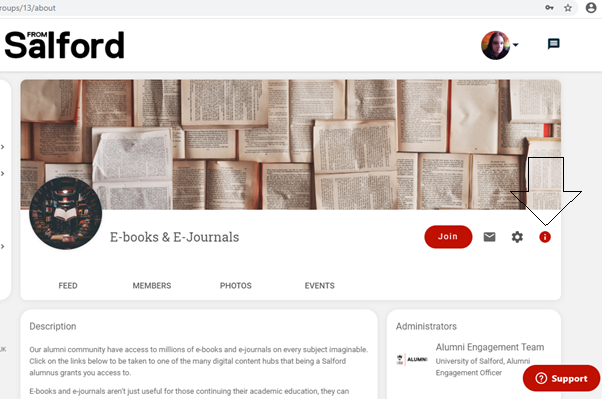 You should automatically be taken to the 'About' page. If you accidently navigate elsewhere, you can return to this page by clicking the 'i' icon in the top right corner
3. Accessing the Journals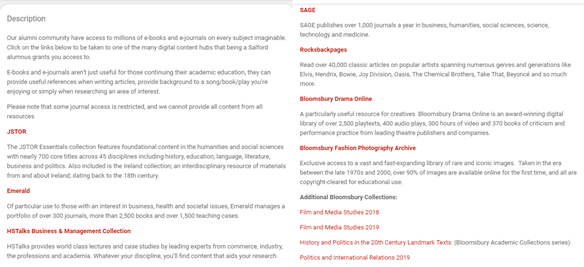 When clicking on the group you will land on the description page. If you have already joined the group you will be taken to the group's feed. We would recommend bookmarking this URL, as this will be needed every time you want to access any of these journals. The URL for you to bookmark is https://fromsalford.com/groups/13/about.
When you are ready, click on any of the red hyperlinks to be taken directly to to the corresponding journal sites.
4. Using the journals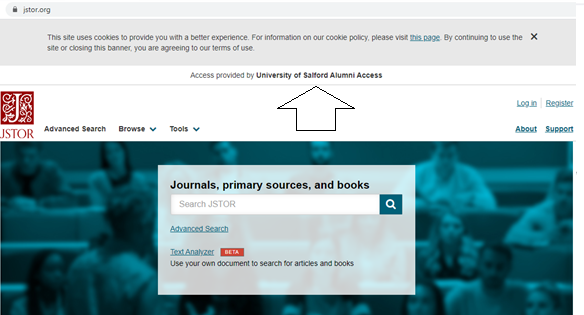 Upon clicking the hyperlink from the FromSalford.com group – you will be taken to the journal site home page. As we have arranged alumni access for you you do not need to login. Therefore ignore the Log in/Register buttons. Authentication is done via FromSalford.com, so no additional login is needed. You will know if it has worked, as you will see a tab near the top that reads 'Access provided by University of Salford Alumni Access' or something similar.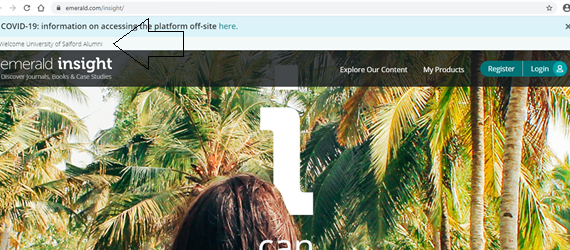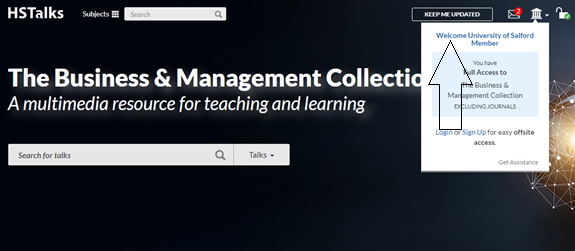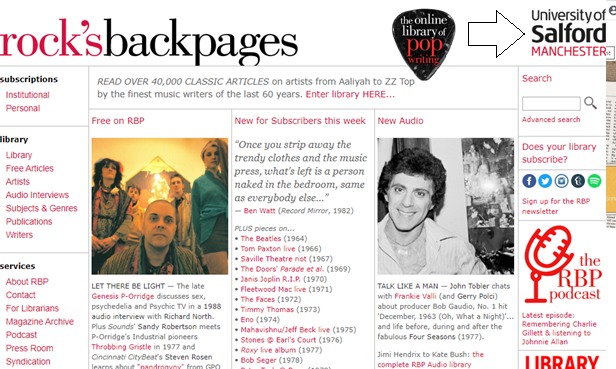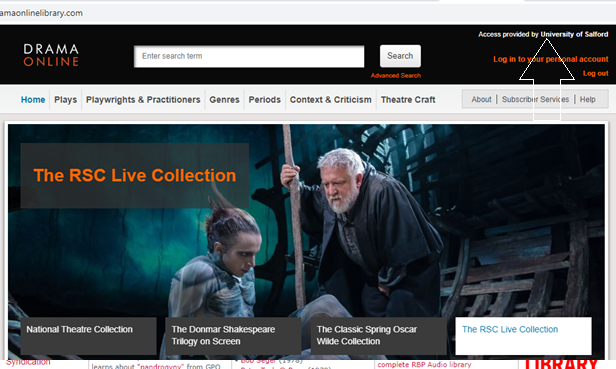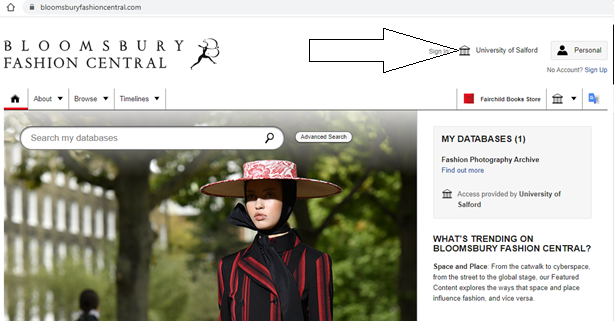 5. Browsing the Journals
Now you've got access – browse away!
It's worth nothing that with Jstor, Emerald and Sage alumni access is limited – so to make sure you are only searching content that you are able to view in full, we recommend using the 'Advanced Search' tool where necessary; and make sure that you have 'Content I Can Access' under the search preferences. (See below)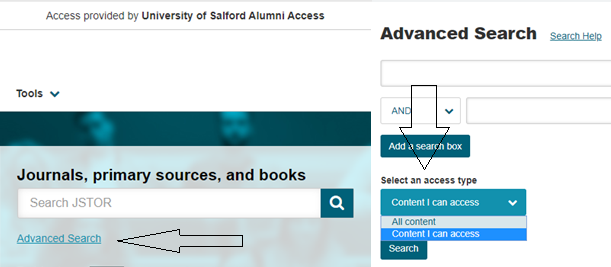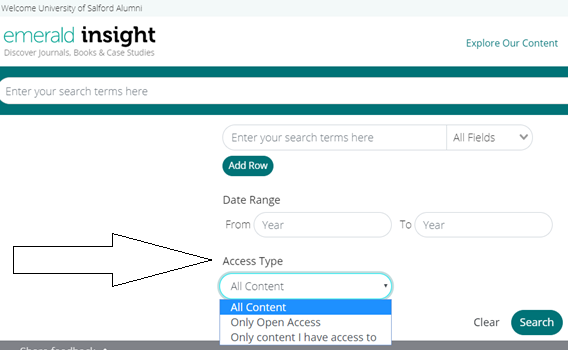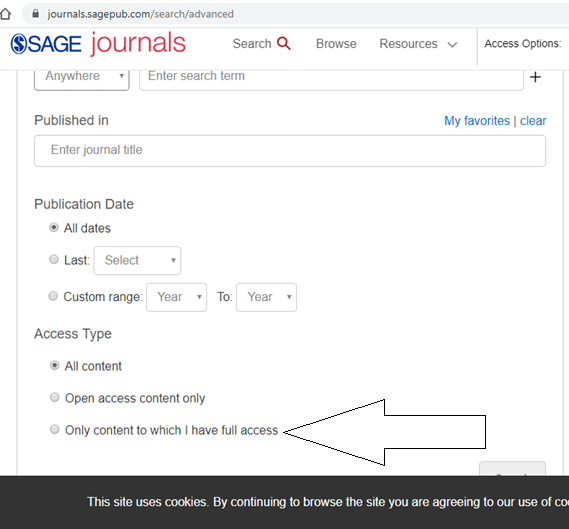 Rocksbackpages, Bloomsbury & HS Talks do not require these options, as we have access to the vast majority of the content available.
We hope you enjoy accessing the online resources. If you experience any problems with access please do not hesitate to get in touch with us at alumni@salford.ac.uk.
You can read more about the collection of e-journal sites available to you here.
Please note – this method does not work with the FromSalford mobile app. If you are a mobile user, please follow the same method through your web browser.