Are you struggling with page 412 of tiny textbook print? Debating a third re-watch of Tiger King? The Library's Leisure Reading collection might just hold the thing for you…
At your Leisure
Indie small-press poetry, Booker bestsellers, stellar sports biographies, and classic graphic novels are just a few of the nearly one thousand books on offer in our dedicated Leisure collection. For starters, you could try the acclaimed 2021 debut, Bernard and Pat by one of the University's very own PHD students, Blair James. Set in Salford, the experimental work offers a startling depiction of childhood trauma. Or you can see what all the fuss is about by borrowing our most loaned Leisure Reading book, Michelle Obama's lauded autobiography, Becoming.
Where is this magical place, we hear you cry! Since launching in 2017, the Collection has had a couple of homes but is now comfortably (and very conveniently) settled on the shelves opposite the Clifford Whitworth's main ground floor service desk. But whilst COVID restrictions prevent on site browsing, let us do the work for you. Browse Library Search and use our Click and Collect Service to reserve your book. We'll make sure it's ready for you.
Not more reading!
Feel like you've got enough course reading to see you through the decade? We know the feeling- but there are proven academic and wellbeing benefits to swapping the textbooks for a blockbuster novel once in a while. These benefits, and student feedback, spurred the creation of our Leisure Reading Collection. And they continue to motivate our extremely friendly and helpful Leisure Reading team of Dean Brown and Phil Jayes today. Dean goes into detail on the purposes of a Leisure collection in this brilliant article, Cats, comics and Knausgård…, but to summarize:
Wellbeing benefits of leisure reading
Can reduce stress by up to 68%.
Can aid a good night's sleep.
Can improve the ability to cope with difficult situations.
Academic benefits of leisure reading
Introduces new ideas outside your realm of study.
Improved critical thinking and comprehension skills.
Improved written skills and ability to construct an argument.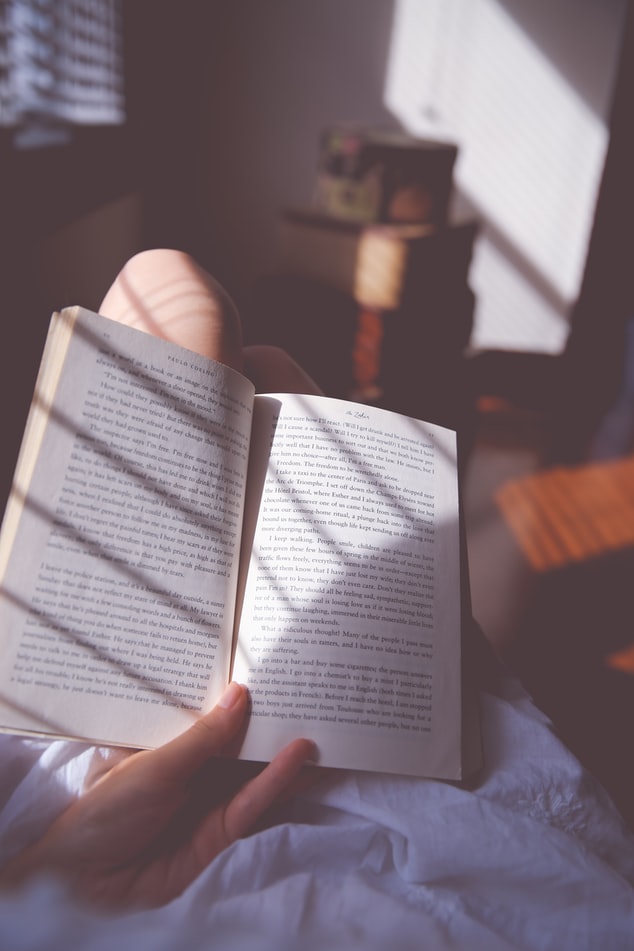 Leisure line up
As you can tell, a great deal of care and hard work has gone into shaping this vital, diverse collection. But the Leisure Reading team still has plenty up their sleeves. Here are a few examples of the exciting plans they're working on:
Wellbeing collection – Over the last couple of years, the team has put extra resources into building a fantastic selection of wellbeing and self-help books. Crucial in these super stressful times, they're looking at making this a stand-alone Wellbeing collection and offering a relaxed space to enjoy the books.
Audiobooks – We are boldly going where few academic libraries have gone before, by bringing audiobooks into the Library. A staple of lockdown life, audiobooks will help make the Leisure collection more inclusive and allow you to enjoy it on the go. Zadie Smith's brilliant novel, White Teeth, David Allen's motivational Getting Things Done, and Bessel van der Kolk's ground-breaking study, The Body Keeps the Score, are a few of the huge array of titles we've selected. We'll be announcing the launch through all our social media channels so watch this space.
Branding – As soon as we're back on site the team will be assessing the Leisure Collection's branding. They want to make sure that nobody overlooks the fantastic resources on offer. Is there anything you think would improve the space's visibility? Or make it more inviting? Please comment below!
Events – Once restrictions allow, we'll be looking at holding an array of Leisure-related events in the Library. Author talks, writing workshops and spoken word nights are some of the proposed ideas. Is there anyone you'd like to see starring at the Clifford Whitworth? Serious and non-serious answers are both welcome.
One more thing…
Well, if this hasn't convinced you to explore our Leisure Reading Collection, I don't know what wi…Wait! How about a couple of enticing recommendations from the experts?
The Pie At Night: What The North Does for Fun – Stuart Maconie A really humorous look at all the north has to offer. From the Curry Mile to further afield, this book covers the entire north of England, offering an alternative glimpse at the leisure activities you should take the time to visit.- Phil Jayes
Crazy Is My Superpower: How I Triumphed by Breaking Bones, Breaking Hearts, and Breaking the Rules – A.J. Mendez This book was brought to my attention by my wrestling-obsessed nephew, but is so much more than your average sporting autobiography. This story is an inspiring glimpse into how somebody took control of their mental illness and used it to not only accomplish their dreams, but also inspire thousands of others to do the same. – Dean Brown
As ever, you can help shape our stock. Comment below, or request an item for the Library through our Ask for a new library item service or your Library Champion. For further recommendations, queries or if you want to get involved, please contact Phil (p.b.jayes@salford.ac.uk) and Dean (d.a.brown2@salford.ac.uk).