We've recently launched an app that can help you save time and effort. Our new app puts key library services at your fingertips and can help you keep on track with your studies.
Time saving
There are two big time-saving benefits with the library app.
We've selected the services that you need most and grouped them together, helping you to find them quickly and easily.
When you're using the app, you're already signed in to our key services, so you'll be able to use them seamlessly.
What's on the Library app
With the app installed you'll be able to:
Search for library resources
Book a library space
Access your reading lists
View your library account
Access eLearning to help you develop your academic skills
Book onto Library, Skills and Careers events
Chat with us
Receive notifications from the Library*
*To receive notifications you'll need to go to Settings and activate the 'Receive alerts' option.
Lecture check-in
You need to record your attendance of academic sessions and the Library app allows you to do this quickly and easily – simply look for the Check-in tile.
Style the app the way you want
If you're most interested in booking a library space and checking in to your academic sessions, why not move these tiles to the top of the page? The app allows you to customise your view so that the features you need are most prominent on the screen.
Get money off hot drinks when you show the app
From Monday 15th to Friday 19th November, you can get a discount on hot drinks at Clifford Whitworth Library Café. From Monday 22nd to Friday 26th November, you can get a discount on hot drinks at the Café on the ground floor foyer at Allerton. You can use the offer as many times as you like, but don't drink too much coffee!
Download the app today!
Download the app by searching for 'Ex Libris Mobile' on Google Play or the Apple store or by following the appropriate QR code (shown below). You can also view the Library app on the web.
When you have the app, type in 'University of Salford' and then login with your University email and password.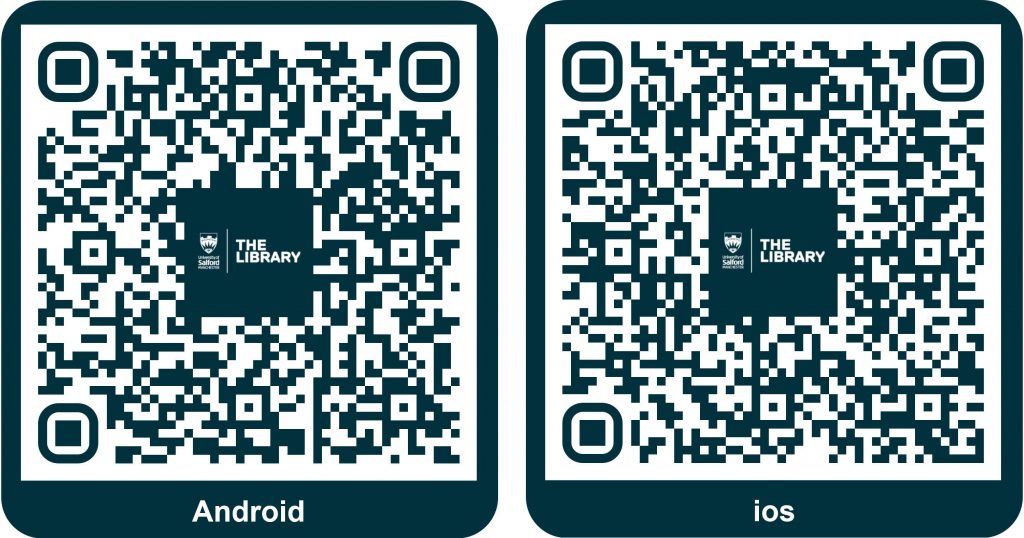 Already got the Library app?
If you've already downloaded the Library app, why not use the comments section below to let us know what you think of it. Is there another feature that you'd like to see added? What else could we include that would help you to save time and study smarter?