Using your module reading list means no scrambling about in the (proverbial) dark for essential resources. You can find books, e-books, videos, articles, websites, all specially selected by your tutors so you excel at your course, in a single place.
Locating the reading list
But first, the basics. Where can you find this nifty list?
If you can't find a list for your module, do not fret. Contact The Library's extremely friendly and efficient Reading List Team on library-readinglists@salford.ac.uk and they will help get one set up.
Prefer to read on paper? Exporting your list to print out from Word is as easy as pie. Just follow the GIF below!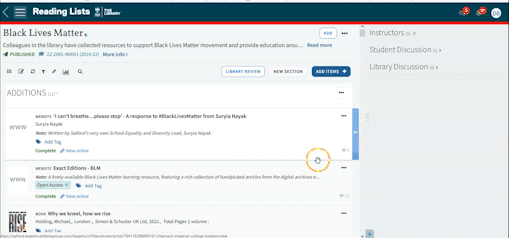 All killer, no filler
So, you've got your list in hand (or, on screen). Why should you dive in?
Attainment: Using your list will have real impacts on your academic attainment. The selected resources directly reflect your teaching and provide crucial sources for assignments, thus giving you the upper hand.
Time and money: As mentioned, your list gathers all useful resources in a single, easy to access place. Better yet, our Collections team purchases all the items on your list, so you don't have to. Time, money, sweat, and tears are all saved by your reading list!
Access: Electronic items are accessible from your reading list in a couple of clicks. Also, you can see how many physical items are in stock and their location ahead of your invigorating trip to the library.
Inspiration: Remember, your reading list isn't the end point. Through your list you might find an author, or topic, that sparks your interest. You can then delve deeper using Library Search. Or by requesting a new item for the library through our Ask For A New Library Item form.
Take two
Now you're raring to go, take two tips from University of Salford academics on getting the most from your list.
Take some time to trawl through the list, identify sources that might be useful, download items where available, start building your references list, identify quotes you might use. Try and do this in quite a leisurely way ahead of the assignment deadline.
Don't fall back on sources from modules previously taken – always start afresh. For example, I do weekly Reference Lists for my lectures, so this is a secondary pointer to useful materials.
Read on
Reading lists aren't only useful for your academic course. As a way of sharing resources, they are utilised by fan groups, social movements, and more. You might have noticed anti-racist reading lists circulating online during the 2020 Black Lives Matter protests. At The Library, we've put together a series of bespoke reading lists relating to library collections and contemporary issues.
Check them out for a huge array of thought-provoking resources:
We want your ideas!
Are you part of a society that would like to spread their message to the wider University community? Perhaps you're an individual student who feels strongly enough about a particular subject/event that you'd like to put together a list of resources to share with everybody else? Either way, we'd really love to work with you to help curate a reading list that can be shared far and wide!
The Reading List Team are currently looking to highlight a society/event/social issue every month in the coming year, and we'd really like some valuable input from our very own students.
If you feel like getting involved, you will not only help us by creating a reading list, but this will also shape the library's collection, as any resources we don't currently have can also be ordered for library stock.
Please feel free to get in touch via the email address below with any ideas you have.
Reading lists – Further questions?
Finally, check out The Library's dedicated reading list webpage which includes excellent instructional videos. Any questions, concerns, or ideas can also be directed to The Library Reading List Team library-readinglists@salford.ac.uk.