Are you frustrated with your typing skills or lack of? Fed up with how long it takes to type a short paragraph of text? Learning to type accurately… at speed… without looking at the keyboard is known as touch typing. It's a great skill to acquire. Touch typing saves you a lot of time, and the whole 'fingers flying over a keyboard' look is pretty cool too.
Well, the good news is that it has never been easier to learn to touch type because there are so many websites that will show you how – COMPLETELY FREE OF CHARGE!
Get going with TypingClub
My personal favourite is the web-based TypingClub – www.typingclub.com – because it's so easy to use. TypingClub has a simple, unfussy layout, and it is completely interactive. The graphics are a great visual prompt – coloured fingertips clearly indicate which finger to use for each key.
Can't remember where a particular character is? Look at the blue fingertip on the screen…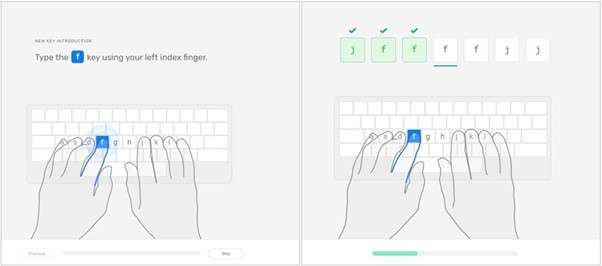 Create an account
You don't have to create an account, but if you do, your progress is tracked so it remembers the last thing you did.
You can check your accuracy and speed via the Stats feature! It also includes your speed and accuracy per character, and then for each finger, so you can identify your weak points. Mine was always having to reach out with my little fingers… I've got small hands…
Digital badges are available too, for that extra motivation!
Practice, practice, practice…
Give it a go — it's actually really good fun, especially if you have a competitive inclination. But remember, if you want your new typing skills to stick, you'll have to practice, practice, practice. It really doesn't take much to learn, a few minutes a day for one or two weeks. Adding touch typing to your skill set will boost your employability.
Further improve your everyday tasks
Boost your employability skill set further by improving your Time Management skills, developing strategies for Overcoming Procrastination and for Staying Motivated. Being organised and feeling positive means that you are more likely to get things completed before your assessment deadlines, and feel more confident about whatever comes your way. Find out how with our Personal Effectiveness eLearning.