Well, the new academic year has begun. As you enter this first trimester we're wondering how you're settling into your University teaching, but more specifically, your online learning…
Are you confident about sharing your views during online seminars? Are you happy raising your hand to ask a question during online lectures? If you're finding it a little daunting, you're not alone.
It may initially take you out of your comfort zone, but there are clear benefits to being an active participant in your own online learning. It strengthens a number of skills that are valued by employers. Communication skills, being a team player and self-motivation are just a few. Can you think of any others? There is another important benefit of taking part in class discussions. Think of it as a way to develop and practice that other employability skill – public speaking – in a safe and supportive space.
The online learning tools at the University – Blackboard Collaborate Ultra and Microsoft Teams – both offer features that can ease you into being an active participant in your learning. By using them to raise your engagement levels you will get far more out of your online learning experience, even when you have your camera switched off!
How can you be present and active in your online learning?
Making a start online
"Do I need to switch on my camera and microphone?"
This is a common question about online learning. It can depend on a few things. For large lectures, it's common practice that only the lecturer/presenter has their camera switched on. Your microphone may not be enabled, or you may be asked to use the Raise your hand feature and wait to be asked to switch on your mic for any questions you may have.
For smaller sessions, switching on cameras is certainly encouraged because it creates a sense of belonging and can make you feel more connected to the group. Your tutor will also benefit from seeing your facial expressions and responses to what they are saying. These visual cues may prompt them to clarify something for the group or expand on an idea. But not everyone is able or comfortable in switching on their cameras and there can be a few reasons for this. Connectivity issues can affect the audio quality while video is on, or you may simply be more comfortable with the camera off.
Whether your camera is off or on, both Collaborate and Teams have other tools that allow you to engage meaningfully with the session. You can use them as a way of easing yourself into the online meeting world.
Get talking with the Chat panel
The Chat panel is a great space to interact during online teaching sessions. It's where you can share your comments on what is being discussed and ask questions if you need clarity and share links to useful resources.
With online teaching it's more difficult for your lecturers to gauge your understanding of the topic or how you are feeling about what is being said. If you're unsure about something, then probably others are too. Don't be afraid to ask for clarification. Your contributions can encourage others to join in, creating a lively and engaged session.
Express yourself with emojis
Using the Chat panel emojis is such an easy way of expressing your feelings about what is being said or shared by others. If you haven't got a comment or question of your own, you can still interact with the discussion via your emoji responses. The small unassuming act of 'liking' or 'loving' someone's post can give them a positive boost – it is quite a powerful thing!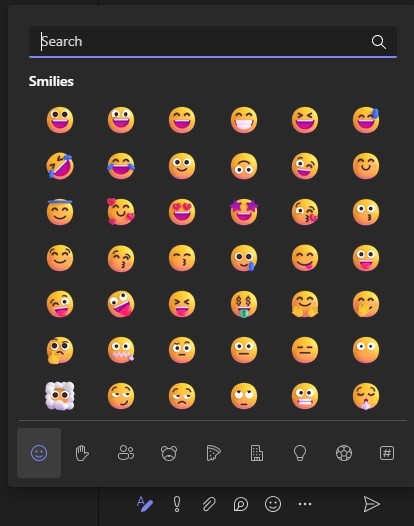 MS Teams' Meeting Reactions
Teams' emoji-based Meeting Reactions allow you to show how you feel about what is being said without interrupting the speaker. Its encouraging icons, such as 'Like' and 'Applause', float sweetly into view and then gently fade away.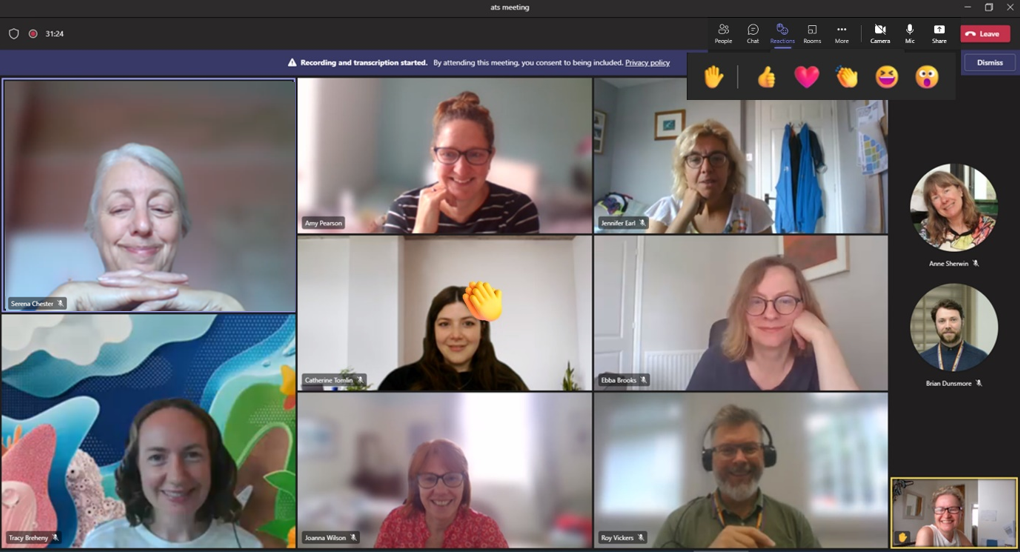 When you're online, little things mean a lot…
What else can you do to signal your engagement?
Adding your profile picture
Add your photo to the profile areas of your Blackboard and Microsoft 365 accounts. They are discretely displayed, in Blackboard at least, and it's a sociable gesture that builds a sense of connection with your fellow students. But if adding your photo doesn't appeal, then what about an image that means something to you? Seeing the empty profile icon is a bit sad 😟.
Within Blackboard, go to your Settings or Profile area and click on the Pencil icon to add a photograph of yourself.
Sign into office.com, and select the circle in the top right corner of the page that shows your initials. Choose My Office Profile and select the Camera icon.
MS Teams' meeting backgrounds
Switching on your camera in Teams? You can blur your background to hide a messy room. Fun can be had by choosing a background image or uploading one of your own.
What's in a name? Try out Blackboard's pronunciation feature
Urgh! Do people sometimes say your name wrong? Or do you want to be called 'Izzie' rather than 'Isabella'? Go back to Blackboard and its Settings or Profile area, click on the Pencil icon and record yourself saying your name via the Pronunciation option. N.B. Don't add your telephone number though… you'll be sharing it with the whole programme!
Feel like an online chat before the meeting?
You can enter your virtual classroom earlier than the start time to chat with the group. It is good to have some time to share experiences and a nice way to build relationships. Teams is a great way to meet up with other students outside of scheduled classes.
Have we motivated you to get started?
Being more active in your online learning by sharing your views gives your course mates the chance to hear other viewpoints on course topics. Encouraging their contributions with your use of Chat and its supportive emojis can help you feel more connected to each other and build a sense of belonging. You may even decide to form your own study groups, whether it's creating your own Microsoft team or WhatsApp group.
Other things to explore