International Women's Day (IWD) takes place on Wednesday 8th March. The Library will celebrate this by showcasing some of our fantastic resources, as well as helping encourage people to #EmbraceEquity this year.
Equitable action
The aim of this year's IWD campaign theme is to get the world talking about why equal opportunities simply aren't enough. People start from different places, so true inclusion and belonging require equitable action. We have put together a collection of resources that will inspire you to support and embrace equity wherever you can. 
Embrace – verb – ɪmˈbreɪs – to willingly and enthusiastically accept, adopt, and espouse
Why not start with the #EmbraceEquity selfie cards? These can be found on our display, and you can choose a pledge to tell us how you're willing to help support and encourage others to help forge equity for women.
Check out our display
Once you've done this, why not borrow one of the great titles available on our display? Here are a couple of recommendations: 
Malala Yousafzai – We Are Displaced: My Journey and Stories from Refugee Girls Around the World
Nobel Peace Prize winner, Malala, shares her own inspirational story of displacement, along with those of many other incredible girls. Whilst each story featured is unique, every single girl has one thing in common: Though they may have lost their community, relatives and often the only world they've ever known, they have not lost hope.
Elizabeth Filippouli – From Women to the World: Letters for a New Century
This book brings together letters from influential women across the world, each one addressed to a woman who means something to them. Each letter is based on the writer's personal history and experience, and this makes for some extraordinary, heartfelt reading. This book highlights, "A new model of leadership based on emotional intelligence and demonstrates how we have the wisdom to inspire, motivate and reinvent our world".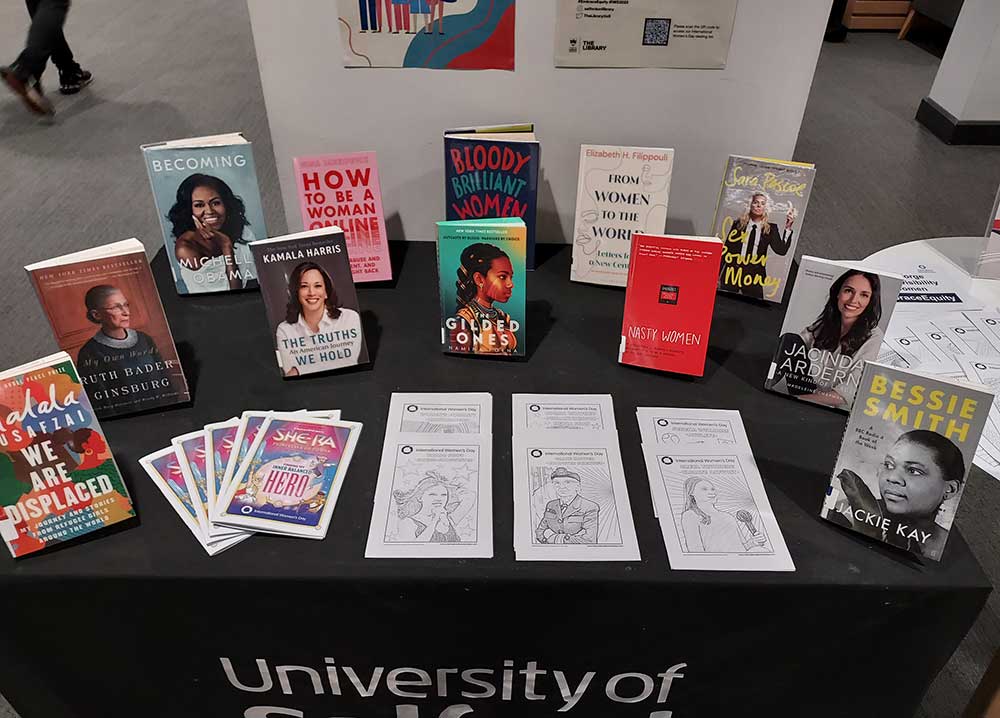 Discover our Reading List
In addition to our book display, we have also put together a diverse reading list, which includes details of many IWD events happening this month in the local area, as well as online. Our online list also includes some great resources, such as: 
Growing Up Female: Women Talk About Socialization and Gender Roles
Hailed as, 'the very first film of the modern women's movement', this movie looks at female socialisation through a personal look into the lives of six women at various points in their lives, and the forces that shape them. This video helps to show just how much has changed since 1971, and how much still remains the same.
Encyclopaedia Womanica
This podcast series offers five-minute biographies of women from history. In just five minutes a day, learn about different incredible women from history. From Inji Efflatoun to Pigfoot Mary, Womanica tells the stories of women you may not yet know, but definitely should!
This is just a taste of the resources the Library can offer, so why not come and take a look for yourself?
And while you're here, get involved with our IWD efforts and help us to truly #EmbraceEquity.