The second occurrence of this conference, organised by Dr Gill James, took place on 9 April 2016 on the third floor of our building at MediaCityUK.
The aim of the conference was to look closely at the young adult novel:
Who are its readers?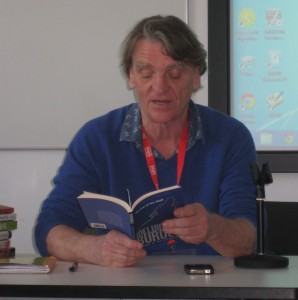 What is its nature?
Which are its themes?
What does it look like now?
How is it written?
Why does it exist?
Will it endure?
We anticipated the audience to be made up of academics, writers and educationalists. We had representatives from all three sectors with many delegates fulfilling all three roles.
Keynote speakers were Melvin Burgess and Sara Grant. Melvin won the Carnegie medal for his novel Junk so he offered our "pushing boundaries" talk. Sara, who teaches on the Masters in Creative Writing at Goldsmiths, is the founder of the Undiscovered Voices anthology and a writer of high concept novels for young people, provided the "flying higher" session.
Also on offer were master classes and critique sessions with Sara and Melvin as well with Cornerstones editor Debz Hobbs-Wyatt.
A focus group also looked at the concept of the young adult novel and is now involved in an ongoing attempt to put together a manifesto for its definition.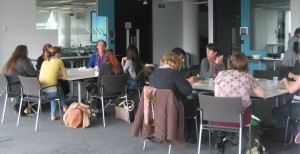 The final session was a panel discussion on the current state of the young adult novel. There is a move away from fantasy towards real life. Endings are getting bleaker. School librarian Nikki Heath confirmed that teenagers are still reading for pleasure. Younger children and adults are also reading what is designated as young adult material. Panellist Rachel McIntyre, SCBWI member and young adult novelist, is spot on with her latest novel. Vanessa Harbour, senior lecturer from the University of Winchester and an executive of the Golden Egg Academy, reminded us that the young adult novel must give a voice to young adults; we do not have the right to impose that voice just because we once were young.
The debate continues.
Leave a comment
---