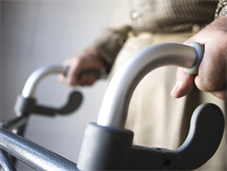 Dunhill Medical Trust: £74,907
University of Salford: 1,2Thies SB, 2Granat M, 1Kenney L, 1Howard D, Webb J
Oxford Brookes University:  Dawes H
Research programmes:
1Rehabilitation Technologies and Biomedical Engineering
2Measurement and Quantification of Physical Behaviour
Walking aids are prescribed to older people to help improve their stability and mobility. However, somewhat paradoxically, walking aid use has been associated with a 2-3 fold risk of falling. Whilst correlation cannot be assumed to indicate causation, this is certainly of serious concern and justifies further research. Whether or not walking aids are effective depends on how appropriately they are prescribed and used, yet little guidance is offered to users, and how stable users are in real life situations is entirely unknown. To date, no standardized method for assessment of walking aid stability exists, and this is reflected in an absence of evidence-based practice around training and prescription.
Interestingly, the vast majority of biomechanics research concerned with walking stability has been on unassisted walking. This is surprising, given the high prevalence of walking aid use in the most vulnerable (older old), and because walking with a walking aid differs significantly from unassisted walking in that the user needs to coordinate the movements of the device together with body and foot movements.
To bridge this gap in the knowledge base we previously developed a "Smart Walker" and associated software for assessment of walking frame user stability in the real world, i.e. outside our gait laboratory. We are pleased to now have received funding worth £74,907 from the Dunhill Medical Trust for a study that uses the Smart Walker in home-settings, to gather the first-ever benchmark data on 30 older adults' stability when walking with a walking frame. Further, in this project we will explore views of walking frame users, clinicians and manufacturers on how the Smart Walker Technology may be used to improve clinical care.
---
Tags:
D Howard
,
Dunhill Medical Trust
,
funding
,
H Dawes
,
J Webb
,
L Kenney
,
Oxford Brookes University
,
Rehabilitation Technologies and Biomedical Engineering
,
research
,
SB Thies
,
university of salford
,
walking frame
Posted in
HS
---
Leave a comment
---