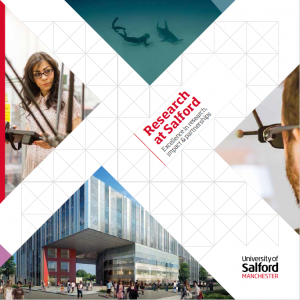 The Research Centres Support Team worked with each of the Research Centres to develop a brochure that showcases the innovative and varied research being conducted at the University of Salford.
The University of Salford has 9 Research Centres, each sitting within one of the 7 Schools:  Arts, Media and Communications Research Centre; Centre for Built Environment, Sustainability and Transformation; Centre for Urban Processes, Resilient Infrastructures & Sustainable Environments; Salford Innovation Research Centre; Biosciences Research Centre, Ecosystems and Environment Research Centre; Centre for Health Sciences Research, Centre for Applied Research in Health, Welfare and Policy and Salford Business School Research Centre.
The brochure highlights each of the Centres, giving an introduction to its research and projects, past and present.
The Research Centres and Support Team worked hard to produce copy and source representative images of the Centres, then both worked alongside Marketing to produce the final version.
The final brochure is available in both print and PDF versions and copies can be requested from the Research Centre Support Team. View a PDF copy here.
Leave a comment
---