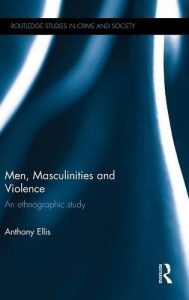 Congratulations to Criminology and Sociology lecturer Dr Anthony Ellis, who has been awarded the British Society of Criminology's (BSC) 'Critical Criminology Network book prize' for his recently published monograph – Men, Masculinities and Violence: An Ethnographic Study (Routledge).
The award, sponsored by Palgrave Macmillan publishers, was presented to Dr Ellis at the British Society of Criminology Conference held 6th – 8th July 2016 in Nottingham, where he also received a £200 cash prize.
Winners of this award are seen to make a valuable contribution to the further development of critical criminology. Judges specifically look for evidence of particular distinction and/or innovation in methodology or theorising in the field of critical criminology, or in the application of critical criminological theory, or research to crime policy or penal practice.
Dr Ellis' book addresses why men use physical violence against others, and how some men come to value physical violence as a resource. The book draws upon in-depth ethnographic research which Dr Ellis conducted with men involved in serious violence and crime over a period of two years in the North of England.
Speaking after he received the award, Dr Ellis said: "I'm really proud that my book has been recognised by peers in the Criminology field. The book addresses a prominent issue in modern society and I'm delighted that it caught the eye of the judges."
Leave a comment
---