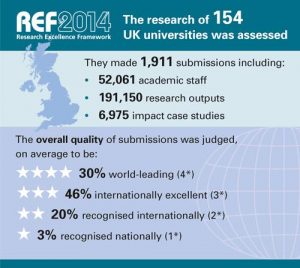 University of Salford's Impact Coordinator – Chris Hewson discusses why we need to talk about research impact:
Over the last eighteen months, much has been written and said about impact, and how Higher Education Institutions (HEIs) can effectively, and efficiently, place themselves on a secure footing in preparation for the next Research Excellence Framework (REF). Nonetheless, it could be argued that the fevered animation generated by REF2014 has led to a prolonged and ongoing hangover. For most academics and administrators the experience of co-producing impact case studies was a forensic and thought-provoking, albeit 'seat of the pants' and largely extemporised experience. The refrain consistently repeated in strategy offices across the land goes something like this: '…there is absolutely no chance we're going to execute our REF impact strategy in such an unsystematic and post-hoc fashion come 2020.'
But we are, aren't we? As Julie Bayley and Casper Hitchens note, "the burden of effort and pressure to 'find impact' led to impact fatigue and a tarnished view of the concept" [i]. Their remedies are sound, and were arrived at independently by a number HEIs of in the aftermath of 18th December 2014; the need for greater planning and (ongoing) data collection, the institutional normalisation of impact, the co-ordination of both internal and external engagement processes, and so forth. The authors playfully mimic the language of HEFCE, noting the dawning of "an opportunity to significantly and demonstrably… change how we achieve impact."
A few weeks ago I clambered out of bed at 4.30am to attend the Coventry University Impact Summit. Once again, concerns around impact corroboration, shared goals, and the misalignment of scholarly and institutional drivers, were front and centre. True, HEI's are caught in a holding pattern thanks to the hastily convened Stern Review (reporting late summer), and the Higher Education and Research Bill – thanks to Brexit and reorganisation of BIS, perhaps terminally stalled (see graphic below). But leaving the shifting landscape to one side, have we really moved on from the protracted REF2014 post mortem? I'm not sure we have. We certainly do have a better idea of what institutional REF impact strategies might look like, yet the extent to which academic routines are being modified – in the light of external requirements to plan, promote and corroborate impact – is at best debatable.
Let us return to the hangover metaphor. A significant swathe of current activity resembles what one might term the 'greasy breakfast solution.' It provides a sense of warmth, and keeps the body functioning, yet the long term benefits are ambiguous at best. Sector wide, the contours of this activity coalesce around the following:
HEIs should more closely integrate external engagement/partnership working into both central and departmental research strategies
The dynamics of knowledge exchange (i.e. how 'pathways to impact' are constructed and supported) need to be project managed – and as a prior step, taken seriously – rather than bolted on to 'business as usual'
Teaching and basic research should be informed by (but not be placed in a subservient relationship to) these and other external drivers
When one stands back and inspects this edifice, we appear to be left with an incongruous dialectic, where strategy (diktat) and pragmatism (ad hocery) collide. To paraphrase Marx – who would have been long dead, by the time any HEI tried to surreptitiously connect his work to an impact case study – 'research managers have only interpreted knowledge mobilization, in various ways; the point is to change how it is done.'
Beyond a blanket ban on the word 'impactful', my next post will reflect on why planning, implementation and outcome regularly fail to cohere. I will suggest that the bare bones of a solution can be found in a bottom-up approach that foregrounds two moves. Firstly, the construction of working models of impact through the facilitation of robust discussions within clearly defined clusters of academic (and other) expertise. Secondly, developing clear headline messages from these discussions, and subsequently employing these as resources to engage with other actors within, and external to the institution(s) in question. This will hopefully prove more appealing than it sounds in the abstract.
[i] Embedding research impact: A 'how to' guide (Research Media, 10th July 2015)