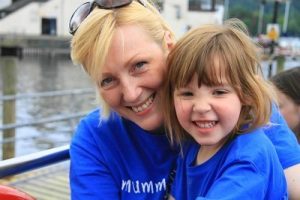 A mum of three and midwifery student at The University of Salford is "amazed" and "excited" to have been nominated for a Woman of the Year award for helping mothers who have cancer.
University of Salford midwifery student and mother of three Nicolette Peel is "amazed" and "excited" to have been nominated for a Women of the Year award for helping mothers who have cancer.
Nicolette, from Glossop, Derbyshire, will attend a lunch in recognition of her work with the charity Mummy's Star. Mummy's Star is the only charity in the UK and Ireland dedicated to helping women and their families affected by cancer during pregnancy or within a year of a birth.
The 44-year-old, herself twice a breast cancer survivor, juggles her duties as the Chair of the Charity with being a student and a mother.
She said: "It is amazing to have been nominated and I am so excited to attend the lunch. I was contacted by the Head of Maternity for NHS England, Professor Jacqueline Dunkley-Bent. She asked me to give her contact details, but I had no idea why. When I found out I had been nominated it a came as a wonderful surprise."
Nicolette studies a BSc (Hons) in Midwifery, in the School of Nursing, Midwifery, Social Work and Social Sciences. The School, which is one of the largest training nurses and midwives in the North West, recently opened a state-of-the-art nursing simulation suite, which gives students the opportunity to learn a wide range of skills in as realistic a setting as possible.
Nicolette will graduate in December, after completing a successful placement at The Royal Oldham Hospital. She added, "I wouldn't be where I am today without the back up of my brilliant husband, and my lecturers at the University have also been really supportive. It has been a balancing act but thanks to them I have been able to squeeze everything in."
Nicolette is also on a steering committee for pregnant asylum seekers in Greater Manchester and chaired the Midwifery Society at Salford University. Additionally, she is the first student ever to be invited to speak on the main stage of the Royal College of Midwives annual conference, which takes place next month.
Lisa Bacon, Director of Midwifery, Counselling and Psychotherapy said: "Nicolette is an amazing and inspirational woman who is more than deserving of this nomination. Her charity offers incredible support to women and their families who are affected by cancer during what should be one of the happiest experiences in their life. The University of Salford is incredibly proud of her.
"Earlier in the year Nicolette won the Royal College of Midwives President's Volunteer Award, which recognises an RCM member who has volunteered in a field with relevance for the provision of maternal and child health within the UK or overseas. The University of Salford and the midwifery profession already know what an incredible woman Nicolette is and it's great that her hard work is getting recognised".
The awards lunch will take place in October. Previous attendees of the Women of the Year Lunch have included Nicole Kidman, Julie Walters CBE and Dame Jacqueline Wilson.
Women of the Year has recognised, celebrated and inspired women of all backgrounds since 1955 and continues to shine a light on extraordinary women through an annual Lunch and Awards ceremony, lecture and on-going foundation work. The Women of the Year Awards are sponsored by Barclays, DFS, Good Housekeeping, ITV's Lorraine and Prudential and the winner will be announced on Monday 17 October 2016.
For more information about the charity Mummy's Star visit www.mummysstar.org
Leave a comment
---