A Computer Science student at the University of Salford has been named a rising star in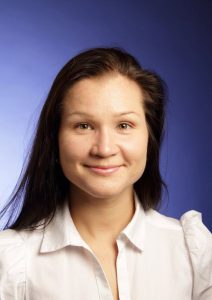 her profession by Cyber World magazine.
Milda Petraityte juggles studying part time for an MSc in Information Security management, with working at global professional services firm KPMG as a cyber security consultant.
She said: "I'm flattered and slightly shocked to have been named as Cyber World's Rising Star. I have been working with my lecturer Dr Ali for the past year and he has been very supportive of me. Studying in the university I enjoyed his module of Cyber Security in Practice where we focused on IT systems pen testing and forensic investigations".
Milda has gained a wealth of knowledge and experience working at KPMG, for example advising clients on various cyber security aspects and helping to deal with general company issues on a daily basis.
She added: "My job allows we  to understand the world of cyber from a business perspective. It is an exciting time to be working in the Cyber Security field. It is a booming industry, and in my job I am lucky in that I learn something new every day".
Dr Ali Dehghantanha, Lecturer in Cyber Security and Forensics, within the School of Computer Science and Engineering said: "Milda is one of the most talented and hardworking students that I have ever had in my academic career. She volunteers for completing the most difficult tasks and has managed to meet deadlines in spite of her heavy workloads. It is a great pleasure to work with such a talented candidate".
Leave a comment
---