Young Salford scientists have been selected to present their research at the House of Commons.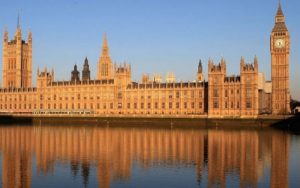 Sun Mingxu, 32, and Alix Chadwell, 28, will unveil projects to help stroke patients and amputees respectively at the Science Technology, Engineering and Mathematics STEM for Britain event on March 13, 2017.
The event is organized by the Parliamentary and Scientific Committee, together with the Royal Academy of Engineering, the Royal Society of Chemistry, the Institute of Physics and the Society of Biology.
Dr Mingxu, a BSc Computer Science graduate, originally from Shandong in China, is a postdoctoral researcher with the cross-school Rehabilitation technologies and Biomedical Engineering group where he's currently engaged in a National Institute of Health Research funded project to develop an advanced  functional  electrical  stimulation  system  for  stroke rehabilitation. The project is led by professors Laurence Kenney (School of Health Sciences) and David Howard (School of Computing, Science and Engineering).
Medical engineer
Alix Chadwell, a medical engineering graduate from the University of Bath, is conducting her PhD at Salford University into improvements in myoelectric upper-limb prosthesis.
There are 130,000 new stroke cases each year in the UK and, of those who survive, the majority find themselves having to adjust to life with reduced function in their upper limbs. Intensively movement early after stroke can lead to long term improvements but this is impeded by limited NHS therapy time.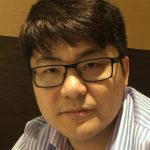 Working with Odstock Medical, Sun Mingxu (pictured left) has developed a novel system which allows a patient to practise movements with much-reduced support from their therapist, and provides the clinician with data on their performance both during and after practice. The new system has recently received  MHRA  approval  for  a  clinical  investigation, which is now running at three clinical sites. Providing the results are positive, the manufacturers hope to commercialise the system later this year.
Alix Chadwell's research aims to establish why it is that some users of myoelectric prostheses can find their devices difficult to control. She has developed a portable system allowing her to assess users outside of the laboratory and has begun measuring how well users can control the required muscle  signals,  how  well  the  electrodes  can collect these signals, overall functionality and  patterns of prosthesis use in everyday life.
Supportive culture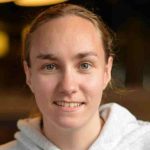 Alix (pictured left) said: "My interest in the design of prostheses brought me to Salford in 2014 and I am very glad I made that decision. Having previously trained as an Engineer, my highlight has been working alongside colleagues from both technical and clinical backgrounds, which  I  believe  is  key  to  developing solutions which are clinically applicable. I have found my supervisory team and the wider research group to be extremely supportive and my knowledge and interest in the field has expanded significantly. I look forward to seeing where it will take me next."
School of Health Sciences Dean, Kay Hack said: "Many congratulations to Mingxu and Alix on their involvement in STEM for Britain.
"Their selection for this prestigious event is well-deserved and a testament to the quality of their research and the excellent support we offer to early career researchers at the University of Salford. The work they are doing not only extends knowledge in these areas but will make a real impact  on  people's  lives.
"To present at the House of Commons is a wonderful opportunity to meet some important figures in STEM and importantly also to make their mark as rising stars in their field. I hope they enjoy it."
---
Tags:
Alix Chadwell
,
Computer Science and Engineering
,
Engineering
,
MHRA
,
myoelectric
,
Professor David Howard
,
Professor Kay Hack
,
Professor Laurence Kenney
,
protheses
,
Rehabilitation Technologies and Biomedical Engineering
,
Sun Mingxu
,
university of salford
Posted in
HS
---
Leave a comment
---