Dr Brian Hall, Lecturer in Contemporary Military and International History, has been awarded the 'Whitfield Prize for 2018' for the best first book on British or Irish History by the Royal Historical Society. The award was made in London during this summer, Friday, 6 July, when Brian was presented with the prize by the Society's President, Prof Margot Finn.
His book, Communications and British Operations on the Western Front, 1914-1918, published last year by Cambridge University Press, came out on top in a strong field of seven monographs which were shortlisted for the prize. The Whitfield Prize is awarded for books which are original works of scholarship, they must be the author's first work, published in English, and by an author who received their doctoral degree from a British or Irish university. Brian's book was chosen from a shortlist of works by authors who received their PhDs from, among other institutions, the universities of Newcastle, Cambridge, Oxford, Birmingham and Queen's Belfast.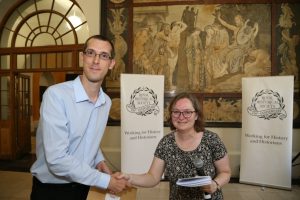 According to the judges: "Communications and British Operations on the Western Front, 1914-1918 is a landmark of First World War scholarship. Drawing on an impressive range of primary sources, the book is a compelling piece of historical exposition. It draws attention to an aspect of warfare that is vitally important and yet curiously neglected in the existing literature – the extent to which the participants know what is going on, and the methods they use to try to find out. A wide range of historians will be obliged to take note of this book's lessons."
Alaric Searle, Research Lead for Politics and Contemporary History, and Professor of Modern European History in the School of Arts and Media, commented: "This award is a fantastic accolade for Brian. This prize has been awarded continuously since 1977 and no former PhD student from Salford, or member of staff, has ever won it before. Furthermore, it is has been rare for authors of books on twentieth-century history to win; and, as if this was not enough, this is the first time that a straight work of military history has ever won.
And he added: "Thus, this prize has seen several 'firsts' for Salford, not least of all as Brian's colleague Dan Lomas was also short-listed for the prize. As Brian completed all his degrees in Salford (as did Dan), this is very much a 'made-in-Salford' story."
The Whitfield Prize for History, together with the Gladstone Prize for the best book on a topic not primarily related to British History, are two of the most prestigious early career awards in Britain and Ireland, carrying particular weight due to the central role of the Royal Historical Society in representing the views of academic historians in the UK. The award of the Whitfield Prize to Brian also sees him win in the 150th Anniversary Year of the Society.
Leave a comment
---