Book your free place here: Combining purpose with profit: helping social enterprises to thrive Tickets, Thu 18 May 2023 at 09:00 | Eventbrite
When your customer base comprises those hardest hit during a cost of living crisis, navigating times of economic uncertainty can feel like you're fighting a losing battle. For social enterprises, the current climate is challenging to say the least, with many feeling the need to focus more on the enterprise arm of their organisations, moving increasingly away from their socially-driven foundations.
Funding your cause and having the capital available to turn your vision for a better world into a reality, may feel like an impossible task to deliver. Despite the huge positive impact social enterprises have on society, securing adequate funding and investment continues to be amongst one of the biggest challenges.
According to Social Enterprise UK (SEUK), there are now more than 100,000 organisations operating in this space across Britain, each of whom are battling for their fair share of the limited funding available. A recent report from SEUK also indicated 18,000 social enterprises are at risk of closure, due to the tough economic climate. With increases in operational and staffing costs continuing, as well as a reduction in commissioning opportunities for public sector contracts due to declining budgets, despite demand for product/services increasing, opportunities to drive growth, in turn profitability, might seem limited.
At 9am on Thursday 18 May, join University of Salford Business School for an insightful panel event with: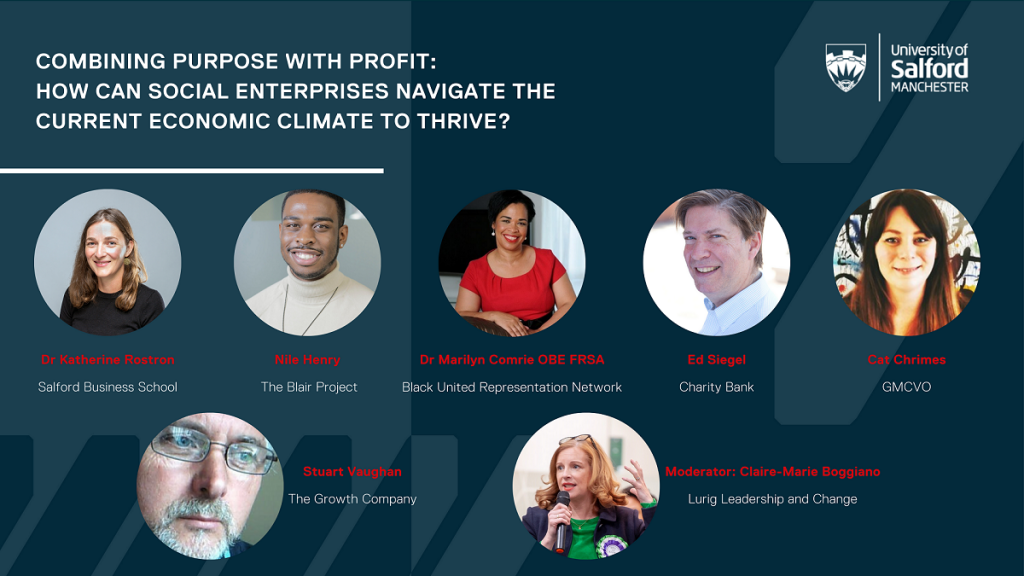 Dr Katherine Rostron, Lecturer in People and Organisations and social enterprise expert at Salford Business School
Dr Marilyn Comrie OBE FRSA, Principal Founder of the Black United Representation Network
Nile Henry, Founder and CEO of The Blair Project, as well as GM Social Enterprise Advisory Group Member which is part of Greater Manchester Combined Authority
Ed Siegel, Chief Executive of Charity Bank
Stuart Vaughan, Third Sector Development Business Advisor, The Growth Company
Cat Chrimes, Head of Investments at GMCVO (Greater Manchester Centre for Voluntary Organisation)
Moderated by Claire-Marie Boggiano, the panel discussion will centre on thinking commercially to drive growth and profitability in the social enterprise space, while exploring the priorities of impact investors in the current economic climate.

Book your free place here: Combining purpose with profit: helping social enterprises to thrive Tickets, Thu 18 May 2023 at 09:00 | Eventbrite