Salford Business School have been working with WA:UK Tech Angels for a number of years. Tech Angels are a member of the Web Applications group based here in the North-West of England in Oldham. They are early stage angel investors. This means that  they are focus their investment on new and innovative digital ideas rather than already established companies and products,
Tech Angels, in collaboration with Salford Business School, launched an enterprise competition  in October 2014 with cash prizes for students and the offer of potentially providing further business support, mentoring and premises for the most promising ideas. The competition will culminate in a Dragons Den-style event at Salford Business School's Creative Entrepreneur event on the 03 December.
Students from two programmes – the BSc (Hons) Business Information Technology and BSc (Hons) Business and Economics – who re taking the eCommerce and Advanced Web Design modules have been working on the Tech Angels competition as part of their group project. We have gathered up summaries of these exciting and innovative digital ideas so far and which will be a central feature of the Innovation Bazaar also being held on the 03 December at MediaCityUK.
Leave a comment
---
We live in fast times. The constantly evolving socio-economics of the 21st Century are shaped by a digital generation that increasingly strives to say more with less.
Why say something with a sentence you can articulate with a mere word? News institutions are striving to be more like culturally-resonant media sites such as Buzzfeed. It's common business practice for companies to have a blogger amongst their staff members. If you can't say it in 140 characters, don't say it.
This article itself is written in bite-size chunks to keep your eye from wandering. The emergence of i100, The Independent's internet culture commentator, is a pertinent example of changing attitudes.
I recently read a quote from Professor Richard Foster (Yale) that stated in 6 years, 75% of companies on the S&P 500 index will be companies we haven't heard of yet. The implications of this are huge. The world is showing no signs of slowing down, and the CEOs of the future are people who can keep pace. Luckily for today's student population, you've largely been raised in a world where the only constant question is "how can we make it faster?"
Those of you wanting your future company to be in that 75% might want to think about the following.
1 Comment
---
Whether it is your internship, placement or a real job interview – questions to ask at an interview are similar. Practising these questions and acting upon them during your time of study is going to be of great help for your future career.
Internships, work placements and live projects all provides the opportunity to experience the application of theories in the real world as well as enhance your knowledge about specific subject areas learnt during your degree program. It makes you more employable by boosting your CV and empowers you with essential hard and soft skills to set you apart from competitors in the job market.
My name is Adeyemi Adelekan and I am currently studying for my MBA at Salford Business School. The Business School offers live projects at all study levels from undergraduate projects to MBA level strategic consultancy. Here are the three lessons I learned from my MBA project which can help you to prepare for an internship or a real job interview.
1 Comment
---
At the Centre for Digital Business we have recently been discussing what digital business is, the future of digital business and ways to understand the stages of digital development for any business.
The contrasts between Small and Medium-sized Enterprises (SMEs) and Large Multi-national Organisations (LMOs) are usually quite obvious in any comparative survey of business maturity or readiness.
But, digital is different.
For example, size, in terms of any conventional measure such as the number of employees, annual turnover or worse – in the first few years for a digital start-up at least – profit, become a bit confused in the world of digital business.
2 Comments
---
British Academy of Management (BAM) conference is an important event on the calendar for business school academics and PhD researchers.
The conference offers an opportunity to share the latest thinking in all aspects of management research and this year BAM 2014 took place in Belfast, Northern Ireland from 9th to 11th September 2014.
A team of nine Salford Business School individuals have participated in this year's event. The team included Professor Jo Crotty  and PhD student Mojtaba Poor-Rezaei.
So, what happened at BAM2014? What are the latest thoughts? Here are the short summaries from each of the nine attendees.
Leave a comment
---
Pennine Telecom are a small and medium-sized enterprise (SME) based in Greater Manchester, UK. Pennine Telecom began their partnership with Salford University over 10 years ago, supporting the Annual Family Telecoms Exhibition and more recently by producing a product demonstration video for Yealink UK, it was during the production of the video that Pennine Telecom realised how their partnership with the university could flourish even further.
Discussions regarding the Knowledge Transfer Partnership (KTP) took place in relation to creating a digital cross-channel marketing strategy, concentrating on a seamless approach to the client through all available channels. I was appointed as a KTP Associate, and started in June 2013 and have loved every working day since!
So, how has the Knowledge Transfer Partnership helped Pennine Telecom so far?
Comments Off
---
Efforts to explain Bitcoin and cryptocurrencies in general have generally focused on how they are both a new form of money as well as a challenge to existing forms of money.
Cryptocurrencies are novel as they are only possible because of the ready availability of high-speed computing and networks. They are a challenge to today's currencies because of their decentralised nature, taking them out of national governments' control. Small signs that Bitcoin has filtered into the popular imagination include its appearance in US courtroom television drama The Good Wife, in an episode called "Bitcoin for Dummies".
What has been given less attention is the mechanism that makes the bitcoin network possible, the blockchain. To own and use bitcoin or any other cryptocurrencies requires no knowledge of how the blockchain works. Nevertheless the concept is relatively straightforward. It is best thought of as a complete ledger of every bitcoin transaction ever made, of which every bitcoin user has a copy that is constantly updated as new transactions are made.
But this accounting analogy is something of a disservice; the bitcoin blockchain has the potential for so many other uses beyond exchanging value that it shouldn't be ignored.
Comments Off
---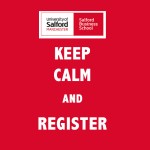 Salford Business School is opening its doors at our cutting edge showcase space at MediaCityUK campus to YOU!
Whether you are a young entrepreneur or a seasoned professional you will find a great networking opportunity to inspire your digital business thinking at our Creative Entrepreneur 2014 event. Meet young entrepreneurs amongst our students, members of staff or many of our external contacts. Want to see what creative ideas there are around? Join us at this open innovation space on Wednesday 3 December from 9.00am to 5.00pm.
You will witness an amazing showcase of masterclasses, have your questions answered by panel sessions, join in some of the demonstrations, admire installations and performances that will inspire, entertain and inform you. You will have a great place for networking meeting some of the students and staff from the University of Salford including the award-winning Centre for Digital Business, Creative Hive and MediaCityUK team.
Whether you are already an entrepreneur, or thinking of joining the next generation of entrepreneurs and intrapreneurs, this event is for you. The event is fused with the digitally-connected economy, helping you to help us celebrate the year of creative ingenuity of Small and Medium-Sized Enterprises (SMEs). This event is for those in the know and those that want to learn more.
Not sure if the event is for you? Here are our top 10 reasons to register and attend this great event:
Comments Off
---
My name is Ian Houghton. I graduated from Salford Business School last year – 2013, with a degree in Business and Management with Professional Placement. While I was at the University of Salford I made the most of the time by undertaking a one year placement with South West Water as a Contacts Administrator and was part of the university boat club. Since my graduation I have been working for United Utilities as a Graduate Project Controller.
I have learned a lot of lessons during my search for a job in my final year, and yes it was frustrating to receive no replies to my job applications but it was worth it in the end!
I wanted to write this blog in order to share with those final year students my journey on getting a job after uni. If you are a student who is looking to enter the world of work and want to have a taste of what skills and abilities you will need to really succeed in your first few years after graduation – read this post! Showing these abilities in applications and interviews will also give you an extra edge to ultimately getting your first post-university job and getting your career underway.
So, what are my top 5 skills and abilities for getting a job after uni?
1 Comment
---
The University has identified social impact and social value as core elements of our mission through the new University Strategic Plan. Our commitment to social business and its values has resulted in the University being awarded the Social Enterprise Mark – only the second university in the UK to achieve this public recognition.
The Social Enterprise Mark is the only international certification for social enterprises and it enables the University of Salford to differentiate itself from other Universities by proving we are working or 'trading for people and planet', reinforcing the University's brand values.
What does Social Enterprise Mark mean to students and staff at the University of Salford?
1 Comment
---