British Academy of Management (BAM) conference is an important event on the calendar for business school academics and PhD researchers.
The conference offers an opportunity to share the latest thinking in all aspects of management research and this year BAM 2014 took place in Belfast, Northern Ireland from 9th to 11th September 2014.
A team of nine Salford Business School individuals have participated in this year's event. The team included Professor Jo Crotty  and PhD student Mojtaba Poor-Rezaei.
So, what happened at BAM2014? What are the latest thoughts? Here are the short summaries from each of the nine attendees.
Leave a comment
---
Pennine Telecom are a small and medium-sized enterprise (SME) based in Greater Manchester, UK. Pennine Telecom began their partnership with Salford University over 10 years ago, supporting the Annual Family Telecoms Exhibition and more recently by producing a product demonstration video for Yealink UK, it was during the production of the video that Pennine Telecom realised how their partnership with the university could flourish even further.
Discussions regarding the Knowledge Transfer Partnership (KTP) took place in relation to creating a digital cross-channel marketing strategy, concentrating on a seamless approach to the client through all available channels. I was appointed as a KTP Associate, and started in June 2013 and have loved every working day since!
So, how has the Knowledge Transfer Partnership helped Pennine Telecom so far?
Leave a comment
---
Efforts to explain Bitcoin and cryptocurrencies in general have generally focused on how they are both a new form of money as well as a challenge to existing forms of money.
Cryptocurrencies are novel as they are only possible because of the ready availability of high-speed computing and networks. They are a challenge to today's currencies because of their decentralised nature, taking them out of national governments' control. Small signs that Bitcoin has filtered into the popular imagination include its appearance in US courtroom television drama The Good Wife, in an episode called "Bitcoin for Dummies".
What has been given less attention is the mechanism that makes the bitcoin network possible, the blockchain. To own and use bitcoin or any other cryptocurrencies requires no knowledge of how the blockchain works. Nevertheless the concept is relatively straightforward. It is best thought of as a complete ledger of every bitcoin transaction ever made, of which every bitcoin user has a copy that is constantly updated as new transactions are made.
But this accounting analogy is something of a disservice; the bitcoin blockchain has the potential for so many other uses beyond exchanging value that it shouldn't be ignored.
Leave a comment
---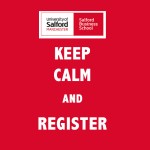 Salford Business School is opening its doors at our cutting edge showcase space at MediaCityUK campus to YOU!
Whether you are a young entrepreneur or a seasoned professional you will find a great networking opportunity to inspire your digital business thinking at our Creative Entrepreneur 2014 event. Meet young entrepreneurs amongst our students, members of staff or many of our external contacts. Want to see what creative ideas there are around? Join us at this open innovation space on Wednesday 3 December from 9.00am to 5.00pm.
You will witness an amazing showcase of masterclasses, have your questions answered by panel sessions, join in some of the demonstrations, admire installations and performances that will inspire, entertain and inform you. You will have a great place for networking meeting some of the students and staff from the University of Salford including the award-winning Centre for Digital Business, Creative Hive and MediaCityUK team.
Whether you are already an entrepreneur, or thinking of joining the next generation of entrepreneurs and intrapreneurs, this event is for you. The event is fused with the digitally-connected economy, helping you to help us celebrate the year of creative ingenuity of Small and Medium-Sized Enterprises (SMEs). This event is for those in the know and those that want to learn more.
Not sure if the event is for you? Here are our top 10 reasons to register and attend this great event:
Comments Off
---
My name is Ian Houghton. I graduated from Salford Business School last year – 2013, with a degree in Business and Management with Professional Placement. While I was at the University of Salford I made the most of the time by undertaking a one year placement with South West Water as a Contacts Administrator and was part of the university boat club. Since my graduation I have been working for United Utilities as a Graduate Project Controller.
I have learned a lot of lessons during my search for a job in my final year, and yes it was frustrating to receive no replies to my job applications but it was worth it in the end!
I wanted to write this blog in order to share with those final year students my journey on getting a job after uni. If you are a student who is looking to enter the world of work and want to have a taste of what skills and abilities you will need to really succeed in your first few years after graduation – read this post! Showing these abilities in applications and interviews will also give you an extra edge to ultimately getting your first post-university job and getting your career underway.
So, what are my top 5 skills and abilities for getting a job after uni?
1 Comment
---
The University has identified social impact and social value as core elements of our mission through the new University Strategic Plan. Our commitment to social business and its values has resulted in the University being awarded the Social Enterprise Mark – only the second university in the UK to achieve this public recognition.
The Social Enterprise Mark is the only international certification for social enterprises and it enables the University of Salford to differentiate itself from other Universities by proving we are working or 'trading for people and planet', reinforcing the University's brand values.
What does Social Enterprise Mark mean to students and staff at the University of Salford?
1 Comment
---
In the ten years since Tim O'Reilly coined and popularised the concept of Web 2.0 it has become the basis for many claims and blames. Invoking Web 2.0 has also become the vehicle by which many traditional roles are being redefined and extended (or at least claimed to be).
One of the most noticeable of these changes has been the role and meaning of the curator. Formerly associated almost exclusively with museums and galleries, curatorship was once solely a profession for maintaining and documenting artefacts assembled within a consciously organised collection. But Web 2.0 has changed our perspective of who a curator is and the basis for their activities on social networks such as Pinterest.
What management lessons can we learn from Pinterest?
Comments Off
---
Manchester United supporters lucky enough to see high-profile signings Radamel Falcao and Angel di Maria in action for the first time at Old Trafford at the weekend may have done well to remember we look with our eyes and not our hands. Or fingertips, to be specific. In an age where no experience is complete until we've recorded and uploaded it onto social media, fans may have been frustrated not to share their joy online. And the club's first win of the season provided them with many a photo opportunity.
But that reminds us, United have added tablets to their list of items banned from being brought into the stadium. The club is keen to emphasise that the measure is to ensure the "safety and security of all spectators". But the ban makes shrewd business sense and it's likely that other clubs will follow suit.
Comments Off
---
We have recently received great feedback from the British Council on Salford Business School's Erasmus Intensive Programmes held in April 2014. This is an example of the work undertaken by the Erasmus Intensive Programme team at the Business School and which the British Council has highly commended for producing products of excellent international quality.
The two programmes that were organised by us are Rural Tourism and Destination Analysis.
These programmes were organised with seven European partners attracting visitors from seven countries.
Each programme allows students to study in international groups at a single host University for a 2 week intensive period. The European Union (EU) funding covers the costs of flights, accommodation and subsistence for the programme participants.
Comments Off
---
Crowdfunding has come a long way in its short history. Today, it is even changing the way we consume. What was once a way to give a largely ready product a helping hand on its final push to market has become a means for consumers to get involved with something still on the drawing board, or simply to buy innovative new products before they're in the shops.
However, as with so many seemingly new ideas there is a longer history that stretches back prior to the presence of the web. The concept of seeking public patronage and multiple sponsors for projects has existed for many centuries in the arts, erecting statues and in publishing.
Just opening the front cover of any book of English local history published in the Victorian period will reveal a list of subscribers drawn from the local great and good who funded the project. Shakespeare's earliest success arguably also comes from support similar to modern crowdfunding.
Comments Off
---