Salford Business Submarine made its second appearance on Sunday 8th May 2016, entering the team's second ever Salford Dragon Boat Festival.
The team competed for the first time in 2015, where their main aim was to keep out of the water and to make it to the end of the course. Having easily achieved their 2015 target the team set their sights higher for 2016. This year, we wanted to raise even more money for Kidscan – a Children's Cancer Research charity – and of course we were aiming not just to keep out of the water, but also to win a race! Have we been able to achieve our ambition this year?
Most importantly the team were rowing to raise funds for Kidscan. Cancer is the leading cause of death in children in the UK; 25% of children diagnosed with cancer won't make it to their 30th birthday. Through groundbreaking research, Kidscan is striving to change that, giving every child with cancer the treatment they need to survive.
Leave a comment
---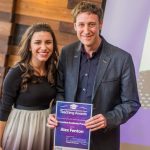 A team from Salford Business School, is travelling to Bangalore which is known as the Silicon Valley of India. Bangalore is the centre of digital innovation in India and this month we will take the next step to building better relationships in its tech and education sectors. India is seen as a key market due to ambitious plans by the Indian Government for 30% of its young people to go on to higher education by 2020.
Along with my fellow colleague Simon Ireland – International Partnerships & Business Coordinator, we will visit Bangalore on 24th May for a week.
Bangalore is well known as the Silicon Valley of India, due to its concentration of technology companies. We plan to tap into the expertise in the region, as well as assess how the University of Salford and its graduates can contribute and show Indian students interested in completing a degree in the UK, what Salford has to offer.
Leave a comment
---
Have you heard about beacons? How do beacons work? Beacons are one of many technologies that Salford Business School's PUPRU is working with. If you don't know by now what #PUPRU is, you can read about it here. The #PUPRU team are a group from the Centre for Digital Business with a focus on researching the use of emerging and disruptive technologies in business. Disruptive technology is defined as:
… new digital goods and services that revolutionise, change and disrupt accepted methods of performing business activities and transactions …
We have all been exposed to disruptive technologies, but perhaps not been aware. All disruptive technologies have potential to be the next big thing, creating significant opportunity, as with past disrupters like the Internet, smart phones and Google. You may not see the relevance, but unforeseen digital disruption drastically impacts business revenues. For example, GAME group closed 277 stores in the UK and Ireland in 2012 when consumer habits changed and more people began downloading their games. EE's 2015 third quarter results showed a 10.3% collapse in voice minute revenue as customers moved to VOIP communication apps like Facebook Messenger, WhatsApp, and WeChat. Desktop PCs and laptop sales declined by 9.5% in 2015 with increased global demand for tablets and smart phones. It is no longer necessary for you to own desktop PC devices when there are cheaper mobile alternatives, offering mobility and additional functionality. A new service could disrupt an existing business and is a strong motivator to rethink IT strategy and align it with business strategy. This is where #PUPRU comes in and looks to engage with organisations investigating the use of emerging disruptive technologies in their strategies.
Now – to beacons – what are they?
Leave a comment
---
I'm Ross Menghini, business development manager at leading mobile app developer, Apadmi. This week I visited the University of Salford Business School to speak to final year Business Information Technology students taking the eCommerce Consulting and Practice module about the growing importance of mobile in business.
I discussed mobile technology and why it's becoming a crucial channel for businesses now and in the future.
Have you heard of mobile first? Mobile Apps? or Mobile-friendly?
Below is an overview of what I spoke to the students about…
Leave a comment
---
Twitter. A place where people update the world on the mundane occurrences of their every day lives in 140 characters or less, right? Well it doesn't have to be –  it could actually be a good place to find a job!
I'm a MSc Digital Marketing student at the University of Salford Business School and recently started employment at PushON, an award winning Digital Marketing and eCommerce agency in Manchester. How did I land this amazing opportunity I hear you ask? Why, on Twitter, of course!
In this post I will share my personal experience of how to use Twitter to find a job. It began when I shared an article about how great a job as a "Social Media Manager" sounded. That was it – I simply shared my opinion on something I was passionate about.
You might have heard some people talk about a time where products and services find you based on your interests – well that time is now! And this is how it happened on Twitter for me:
Leave a comment
---
Each year, our Students Union (SU) arrange the Salford Teaching Awards. These awards are run completely by the SU and are voted for by students. This year, there were over 400 nominations for 150 staff from across the University.
At the Business School, we are absolutely dedicated to our students and to teaching excellence. We have been very successful in attracting industry and teaching awards and accreditations in recent years.
The special thing about the SU teaching awards however is that, it is not colleagues or externals that are judging, it is our students, who are ultimately at the heart of everything we do. At this year's SU Teaching awards, the Business School were incredibly successful, winning in many of the categories as follows:
Leave a comment
---
Our project, FlexyDine, is our idea to let you book a table online quickly and cheaply. We are very excited that our idea has just won the 2016 Incubox Kickfactor enterprise competition. This is in addition to winning the University of Salford's internal competition for the Santander Universities Entrepreneurship Awards and we will be representing the University of Salford at the nationwide competition.
What is FlexyDine? It is a restaurant table booking platform available as a website and a mobile application. The key feature of this platform is last minute, same day option to book a table online with significant discounts and ability to search for "restaurants near me".
Diners benefit from this app by being able to book a table online at local restaurants and great prices. On the other hand, restaurant managers using FlexyDine have a chance to get greater exposure to new diners and maximise the use of their facilities and make sure that food and restaurant tables are not wasted!
How did our team of students end up winning this Kickfactor contest and what is happening to the Santander Entrepreneurship Awards?
Comments Off

on Book a table online with FlexyDine: winners of Kickfactor 2016
---
One of the joys of working at the University of Salford is the opportunity to go to a variety of interesting lectures. Today, the Business School welcomed Dr R Balasubramaniam to share his theories on Enlightened Leadership. It was a fascinating talk on how self-awareness and self-enquiry creates mindful leadership, based on understanding what drives us and what drives others.
This is a synopsis of his theories.
"Human progress and development affects people from all walks of life and success in any field now demands a multidimensional and comprehensive perspective.  Governments and other Social Institutions are increasingly faced with preparing Leaders to operate in the social sector.  As they acquire competencies and knowledge about different subjects, many find themselves inadequately prepared for taking on leadership positions in this sector.  They are challenged by the complexity and diversity that a rapidly changing world presents them with.
Comments Off

on Exercising Enlightened Leadership
---
In January 2015 I began studying an MSc. in Project Management. One of the reasons I chose to study at University of Salford Business School, was the possibility of a placement experience in a company whilst writing the dissertation. I believe that the practical work experience you can gain from this postgraduate programme is unique; it gives you a different angle on the dissertation, as well as possibly opening doors to permanent employment.
Higher Education courses widen your horizons, make you a more aware person. But, whilst education for general knowledge is helpful, practical work placement experience is getting more and more important in the competitive work environment. It is often challenging to find a first job after being a student for many years. A work placement will improve your CV and gives you an opportunity to stand out from the crowd.
Comments Off

on My placement experience with Schibsted Media Group (SMG) in Oslo
---
With the release of the second issue of Salford Business School's Ignited magazine, the most frequent question that I have been asked is simply, "Why?"
"Why?" is such a provocative question and on so many levels.
This alone is reason enough to respond. The underlying assumption in these enquiries is that everything should be solely digital. A view that, on the surface, appears justified. The Centre for Digital Business recently produced practical advice for SMEs in the form of a "Going Digital" report and the School has been shortlisted in the UK Blog Awards as well as the European Search Awards and the Digital Leaders 100.
In combination, and with other activities, this is an impressive footprint in the world of digital business for any Business School.
Comments Off

on Five reasons to print a magazine in 2016
---