We are working in partnership with Faxi to bring you a new car share scheme 'Car share with US'.
The new Faxi carpooling scheme helps you find members of the University community that are traveling to campus when you are! You can save time, money, reduce congestion and CO2 emissions, and do your bit for the environment, one carpool at a time.
Using smart technology, the Faxi app verifies your carpool journeys and logs all of the many benefits of carpooling such as the total CO2 emissions saved and the number of cars taken off the road. By sharing your commute, everyone wins!
Carpooling has many rewards:
Reduce CO2
Reduce congestion
Improve air quality
Be more social
Reduce travel and parking stress
In addition, to get your competitive streak going we'll be running a leader board for students to see who racks up the most carpool journeys. The top ten best STUDENT carpoolers will be entered into a prize draw each month to win a month's free parking!
Join now for a smarter, more sustainable, and rewarding commute.
Step 1 – Download the app.
GooglePlay: bit.ly/FaxiAndroidApp.
iOS App Store: bit.ly/FaxiAppiOS
Step 2 – Sign-up with your University email address. You can do this via the app or online here: faxi.co.uk/@salforduni
Step 3 – Login and plan you commute. Set your working hours/days, pick-up point address, if you are a driver or passenger and carpooling preferences.
You can change these times at any point by going into your user profile, and select the 'carpooling' tab.
Step 4 – Connect with drivers/passengers.
As this is a new scheme, it will take time for more drivers and passengers to register, so don't be disheartened if there is no one to connect with when you first sign-up.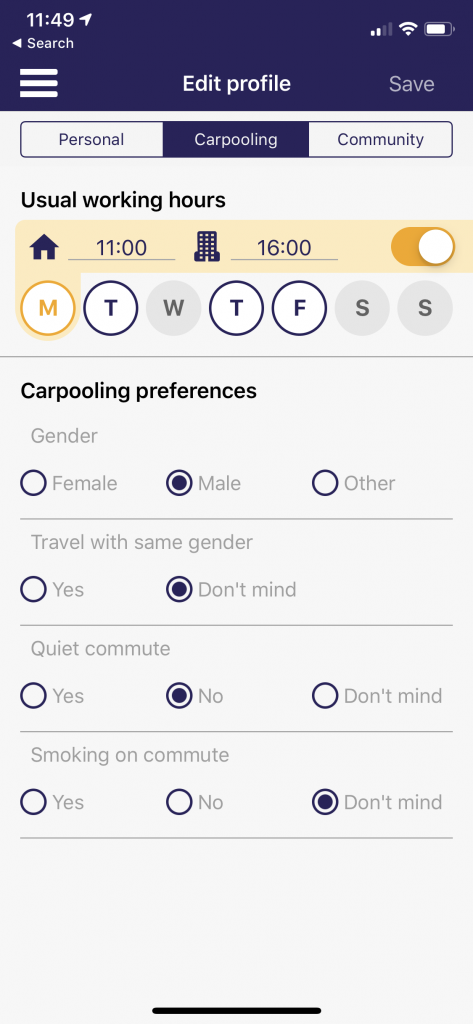 We also find it really helps people to connect when you add more information to your profile, including a photo. You can do this at the User profile section from your menu.
Faxi also has a feature that uses Google maps data to give you a list of those people who are on your route who you can pick up, or people who can come and collect you. You can easily offer or request a lift from this view.
Further information:
Sign up today and see the changes that you can make.