During Go Green Salford 2020, we encouraged you to Think Green, Live Green, Work Green and Eat Green. Over 150 of you gave us some of your time and it was great to meet you all. We hope you've learnt something new and had fun along the way!
Think Green
To kick things off, we explored our connection with the physical world and our impact on current ecological issues with the FIMS Arts & Media exhibition. The exhibition encouraged us to question the norm and to think about how industries such as fashion and textiles can have a huge impact on the environment.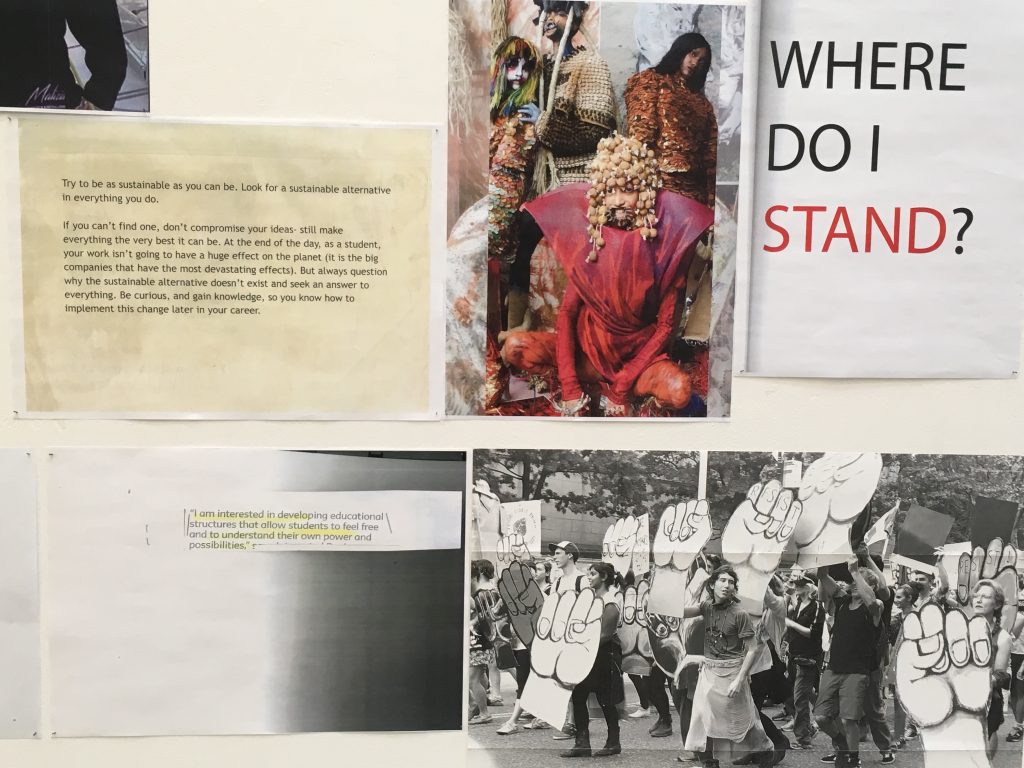 On the Tuesday we launched the 2020 Green Impact programme and held 'FrED talks'. We heard from speakers Professor Sheila Pankhurst, Dr Nick Davies, Dr Romas Malevicius and Dr Luke Blazejewski, who gave up their time to speak to us about local initiatives and ecological issues. Topics included the university's current targets and goals, our perception of local wildlife, sustainable transport options and education for sustainability.
Following this, on the Wednesday we got the opportunity to explore over 20 different species of beautiful trees on our Winter Tree ID walk, with loads of interesting facts being provided by Peel Park Keeper, Jess Britch. We were rewarded for getting outside in the rain by a view of a rainbow over the River Irwell and a sighting of a Greater Spotted Woodpecker!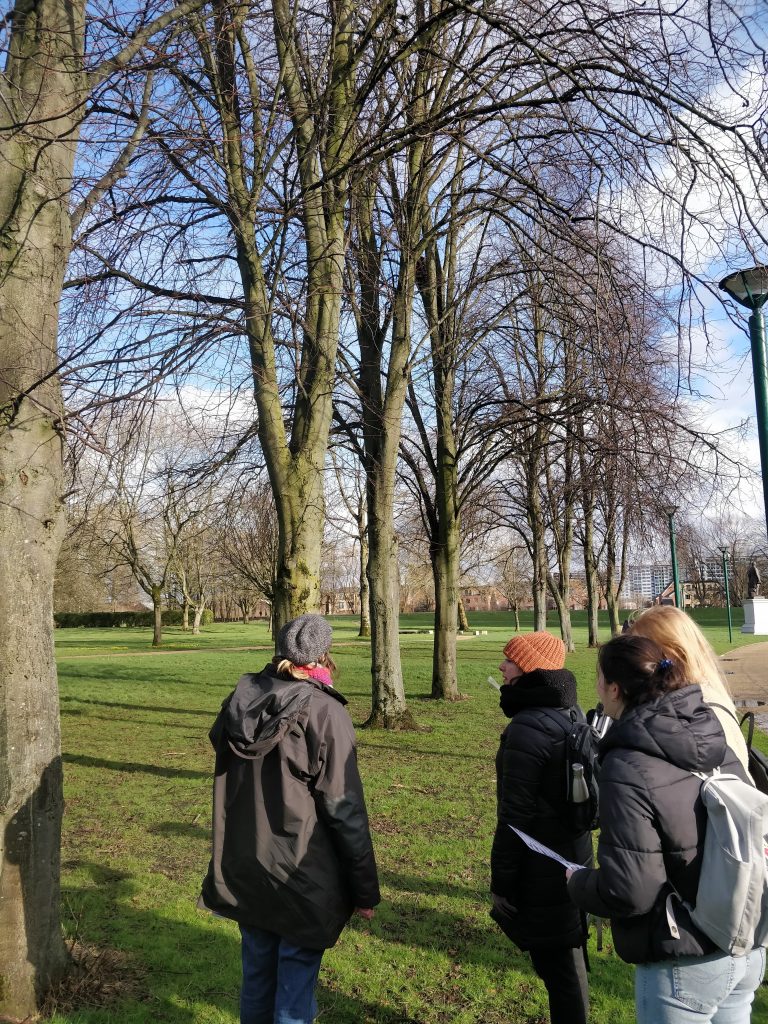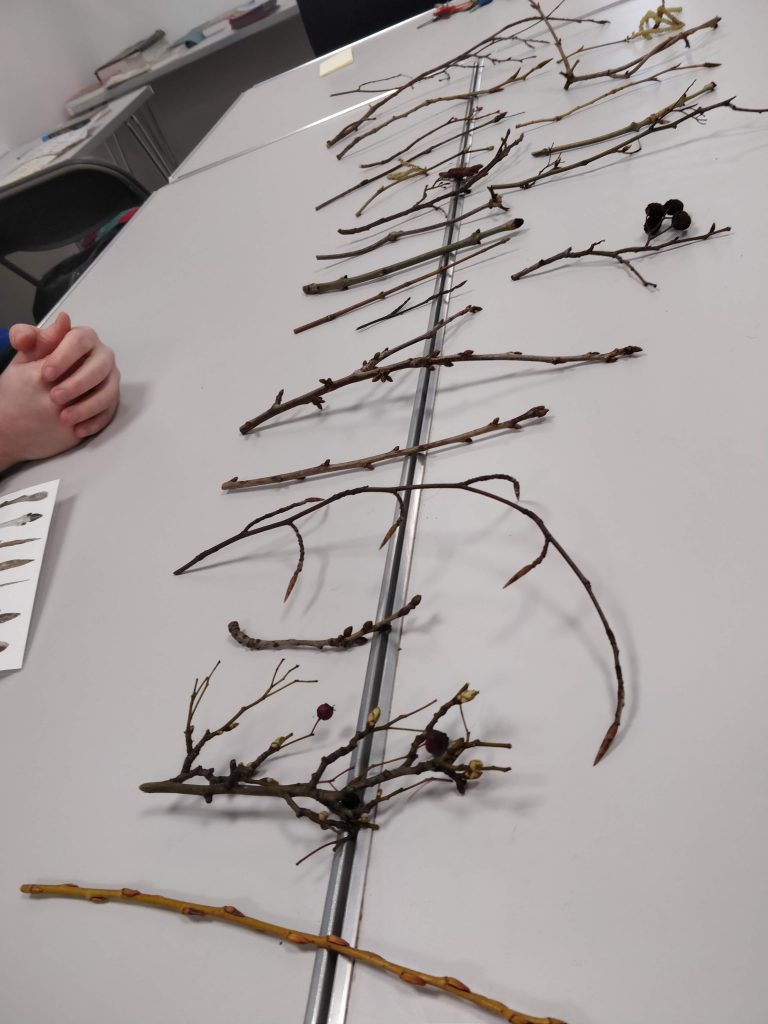 We promoted our car share scheme on the Thursday, with Faxi sharing information about how you can Car Share with US.
Live Green
Putting thoughts into action on 'Live Green' week, there was a vintage clothing fair which gave staff and students the opportunity to shop sustainable fashion by purchasing second-hand clothing at a reasonable price. There were loads of colourful garments to choose from and it was great to see students really engaging with this event.
On Tuesday, Salford Litter Heroes came to help out with an hour-long lunchtime litter pick. We were battling against the elements during storm Dennis, but it was great to see 6 students turn up and help nonetheless, thanks so much to you all!
The stormy weather didn't deter people from coming along at our tree planting events either! With 55 volunteers coming across the two sessions on Wednesday and 7 of you coming to help at the smaller session on Thursday. Alongside City of Trees we managed to plant 662 trees! Getting muddy definitely paid off, we can't wait to see the new trees grow over the years in both David Lewis Playing Fields and Crescent Meadows.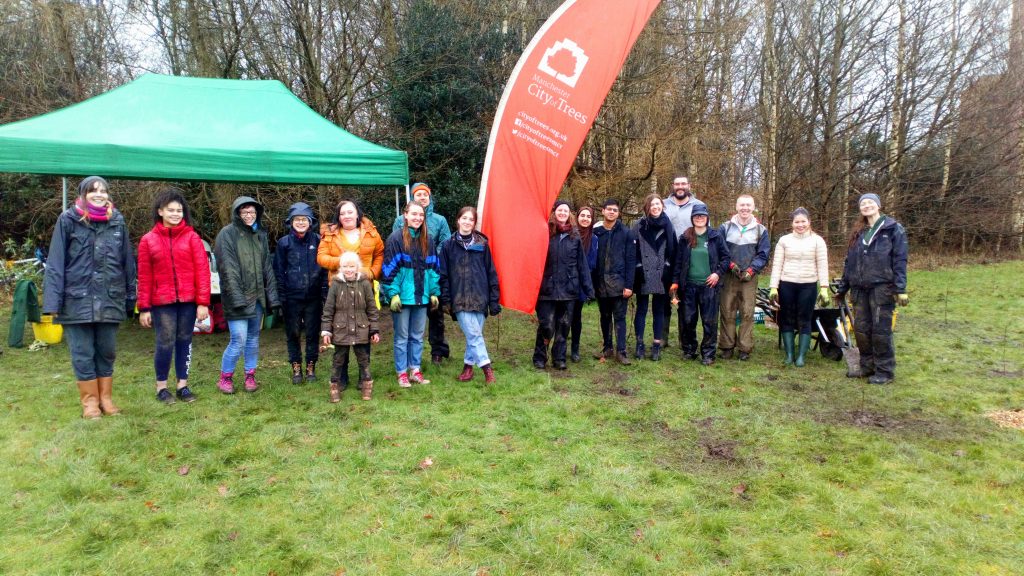 Work Green
Recycling was the main focal point of 'Work Green' week. We took our Recycling Roadshow to Media City, Maxwell and Allerton with our Rubbish Quiz and recycling game, with a chance to win one of our reusable mugs. Thanks to everyone that got involved and congratulations to our winners! We hope you all took something away from these events.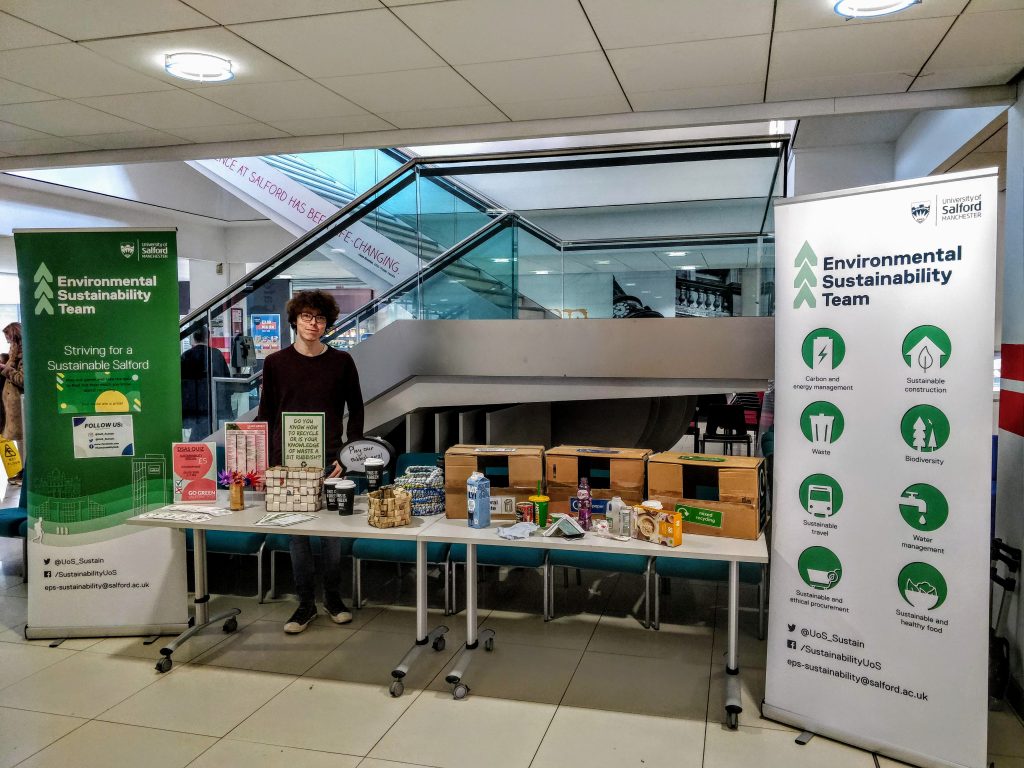 We also looked at how you can commute to the University sustainably with our Bike Maintenance Workshop alongside Transport for Greater Manchester teaching us how to look out for yourself when cycling to and from the university. We all learnt some new skills and we hope you all left feeling more confident about commuting by cycling! If you're nervous about cycling on the roads but would love to commute more sustainably- check out TFGM's confidence training – https://tfgm.com/cycling/training.
Eat Green
Our final week was the most fun-packed of them all with Salfood Plantilicious pop-ups giving us a taste of some delicious plant-based  food, and even coffee cake made from re-used coffee grinds!
Wednesday was especially exciting as Allerton opened their very own Zero-waste food shop! This is a joint project between Salfood and the Students' Union and their hard work has definitely paid off because the shop looks amazing! The shop is a great way for students and staff to easily cut down on the plastic packaging that we so often see in supermarkets.
During Eat Green we also hosted our Fairtrade Fun in Maxwell and the Library which gave you the opportunity to cycle up a free Fairtrade smoothie and gain knowledge about the benefits of shopping Fairtrade. We collectively cycled up 75 smoothies so well done to everyone that came along!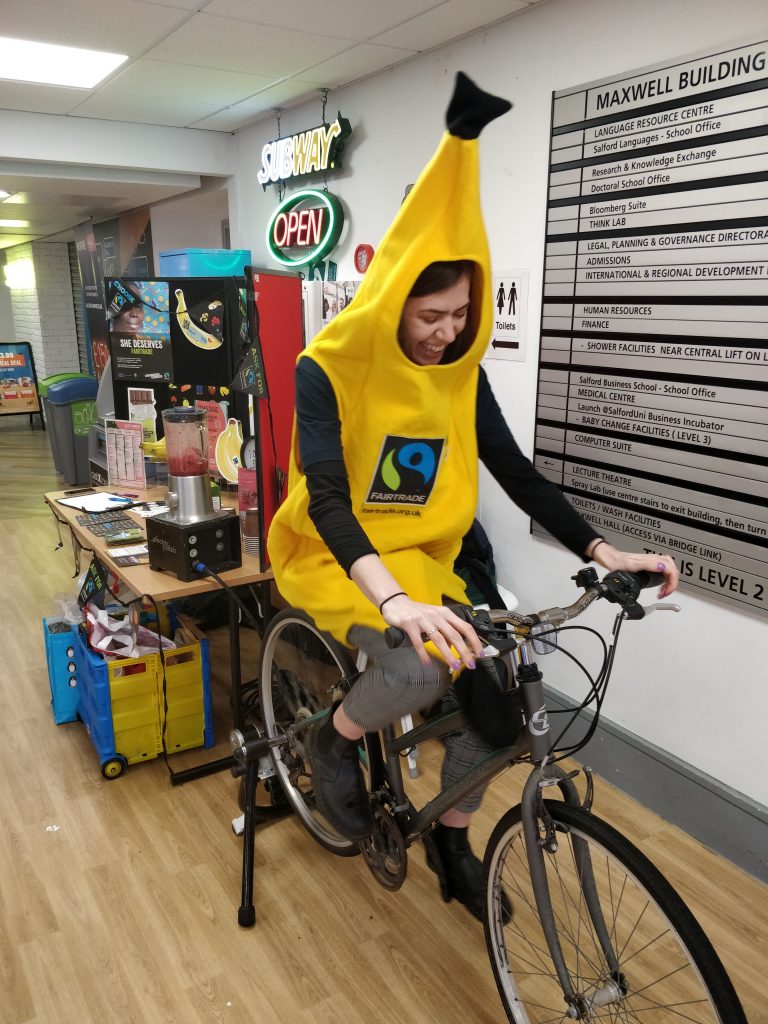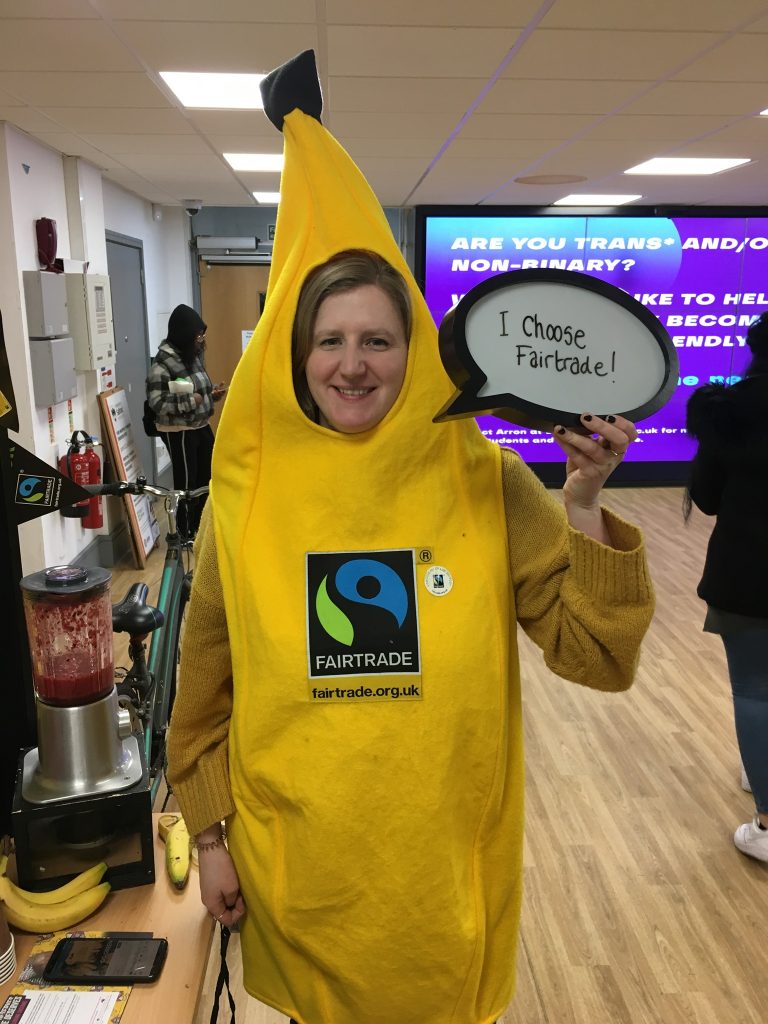 To end Go Green 2020 there was a sustainability special of the DSAS quiz night where our knowledge was put to the test. We had great fun this evening and we hope that everyone that came along did too!