Litter is one of the main threats to hedgehogs living in urban environments. Unfortunately, many of them die because of it every year. To help create a safe and welcoming space for them on our campus, we've signed up to this year's Big Hog-Friendly Litter Pick Challenge!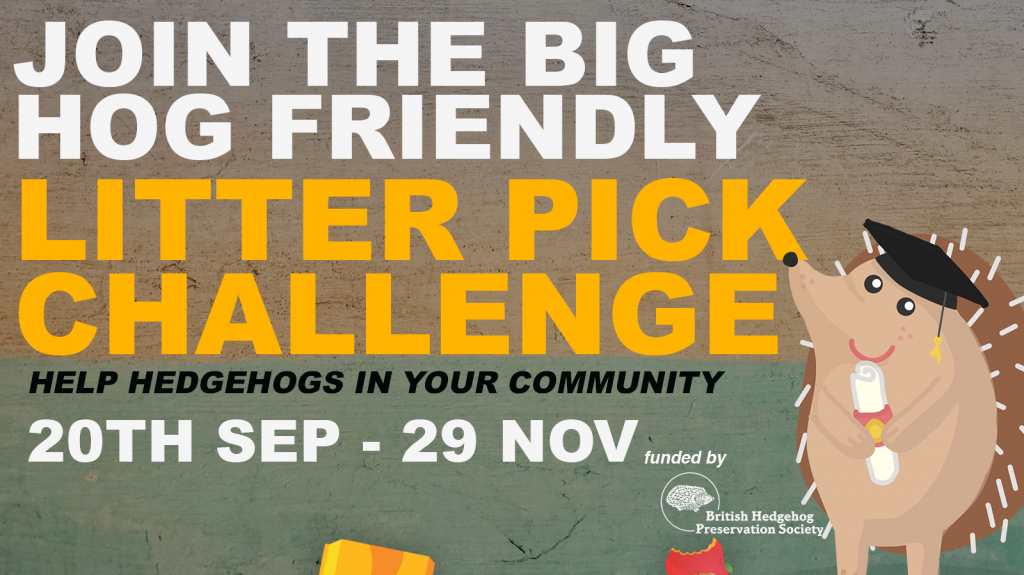 About the challenge
The challenge will take place between 20th September and 29th November 2021. The more litter we pick, the higher our chance of winning a hedgehog house and a bag of food for our campus! All participants (whether from the winning team or not) will also receive a digital certificate in recognition of their efforts.
To count in the challenge, the litter picks do not have to take place on campus or in groups – litter can be collected on your street, in a park, during a walk – wherever! Everyone is welcome to join – not only our staff and students but also anyone from our local community. You can even invite your family to join in, wherever they live. You can borrow litter picking equipment from the local council or join one of the litter picks organized on or around the Peel Park campus.
The next litter pick will take place in Peel Park on Wednesday, September 22nd, 16:00-17:00. Sign up here.
Take photos of your bags full of litter and email them to Marta at m.a.strzelecka1@salford.ac.uk. These don't have to be bin bags – you can use any bags you've got, e.g. shopping bags; this will be accounted for by the judges. At the end of the challenge, we'll send all photos to the Hedgehog Friendly Campus Team. You can also use the tag #SalfordHedgehogFriendlyCampus on social media to share the photos with other litter pickers in our area.
By taking part in the challenge you'll also help us work towards the next Hedgehog Friendly Campus award. We received Bronze earlier this year and we're now working towards Silver.
Litter picking safety tips
Please avoid:
Sharp objects (e.g. broken glass)
Clinical waste (e.g. syringes)
Hazardous areas (e.g. fast running rivers)
Litter picking by yourself if possible
Heavy lifting
Please ensure that you:
Wear gloves
Cover any cuts
Keep hands away from your eyes and mouth
Wash hands straight away after litter picking
Wear sturdy, appropriate footwear and waterproofs if needed
Recycle any plastic, glass and aluminium
Adhere to the Government Covid procedures
If you find any dangerous, poisonous or hazardous materials, contact the Environment Agency on 0800 80 70 60.
---
Here you can find more info about the Hedgehog Friendly Campus at Salford.
Read our blog post to learn more about how litter affects hedgehogs.
Want to get involved in the campaign? Click here to join our working group on Teams!
Follow the University of Salford Hedgehog Friendly Campus team on social media: