This LGBTQ+ History Month, we're highlighting LGBTQ+ stories from The Library's collections. By delving into these films, novels, non-fiction, archive materials and zines, you can learn about the hard-fought battles of LGBTQ+ folk for greater rights. Importantly, these resources also reveal how government policy and public prejudice have been experienced on the personal level.
LGBTQ+ History Month reading list
First off, check out our specially created LGBTQ+ History Month 2021 reading list. All of these thought-provoking resources are handily available online. So, they're only a click (or two) away!
Here are a few of our favourites:
For a really informative, accessible introduction to trans history, read Jack Halberstom's, Trans*: A Quick and Quirky Account of Gender Variability. The book engagingly traces historical changes in trans naming, societal attitudes and film and media representations.
The legendary jazz trumpeter Tiny Davis, and her drummer life-partner Ruby Lucas are the subjects of the electrifying documentary, Tiny and Ruby: Hell Divin Women. The film recounts the duo's incredible journey together through America's music halls in the 1930s, and beyond.
You can find out why playwright Joe Orton was known as the 'baddest queer of the postwar British stage' via his ground-breaking play Entertaining Mr Sloane. The play was written in 1963 when homosexuality was still illegal in the UK. Its plot, revolving around a ménage à trois, caused outcry at the time.
There have been big, hard-won strides in society since then. However, we'd recommend you read the Stonewall LGBTQ+ Facts and Figures to see the challenges that remain.
Researching LGBTQ+ History in our Archives
Because LGBTQ+ people have often been marginalised in society, they have tended to be absent, silenced or hidden in the archival record. Research can therefore be time-consuming but our archivist, Alex Mitchell, doesn't want this to put you off! She's made some brilliant suggestions on how you might conduct research into this area.
Checking your search terms is a great way to start, Alex explains. The LGBTQ+ terminology that we use today is relatively new. Many terms have changed in their meaning. The National Archives and Manchester Archives+ have useful lists of historical terms to use when you start searching historical records.
In our own Archives and Special Collections, one source for LGBTQ+ history might be our Students' Union newspapers. They run from the 1960s to 1990s and provide us with our best record of student activity over the years. However, they are an underused resource and are crying out for someone to do some research! Take a look below for examples of what you can find: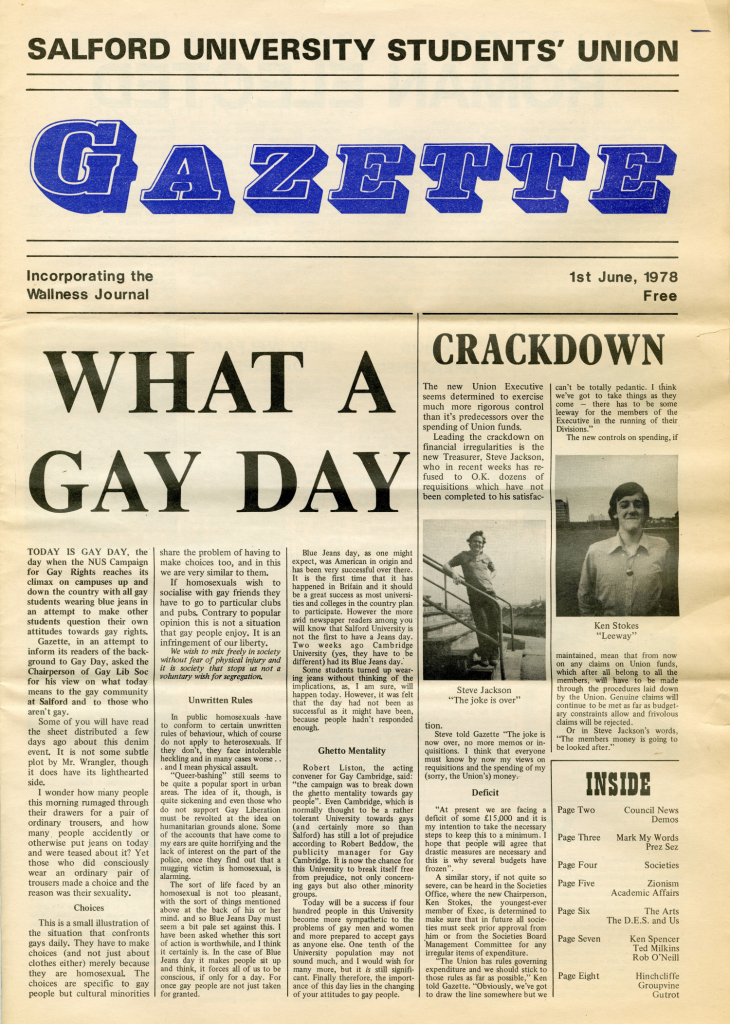 More archival areas to explore:
Our collection of British Election Campaign Material (Archive Ref: BEC) is another potentially fruitful area. The collection consists of leaflets, posters and newspaper articles for all the major and some minor political parties between 1949 and 1974. A period which saw big changes to legislation affecting LGBTQ+ rights.
We also hold the papers relating to the works of the 20th century journalist, author, and scriptwriter Arthur Hopcraft (Archive Ref: AHP). An obituary in The Guardian following his death in 2004, noted that Hopcraft was a self-described loner and had said, "I tried both sexes, but ended up wishing they would all just go away."
At a time when we can't travel, Alex recommends English Heritage's Pride of Place project. This resource allows you to explore the country through buildings and landscapes connected to LGBTQ+ heritage. If you know of places not yet on the map, why not contribute?
Zines: alternative LGBTQ+ histories
Zines have long been a means for LGBTQ+ folk to share their own stories. They were integral to the Queercore movement, a fierce cultural reaction to discrimination faced by LGBTQ+ communities in the 1980s. Many Queercore zines have now been digitised. So, we strongly recommend you browse through them on the brilliant Queer Zine Archive Project. LGBTQ+ histories are also captured in The Library's own, ever-growing, zine collection.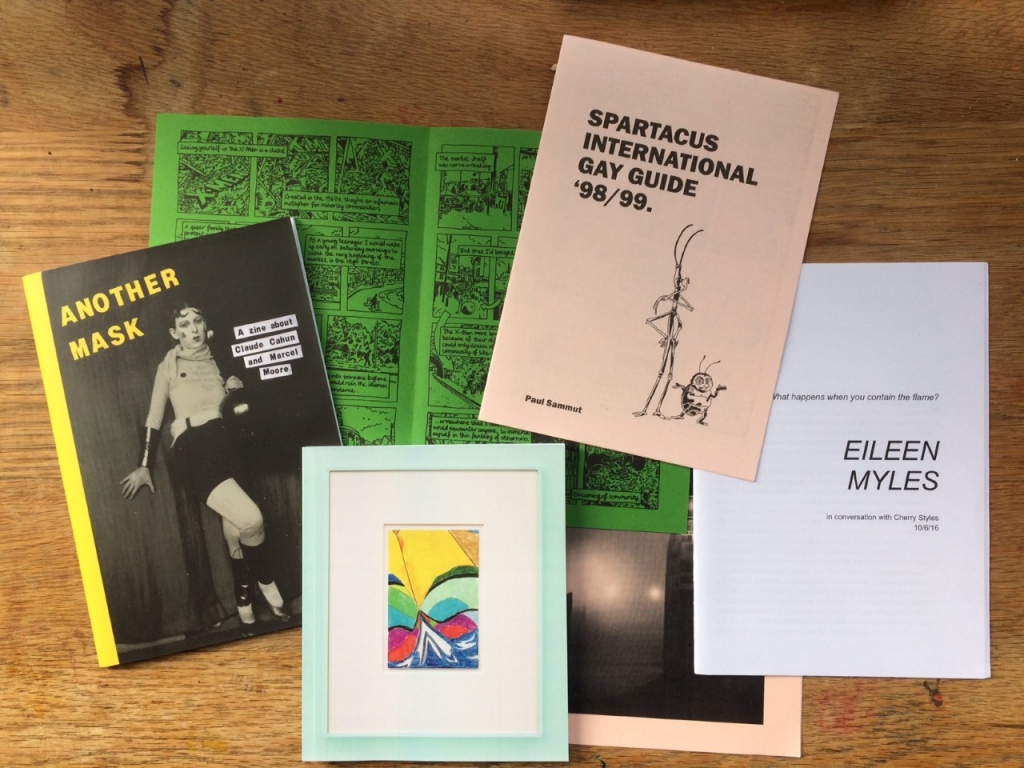 Paul Sammut's superb 'Ideal Homes' explores the isolation of growing up LGBTQ+ in the British suburbs under the Section 28 law. 'Another Mask' by Livvy Drusilla and Anna George takes a fascinating look at the lives of French genderqueer artists and Nazi resisters, Claude Cahun and Marcel Moore. And the great queer American poet Eileen Myles discusses their work with writer Cherry Styles in 'How to Contain the Flame'.
We can't wait to share these with you once restrictions allow!
Got any suggestions for the reading list? Let us know! Comment below, or request an item for the Library through our Ask for a new library item service or your Library Champion.
If you'd like to learn more about our plans for a Zine Zone in the Clifford Whitworth Library, please get in touch with Abby Kearney (a.kearney@salford.ac.uk).
More information about the University's Archives is available on the Library website or contact Alex at A.Z.Mitchell@salford.ac.uk