Did you know that the University of Salford Careers and Enterprise team hosts multiple Careers Fairs over the course of the year? Whether you're an undergraduate, a postgraduate, or an alumni, there's something for you, no matter what you study.
Attend one of our Autumn Careers Fairs and you'll be able to speak with employers face-to-face, gain insight into their company, and build relationships that could eventually lead to an incredible job!
Our first fair was an overwhelming success! More than 850 students and graduates attended and spoke to our wonderful employers about part-time and volunteering opportunities.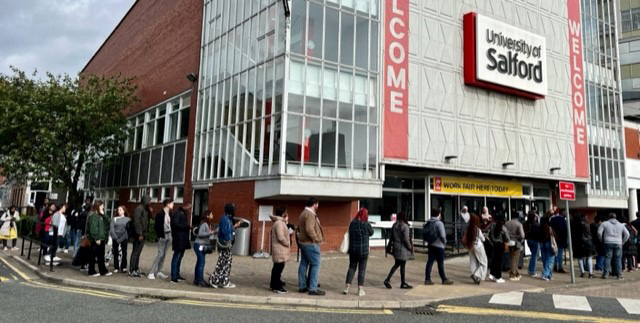 Why attend a Careers Fair?
Networking opportunities: Careers Fairs provide a platform for students to connect with potential employers, learn about companies, and build a professional network.
Explore career options: Students can gain insights into various industries, job roles, and market trends, helping them make informed career decisions.
Access exclusive opportunities: Careers Fairs often offer access to internships, job openings, and valuable resources that may not be readily available through other channels.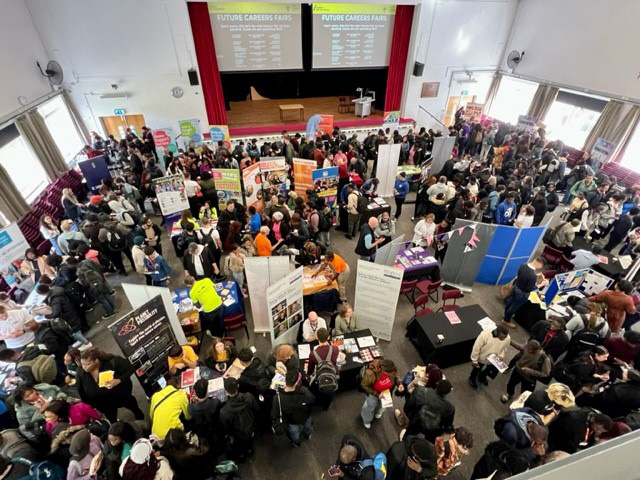 Careers Fairs in October and November
| Date and time | Theme and location |
| --- | --- |
| Wednesday 18th October 12-3pm | Health & Society Careers Fair, Allerton Sports Hall |
| Wednesday 1st November 12-3pm | Science, Engineering & Environment Careers Fair, Maxwell Upper Hall |
| Tuesday 7th November 12-3pm | School of Arts, Media & Creative Technologies Careers Fair, New Adelphi Concourse |
| Wednesday 15th November 12-3pm | Salford Business School Careers Fair, Maxwell Upper Hall |
All of these Careers Fairs are free to attend and open to all students and graduates, regardless of your degree programme – there's something for everyone. We hope to see you there!