One of the essential items which every student packs before moving to university is undoubtedly the trusty mobile phone. However, it isn't much use without a bank of helpful travel, money, social and study related apps.
Sure, you can phone your parents or text your best mate, but can you find bus timetables with one click or earn money easily from your shopping receipts? So, I've rounded up 10 of the apps that helped me out A LOT when I made that big move.
Making cities usable:
So, you've just moved to a brand new area and you're probably going to be relying on public transport to get around. Citymapper gives real-time bus and train departure and disruption alerts, as well as cycling routes if keeping fit is more your thing. The app also provides users with both pricing information and estimated times, meaning that you have no real excuse for being late anymore.
I genuinely think @CityMapper is up there with the best apps ever made. Just planned 2 full days of travelling between meetings in 10 min.

— Simon Pursehouse (@Pursehouse) July 26, 2016
Keep up with your courses:
Downloading this app before lectures even begin is a good way to start your university journey on a high. Staying organised and up to date is the key to end up with the results that you deserve. Having your lecture notes, exam deadlines and other useful resources in one easy and reachable place is a lifesaver.
Not really sure why I'm just now finding out blackboard has an app??? Like I feel like I've wasted 2 years of college not knowing this

— Aurora Corcoran (@AuroraCorcoran) September 7, 2016
Ordering is as easy as pie:
Whether you're going to live up to the student stereotype of regular takeaways or just fancy the occasional weekend treat, you'd be silly not to order through Just Eat. The app combines countless local takeaway menus, as well as their contact details. All that you need to do is enter your postcode and make the tricky decision of which takeaway you're in the mood for.
Harmonise your house:
You might move in with just one housemate or spend your first year in halls with up to 12 others. No matter the number, splitting restaurant bills, utility bills or even taxi rides between groups becomes a lot less stressful with Splittable. The app can be used to keep track of the exact amount you're owed by others too, meaning that the awkward hinting for that £2.50 you lent out three weeks ago doesn't have to happen anymore.
We are just loving the @SplittableApp when holidaying with friends – it definitely takes the headache out of dividing up the bills!

— Coastal Retreats (@coastalretreats) July 22, 2016
Perks of student life:
Create a UNiDAYS account easily with your student email address and take your pick from brilliant discounts both online and in store. Updated regularly, the app gives those registered access to cheaper meals, clothes, technology and more. With the app in your pocket, it's worth checking for discounts whenever you make a purchase and saving where you can.
Unidays has got to be the best app ever invented

— gbaby ?? (@_gvbbyy) July 13, 2016
Get there:
Never go through the effort of attempting to speak to a taxi operator over the phone while drunk again. Ideal for nights out, Uber allows you to request a taxi, track its whereabouts and rate the journey with just a few taps. The whole experience is a lot more personalised than with a normal taxi and you can even play your own music during the journey if you wish. Free and cheaper rides are often offered, making the app even better.
Hey @Uber we've only been together for 2.5 years but I want to be the first in the relationship to say I love you. pic.twitter.com/G8VOFEalGj

— Chad Brown (@staychad) June 1, 2015
Shop. Snap. Get paid:
You might wonder why you need to bother keeping hold of receipts? Receipt Hog, that's why. Keep hold of any receipts that you receive on a weekly basis, from food shopping to trips to the pub, and upload photographs of them to this handy app. Receive points for every receipt that you submit and watch how quickly they add up. You'll soon have enough to trade for Amazon gift cards or cash via PayPal – simple!
I love the app @ReceiptHog it's so awesome! #join

— Katie Sullivan (@KSullivan0430) August 31, 2015
Best gigs. No booking fees:
University cities always host a range of gigs across a vast range of genres, so whether you're used to being right at the barrier for your favourite bands or fancy checking out the local music scene, don't pay over the odds. DICE offers tickets for gigs and events and boasts a no booking fee policy, meaning you're literally paying for the ticket. Even better, you don't have to worry about tickets arriving on time or getting lost in the post. Just show your e-ticket at the venue door and enjoy the evening.
Love being able to buy tickets via @dicefm, much more convenient

— Michael Delahorne (@Delahorney) July 27, 2016
Sell with a snap, buy with a tap:
If you're strapped for cash, Depop is a great place to hunt for bargains or to sell the contents of your wardrobe. With its easy to use design, you can browse through photographs of clothes, books, art and more. Set up your own little shop in your pocket and save money at the same time.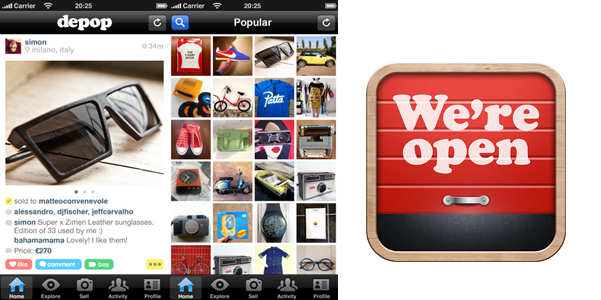 I am a fan of depop

— Will Hayward (@TheWilliWhale) July 27, 2016
Travel with confidence:
It's probably the last thing on your mind right now, but wanting to catch a train home for the weekend will soon come around. The National Rail app allows users to check train times and purchase tickets. Buying in advance allows you to get journeys for a lot cheaper too. Download the app now and enjoy cheaper and easier journeys in a few weeks time.
@Huwniverse huw how do you not have the national rail app i use it every time i go on a train

— Aislin (@dustandais) August 18, 2016