In a new series, our law students are sharing their expert views on some of the most topical issues facing our society. Here, Savannah gives her view on special measures in place for vulnerable witnesses.
For many of us the closest we will get to a courtroom is an episode of Suits, but for witnesses the courtroom setting will soon be one they become very familiar with. Witnesses play a pivotal role in a cases journey; their evidence is often a key factor in deciding guilt or innocence. It is vital that a witness can give their best evidence to ensure a fair trial is achieved. For vulnerable and intimidated witnesses, giving evidence is so terrifying that their ability to give best evidence is jeopardised.
The Youth Justice & Criminal Evidence act[1] introduced special measures aimed at helping vulnerable witnesses give their best evidence. The subject of this blog post is whether special measures have done enough to facilitate these witnesses to ensure they can give their best evidence.
What are special measures and why do we need them?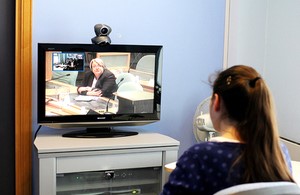 Giving evidence is demanding: barristers use legal jargon to pick apart your evidence, the defendant sits a few feet away and you often feel like the one accused. Imagine that same experience from the position of a child, someone with a disability or someone facing their attacker; these vulnerable witnesses cannot give reliable evidence in the 'normal' way. Special measures intended to make giving evidence easier by removing some of the associated stress.
Special measures can include[2]:
Screens- shielding the witness from the defendant
Removal of judges/barrister's wigs and gowns- allowing them to become more personable
Television link- Use of a link allows witnesses to give evidence outside of the court room
Special measures were a welcome introduction; it is important that witnesses needs are met for them to give their best evidence. Without the evidence of witnesses, many cases could collapse. Without special measures, some witnesses may feel unable to give evidence, or may be so petrified that their evidence becomes weak and unreliable. Special measures were thus intended to facilitate these witnesses.
How well do they work?
For some, who just cannot face the defendant, such as those facing their alleged abuser, the use of a screen or video link can alleviate some witnesses stress. The combination of barristers dressed in 'strange' clothing and complicated legal jargon is enough to leave most adults apprehensive, and for children this apprehension is intensified. Removal of wigs and gowns could make the environment more comfortable for children, allowing them in theory to give their best evidence[3].
Research supports the idea that special measures are somewhat alleviating witness stress[4]. Hamlyn's research for the home office found that one third of interviewees would not have given evidence without special measures in place[5]. This means that in these cases, special measures ensured potentially vital evidence was heard in a way which made the witness slightly more comfortable.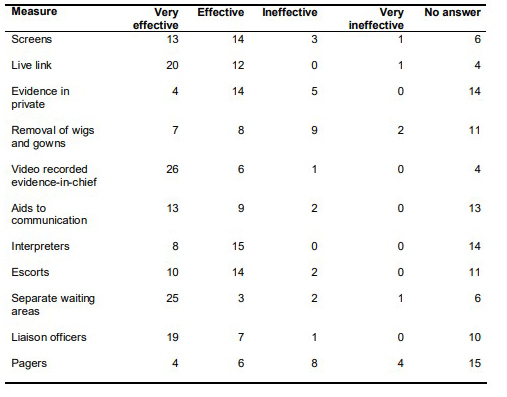 Another piece of research looked at how different criminal justice agencies viewed special measures[6]. Overall, agencies found the measures effective, albeit different measures were more effective than others.
It can be seen that special measures have in some way alleviated stress for vulnerable witnesses. The removal of fear, stress and apprehension creates a more comfortable environment which in turn allows witnesses to give their best evidence, meaning safe convictions and hopefully, correct results[7].
Are there any issues?
Special measures aren't wholly effective. The research by Burton above found that although special measures can work, the way in which vulnerable witnesses are identified needs improvement[8]. If vulnerable witnesses aren't identified, special measures are not used, and there is a risk of best evidence not being achieved. A terrible experience as a witness is also unhelpful to the justice system; it means that that witness is unlikely to be willing to be a witness again if needed.
There is also the question of how effective special measures can ever be in our justice system. Cross examination is one of the most intense experiences a witness will face. For some vulnerable witnesses' cross examination questions can be set in advance, but these questions may still leave the witness feeling vulnerable[9]. Both Hamlyn and Burton's research shows that vulnerable and intimidated witnesses found cross examination more stressful than anything else[10]. Cross examination is in practise, as described by fellow blogger, The Secret Barrister, 'leading the witness to the answer…. You can manipulate them into giving.[11]' Barristers know what to ask to undermine witnesses credibility[12]. Cross examination can leave witnesses feeling accused; under such stress it is arguable that they will never be able to give their best evidence. Special measures have alleviated some stress, but with witnesses still having to face some form of cross examination, there is still a hurdle to overcome to reach a point where best evidence is achieved.
In some ways, special measures have helped to reduce the stress witnesses feel when giving evidence, which in turn allows best evidence to be achieved. However, have these measures gone far enough? For some witnesses, they are not identified as vulnerable which can dramatically alter the evidence they give. Even for those identified, cross examination can bring back the stress that a measure alleviated. It is clear there are still some things which fail vulnerable witnesses, preventing them from giving their best evidence. It is also worth thinking about witnesses who are not covered by the vulnerable/intimidated witness criteria; all witnesses inevitably find some aspect of giving evidence stressful, and with little in place to help them; is best evidence ever truly achieved?

---
[1] Youth Justice &Criminal Evidence Act 1999
[2] 'Special Measures' https://www.cps.gov.uk/legal-guidance/special-measures Accessed 1st December 2018
[3] Linda Wilding, 'Court conditions for vulnerable young witnesses have improved' The Guardian (20th November 2018) Accessed 2nd December 2018
[4] Jonathon Doak &others, Evidence in Context (4th edition Routledge 2014) 111
[5] Becky Hamlyn &others 'Are special measures working? Evidence from surveys of vulnerable witnesses' (Home office research study 283)
[6] Mandy Burton & others 'Are special measures for vulnerable and intimidated witnesses working?'( Home Office Report 01/06)
[7] N17
[8] N19
[9] Anonymous, 'Special measures for witnesses' (The Defence Brief, 6th January 2014) http://defencebrief.blogspot.com/2014/01/special-measures-for-witnesses.html Accessed 2nd December 2018
[10] N17
[11] Anonymous, The Secret Barrister (1st edition Macmillan 2018) 234
[12] Lbid
Bibliography
Articles
Wheatcroft J, 'Why some types of leading question should be banned from court' The Conversation (14th December 2015) https://theconversation.com/why-some-types-of-leading-question-should-be-banned-from-court-49861 Accessed 1st December 2018
Wilding L, 'Court conditions for vulnerable young witnesses have improved' The Guardian (20th November 2018) https://www.theguardian.com/society/2002/nov/20/publicvoices2 Accessed 2nd December 2018
Blogs
Anonymous, 'So you've witnessed a crime.. 10 things you should know as a witness (but probably won't be told) (The Secret Barrister, 8th December 2015) https://thesecretbarrister.com/tag/witnesses/ Accessed 30 November 2018
Anonymous, 'Special measures for witnesses' (The Defence Brief, 6th January 2014) http://defencebrief.blogspot.com/2014/01/special-measures-for-witnesses.html Accessed 2nd December 2018
Books
Anonymous, The Secret Barrister (1st edition Macmillan 2018)
Doak J, McGourlay c and Thomas M, Evidence in Context (4th edition Routledge 2014) 111
Journal articles
Cooke P and Davies G, 'Acheiveing best evidence from witnesses with learning disabilities: new guidance' [2001] 29(3) British Journal of Learning Disabilities https://onlinelibrary.wiley.com/doi/full/10.1046/j.1468-3156.2001.00137.x Accessed 1st December 2018
Fairclough S, ''It doesn't happen… and I've never thought it was necessary for it to happen': Barriers to vulnerable defendants giving evidence by live link in Crown Court trials' 21(3) International Journal of Evidence & Proof https://journals.sagepub.com/doi/pdf/10.1177/1365712716658892 Accessed 2nd December 2018
MacPherson C, 'The Youth Justice and Criminal evidence Act 1999: Achieving Best Evidence?' 41(3) Medical Science Law https://journals.sagepub.com/doi/pdf/10.1177/002580240104100305 Accessed 2nd December 2018
Reports
Burton M, Evans R and Sanders A 'Are special measures for vulnerable and intimidated witnesses working?'( Home Office Report 01/06)
Hamlyn B, Phelps A, Turtle J and Sattar G, 'Are special measures working? Evidence from surveys of vulnerable witnesses' (Home office research study 283)
'Achieving Best Evidence In Criminal proceedings' (Ministry of Justice 03/11)
Statute
Youth Justice &Criminal Evidence Act 1999
Websites
'Special Measures' https://www.cps.gov.uk/legal-guidance/special-measures Accessed 1st December 2018
Picture References
Picture one- https://www.gov.uk/government/news/first-victims-spared-harrowing-court-room-under-pre-recorded-evidence-pilot
Picture two- Burton M, Evans R and Sanders A 'Are special measures for vulnerable and intimidated witnesses working?'( Home Office Report 01/06)