One of the benefits of moving to Salford and Manchester is that our city is ready and waiting for any high street shopping venture once the student loan hits. With the Manchester Arndale being one of the UK's biggest shopping centres, the Trafford Centre only a bus ride away from our university as well as the Lowry Outlet Mall – there's a lot of fashion shops with a bang for your buck: have you seen how busy the Primark in the city centre gets?
However, unlimited variety comes at a small price – the environmental cost of fast fashion. Fast fashion is essentially low-cost clothing that follows current trends, made for a short period or short 'fashion' seasons, often associated with questionable sourcing practices and the idea of throwing away clothes once they're no longer trendy. A lot of companies see it as more cost-effective to make things that are cheap and disposable instead of making things that last and unfortunately, this doesn't bode well for the environment.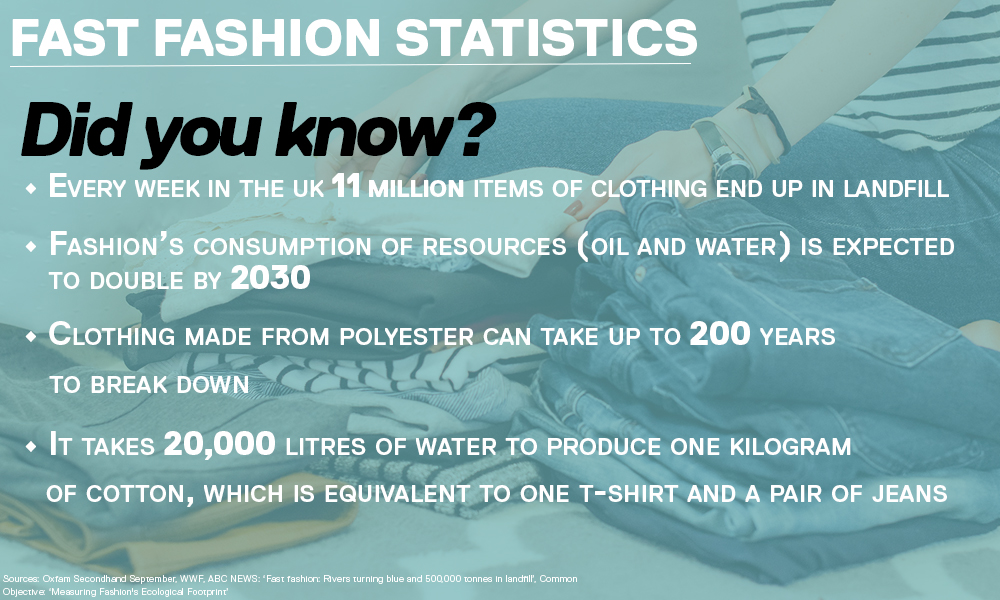 What can I do as a student, I hear you ask? Well, today I thought I'd share with you my 5 tips on how to approach the subject of fashion in an eco-friendly way – whether it's buying new, getting rid of the old or just creating new habits!

1 – Take pride in being a serial outfit-repeater
I don't know who needs to hear this but you do not need a new outfit for every night out. The dopamine rush of shopping for a particular night out, event, gig or whatever can be very fun but chances are you have a perfectly good outfit ready and waiting in your wardrobe. The first step is getting out of the mindset that re-wearing outfits are bad: you bought these clothes for a reason, just wear them – that should be the whole point of clothes shopping. If you really refuse to repeat an outfit – have a proper look through the clothes you've brought with you to university – have you tried switching up your favourite top with a different pair of bottoms?

2 – Become your local charity shop's biggest fan
If you aren't regularly popping into your local charity shops then it's time to make that a habit. When you buy secondhand from a charity shop you are making your contribution to fast fashion a lot smaller. You are also putting money towards a good cause which is a wholesome bonus! Plus, you'd be surprised what fantastic pieces you can find sitting on a charity shop rail: I recently bought a Joanie t-shirt for £5.99 at the RSPCA shop in Northern Quarter – an absolute steal and I am still not over it.

3 – Invest in staple, long-lasting pieces from sustainable brands
One of the definitions of 'sustainable' is actually 'something that is able to be upheld or defended'. If you find yourself with a lot of clothes in your wardrobe that you barely wear and can't really defend keeping, maybe it's time to change your shopping habits. In the future, consider saving up for pieces of clothing that are versatile, can be worn or layered in many different kinds of weather and buy them from brands that are dedicated to being organic and ethical. You don't have to look far from the nest either, Beaumont Organic is a Manchester-based sustainable brand found in Northern Quarter. So why not give them a visit and consider where you could shop the next time you feel the need to buy new clothes.

4 – Get creative and resurrect your clothes
If you have clothes that you don't wear anymore but don't have the heart to give away to charity, or perhaps you can't give them away because of staining or tears, consider completely repurposing them for something new! If you're already a bit handy in the sewing department, you can perhaps turn old fabric into a tote bag or even cut it all up and create reusable face cloths or makeup removing pads. If you're not really a fan of stitching, try experimenting with fabric dyes or fabric paint to bring an old clothing piece back to life – tie-dying an old t-shirt can completely transform it.

5 – Make a DEPOP or eBay account
Maybe you don't have a shopping addiction like some of us, but you find yourself with a hefty pile of clothes that you've grown out of or don't like anymore. What if I told you there is a way of making a bit of cash whilst preventing any more clothes from going to landfill? Extra bonus: you can do it all right from your smartphone. Online marketplaces such as DEPOP and eBay are perfect for selling your old garms. If you've got nothing to sell, these apps are also a great and convenient way to find some stylish secondhand fashion.
Want to take one step further in working towards a brighter future? Have you considered a degree in it? Why not take on an Arts and Media degree to learn how to make your own clothes and start your own brand?🤔💡
The possibilities are endless.
🌱BSc (Hons) Environmental Management