Meet third year Jennifer who is currently studying BSc (Hons) Podiatry. In this interview Jennifer will tell us why she chose to study towards becoming a podiatrist, and most importantly why she chose to study at the University of Salford.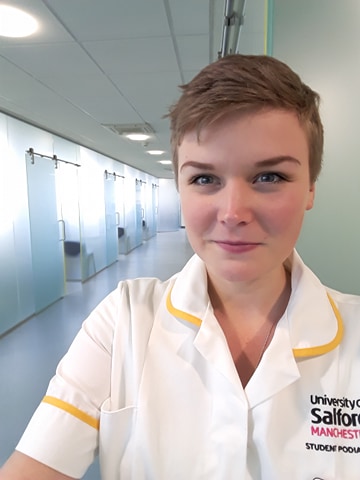 Hi Jennifer! Why did you choose to study podiatry?
I get asked this question so often, most people can't comprehend why you'd choose to study feet and become a 'trotter doctor'!
In reality, although we specialise in the lower limb, we learn huge amount about the human body, disease and healthcare provision that makes us skilled and knowledgeable practitioners with a world of job opportunities at our fingertips.
With an aging population and an increasing number of people with diabetes, foot health is growing in importance and our skills are in more demand than ever. You can choose to work within the NHS, in a private practice or even set up your own. There is also a large demand for qualified podiatrists abroad in countries where the profession is still developing.
We are taught how to do basic nail and skin care however our scope of practice is much larger than this, we can do nail surgery, wound care, vascular and neurological examinations and with some further training you can even become a podiatric surgeon.
If you want a varied, flexible and interesting career with opportunities to improve the quality of life of your patients, to reduce their pain and promote their independence then podiatry could well be the choice for you. I know it was for me.
What made you chose to come to Salford?
The University of Salford has the biggest podiatry teaching school in Europe, the clinic on campus is incredible and the industry links are unparalleled. All of the tutors and clinicians have worked in the NHS or private practice so they understand the profession and offer valuable advice.
Can you tell us a bit about the placements you've been on whilst here?
The University of Salford has it's own Podiatry clinic available for members of the public to access, for the first year of the degree you do routine clinics under the supervision of clinicians. In second and third year you get experience in a local NHS trust as well as a private practice and an array of specialist clinics (e.g vascular, high risk, diabetes, surgery). Most of the mentors you have on placement trained at Salford too so they understand the demands of the course and the guidance you need, I've loved all my placements so far.
What's been your favourite module?
My favourite module was Applied Clinical Medicine, within this module you learn all about the most common conditions you will see, how they are treated and how they can affect your patients.
As podiatrists we are privileged to have so much time to chat to patients during appointments. I've found the information from the ACM module extremely valuable as I can now have an informed talk with my patients about their health during consultations, I feel more confident in offering advice, empathy and providing care tailored to their condition.
Can you tell us about the research project you took part in over the summer? What are the benefits of doing that?
The University of Salford has a large and very active research department that employs a number of prominent researchers that study the structure and function of the foot and ankle. During my time at Salford I have expressed an interest in research and last summer I was offered an internship within the department to assist with a few projects that were being undertaken.
Over the summer I spent a lot of time reviewing literature and writing applications (this has proved to be an invaluable experience as it's helped me hugely with my dissertation), designing protocols, collecting data and I even got to analyse and present my findings. I got to shadow several researchers that I really admire and learn about their careers. The outcome of the studies I was involved in are currently being drafted into papers and will be published within the next year or so, my name will be listed as an author, I can't tell you how excited I am about that!
Have you taken part in any extra-curricular activities or societies whilst at University?
In my first and second year I was part of Salford University Womens Rugby Union team. I had never played the game before and had such a wonderful time getting to know all of the girls and learning how to play. It really brought me out of my shell, there are loads of opportunities for nights out and you get to travel all over the place to play games.
Where's your favourite place in Salford or Manchester to go out?
Manchester has a great Gay Village, the atmosphere on Canal Street in the evening is incredible. BarPop is my favourite place, it's really friendly, cheap and the cabaret acts are hilarious!
What do you plan to do after graduating?
I'm really interested in research so I'm hoping to apply for a PhD, however, I don't want to stop working as a Podiatrist. I find the work really satisfying and treating patients is incredibly rewarding. Ideally, I'll be able to combine the roles somehow, I know plenty or clinicians that are active in research or researchers who work part time as a clinician, we'll see what happens. Either way I'm very excited to graduate and get started!
We thank Jennifer for telling us all about her experience so far at Salford, best of luck for the future!
Looking to study Podiatry? Find out more here.